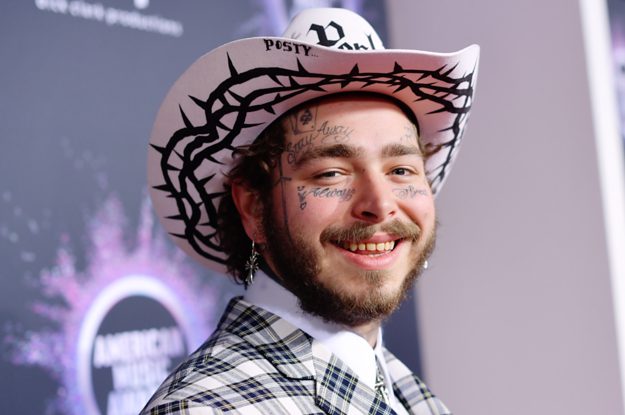 Post Malone on Losing 65 Pounds, Says He Cut Out Soda
In April, fans were worried for Post Malone after footage of him on stage surfaced online, where he looked noticeably skinnier. He took to Instagram after a show in Antwerp, Belgium, where he cleared up concerns over his image and attributed it to dad life and cutting out soda.  
"4/28/2023, Antwerp Belgium! hello everybody, i hope you're having a great night," he began. "i wanted to say that i'm not doing drugs, i've had a lot of people ask me about my weight loss and i'd suppose, performance on stage."
He continued, "i'm having a lot of fun performing, and have never felt healthier. i guess dad life kicked in and i decided to kick soda, and start eating better so i can be around for a long time for this little angel."
Post Malone added that he was planning on eventually quitting beer and cigarettes, writing, "next up is smokes and brews, but i like to consider myself a patient man… lol! I've spent a bit in the studio lately working on new music, and am so excited to share it with you, thank you for your patience and support y'all. you make my heart beat.
He continued, "i just wanted to say hi, and hopefully i'll be posting more on here, my brain is in a super dope place, and i'm the happiest i've been in a long time. if you're having a hard time or need some love, i can say that you're loved more than you know, and keep fucking crushing it."