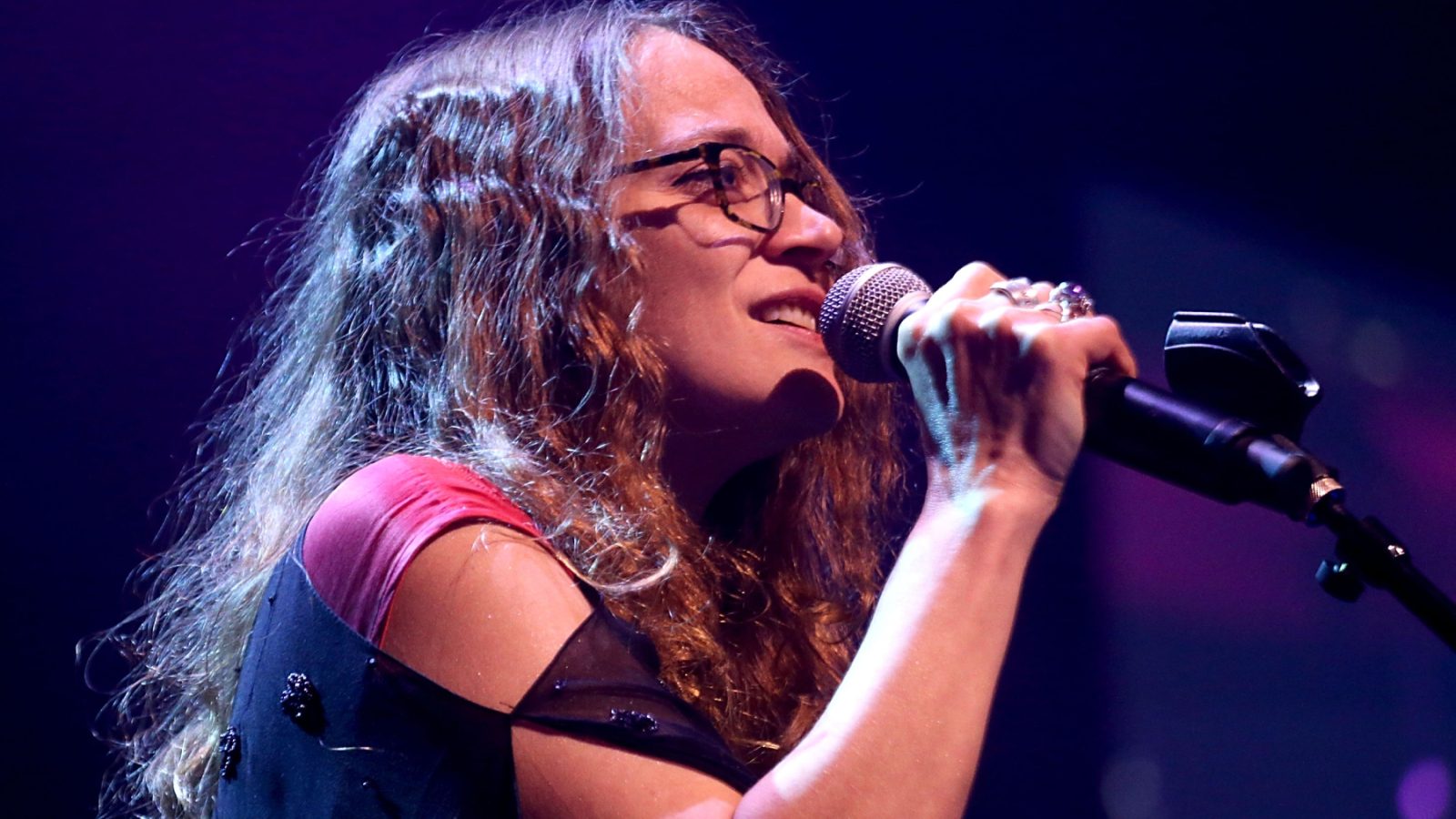 'People Need to See What's Going On': Fiona Apple on the Importance of Court Watching
Fiona Apple spoke about becoming a court watcher and the importance of building a national network of court watchers to help keep an eye on injustices in the criminal justice system during a Washington Post Live conversation Thursday, Feb. 16.
Apple has been a court watcher for the past several years, taking advantage of the proliferation of online hearings to virtually sit in on proceedings in Prince George's County, Maryland. Late last year, Apple brought attention to the work in a Twitter thread where she also accused PG County officials of cutting off video access to court watchers, leaving them only poor-quality audio. Apple also provided narration and music for a short video about court watching, released yesterday as part of an effort to expand the National Courtwatch Network.
Apple is very selective with the kind of press she'll do, and during the livestream conversation, she quipped, "I honestly hate doing stuff like this — I won't do it for my own music, it's not worth it." But when it comes to using her platform to bring attention to the importance of court, she said, "[I]f I can somehow help a few more people click on something, then, yeah, I want to do that… [Court watching] is an amazingly elegant solution to a lot of ills."
To that end, Apple said she came to write the music for the new National Courtwatch Network PSA after blurting out that she'd be happy to do it for free during a funding meeting — even though she'd never composed that kind of score before. "I watched the video, and I played piano along to it once, and then just built around it," she said of the process. "So you know, it was an experience, but it was done with love, and I just want to contribute whatever I can do."
Apple began court watching after participating in a campaign called Gasping for Justice, which raised awareness about the conditions in Prince George's County jail at the start of the pandemic. Her work on that, she surmised, got her on some email list, and she eventually received a message from the organization, Courtwatch PG, asking for volunteers. 
"Immediately, it just made sense, even before I understood what it entailed," Apple said. "It made sense that, yeah, when people are having their worst day, at their most vulnerable, at the very least, should be there with them and be a witness, don't let them go through it alone, and take a look at what's going on. Because you don't know what's going on inside there, they keep it all secret."
Apple was joined in the conversation by Courtwatch PG director Dr. Carmen Johnson, who recalled meeting Apple for the first time. Johnson noted she'd been a fan of Apple in the Nineties but had no idea the musician was joining the virtual training session because her name wasn't in her email.
"So when she came on the screen … I looked, and politely got up from my chair, and I went over into my living room, and then I Googled her like, 'That can't be her!'" Johnson recalled. "I Googled her, and I screamed in my hand like a little 15-year-old high school kid, and then I came back and sat down, and said, 'Hello, Ms. Apple,' And she said, 'Hello, Dr. Johnson,' and then this big old smile came over both of our faces, it was just like magic. It was like I met my lost sister." 
Elsewhere in the conversation, Apple gave a rundown of a day in the life as a court watcher. She briefly flipped through a notebook filled with notes taken during hearings and spoke about how court watchers raise awareness of issues that may influence how people are treated as they go through things like bail hearings. These include, Apple noted, the histories of arresting officers, red flags that might signal unconstitutional stops or arrests, and outsized bails are given to people for petty crimes.
Apple also discussed her support for a bill in Maryland that would cement online access to courtrooms into law, saying, "People need to see what's going on. It's our right to see what's going on. It's kind of ridiculous we have to work so hard to get this legislation because it's our right. You can't fix things if you don't know what's going on."
Johnson spoke too about the growing effort to build a national network of court watchers, which she described as a "loving, peaceful army" who want justice. She later added, "We can create something really, really huge across the country. Because mass incarceration is happening, and it's not stopping, and at this point, they are starting to look at our youth. So we need an army of loving people who are creating court watch organizations around the country."