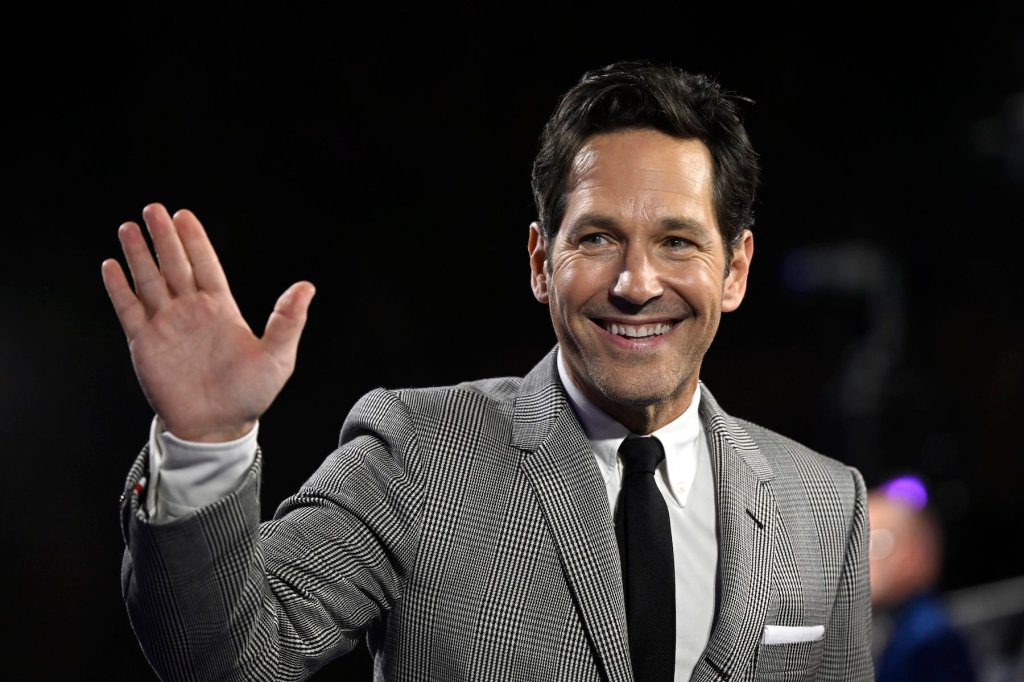 Paul Rudd on His Wild DJ Night With Neil Diamond
In the new Ant-Man film, Paul Rudd's character learns all about the concept of alternate timelines. In an alternate version of our own timeline, he would have starred in Party Down. 
Rudd co-created the great Starz comedy, which is improbably rising from the dead later this month, with TV producer pals John Enbom, Dan Etheridge, and Rob Thomas. The series was inspired by their viewing of the original British version of The Office, along with Rudd's pre-acting work as a DJ for weddings, bar mitzvahs, and other events in LA. And in the early stages, Rudd was meant to play Henry Pollard, a caterer-turned-actor-turned-caterer who has never been able to escape or transcend his brief fame as a beer commercial star with the catchphrase, "Are we having fun yet?" 
But the development process dragged on for years and years. By the time Thomas and the others were able to shoot a pilot episode of sorts on their own, Rudd's film career had taken off to the point where he was too busy to act in it. His old friend Adam Scott played Henry, but Rudd remained involved in the creative process for both the original run and this revival season. He spoke with Rolling Stone about his DJ days, what he thinks Scott brings to the role he once intended to play, why he's never been on Party Down itself, and more.
You were the one of the four creators who actually had experience with this kind of group. How much did your DJ work inform the establishment of this world?
It just gave us a bit of a working knowledge, all of us. I wasn't in a catering company, but I did work with a lot. And in Los Angeles, they're all wanting to be actors or writers. No one's goal is to be a caterer. So these are just part-time stops. We had the idea that Henry had lived his dream, failed, and gone back to catering, and it becomes, "Well, now what is my dream?" For him to have to go back to this company out of desperation, that fit in with all of this stuff we'd been watching. And the idea that each episode was a different party, that seemed like fertile ground to be able to develop a show around.
What is the weirdest thing you witnessed in your DJ days?
It was a woman's 40th birthday and Neil Diamond was a friend of the woman. He was a guest, and she had requested [that I play] "September Morn," and I was watching her dance with Neil Diamond to "September Morn." Then I went around to each table with my microphone, to see how everyone was doing. Neil Diamond was sitting by himself at this table and I said, "Hello, Mr. Diamond, are you having fun tonight?" And he said, "I am." And then I asked him very seriously, "That's good. But more importantly, are you Wanging Chung tonight?" And he looked at me, and he was even more serious, and he said, "Well, I try and Wang Chung every night." And I gave him a knowing nod and walked away. There was an understanding, certainly on my part, of how badass Neil Diamond is.
Before your career blew up, you were going to play Henry. At what point did you realize other work was going to make that impossible? 
We developed it for years. It seemed to speak to all of our sensibilities, but then it went away — it was just never going to happen. Then we wound up shooting a rough version of the pilot episode on our own. And it coincided with me working on a movie and I couldn't do it, and we asked our friends. Adam is one of my closest and oldest friends, and same with Ken.
What do you feel Adam brings to Henry that you might not necessarily have?
Adam is a really skilled actor and has a dry humor to him. And he has such an expressive face that he can do very little and you know what he's thinking, which I always think is the most essential part to any performance. He knows what he's doing, but he makes it look like he doesn't, which is why he's such a deft actor. I can't imagine anybody else in that part.
Rob said you guys talked during the original two seasons about whether you could make your schedule work to come and do a guest spot and it never quite happened. 
It makes no sense that I have yet to do anything [on camera] on this show. But the timing of it has never really worked out. The windows for shooting these shows happen pretty quickly, even in this last season, where I was away for the entire time.
Why do you think people like Party Down as much as they do, to the point where it's now coming back all these years later?
I think it's well-written and well-acted. And I think that there's a universal relatability to it all. This is a collection of people who have loftier goals, who are maybe not where they want to be in their station in life at the current moment. And yet they need each other, even though they can antagonize one another, more than they admit. Early on [in development], we talked about Taxi, where you had all of these people in this one spot, and they're at work, and they all need each other. And I think that that is something that everybody can kind of relate to… or most people anyway. And it's funny. It's just funny. And I think you kind of like all those characters.
The Party Down revival premieres February 24 on Starz.