Paul Hollywood Has Seduced Many a Woman With Baked Goods
With his piercing blue eyes, impeccable tan, Northern brogue, and intimidating glare, Paul Hollywood has become one of the most recognizable — and well-liked — reality-television hosts around.  The Liverpudlian baker has amassed great fame (and fortune) as the host of The Great British Bake Off since 2010 (known as The Great British Baking Show in America), as well as The Great American Baking Show, whose sixth season premiered earlier this month on Roku.
In Season Six of the American version, Hollywood is once again joined by his bubbly foil Prue Leith, as well as co-hosts Ellie Kemper (of The Office) and comedian Zach Cherry, as they judge a plethora of baked goods from American bakers.
"Baking is one of these interesting traditions that's been around many, many years," Hollywood tells Rolling Stone. "It's about harnessing that power and creating magic."  
Hollywood, 57, is not nearly as imposing during our chat as his on-screen persona would have you believe, but comes off as rather chipper and, dare I say it, buoyant. Maybe it's because he was sharing a glass of wine with Leith ten minutes before our talk, or maybe he's really just this sort of dude when the cameras aren't running. Whatever you think about Hollywood, you can't deny that he's both tough and fair.
"I'm not as terse as Simon Cowell, and I love Simon," he says. "We have a lot more constructive criticism on the shows. It has to be constructive."
Hollywood spoke to Rolling Stone and the talk made me hungrier than any interview I've conducted in recent memory.   
Your father was a baker too, so it clearly runs in the family. But I read that you initially wanted to be a sculptor. Is that right?
That's right. I went to art college straight from my main school. I looked at textiles, photography, pottery, and sculpture. And it was sculpture that really took my fancy because it was building the armatures, and the clay, and the manipulation of the clay, and creating these amazing figures. I loved it, to be honest.
So not just because of that scene in the movie Ghost?
[Laughs] You know what? There was a famous comedian over in the U.K. who I did a Ghost scene with. I had to come around and show her how to do [the clay]. It was Sarah Millican, and she's a Geordie comedian, and we did this scene where I was sort of manipulating it and it was dough in the end.
That's incredible. I was pretty surprised to learn that your name "Paul Hollywood" is in fact your real name and not a stage name.
No. My family's name has been around considerably longer than the Californian Hollywood. I remember I was filming and there's a charge where if you shoot the Hollywood sign it's $20,000 a minute or something ridiculous, and I was like, "Hang on! That's my family name on a mountain! You should be paying my family money!"
When you were a baker at luxury hotels, what were some of your special offerings?
Obviously, pastry and baking were my thing, and one time Tom Cruise was in with Nicole Kidman. They were in Ireland filming Far and Away at the time. I used to do blueberry and pumpkin muffins at The Dorchester, and there was a request put in for extra muffins. I thought, "This is weird. I made enough." And the room service guy came down and said, "We need some more muffins." And I said, "Well, it's gonna be at least an hour. Who's this for?" And they said, "It's for The Cruise Party." I said, "You mean…" and they said, "Yeah." They went over well.
You know that scene in Casino where Robert De Niro is closely inspecting how many blueberries are in each muffin? Were you that anal when it comes to blueberry distribution in your muffins?
Not that bad! I am though about the weight of the ingredients that go in, because the weight of the ingredients that go in dictates the amount of blueberries that go in each one. It's about how you introduce something like a blueberry because they're so soft they can break up. So, a nice, slow mix will keep the blueberry whole. That's the key thing.
How did you feel about the sheer amount of people who were baking loaves of sourdough bread during the pandemic?
I think it came down to boredom. They had excess time. And in the U.K., everyone was making banana bread too. You had time to stay at home and watch The Mother — the starter of the sourdough — grow, and if you can and watch it daily and watch it grow, you can understand what's going on. It was time at home that was well-spent. I think that if you can learn the skill of baking a good sourdough, you've accomplished something in your life.
What are some of the best tips you can give to someone who wants to get into baking?
You have to have a good oven that's service-regulated. A lot of people don't service their ovens or deep-clean them. One of my favorite things is deep-cleaning my oven. I know it's weird. A good recipe is also a good start, and you need to get a good set of scales. I think the U.S. needs to embrace grams more because it's more accurate than cups. A good recipe, a good set of scales, and a good oven, and you're ninety-five percent on your way to baking nirvana.
Let's talk The Great American Baking Show, which is back. How do you feel this show is different from the British version?
It's sweeter — and I don't know whether that's a good thing or a bad thing. I do appreciate the fact that they celebrate whatever fruits, veggies, nuts, legumes they have locally in their bakes. I do find most of the dishes quite sweet, which I did pick up on straightaway. Initially, there was a bit of a shock due to the amount of sugar that was going into some of their bakes, and that can be pulled back a bit, I think. Overall, and I've traveled extensively throughout the U.S., some of the bakes are unbelievable because there is no rulebook. They've broken all the rules in the U.S.   
What are some of your favorite American bakeries?
I'm useless with names. I'm too old and can't remember. Sullivan Street Bakery in NY, with the no-knead stuff, is incredible. San Francisco, oh my god, the number of great things I've tried in San Francisco… What got me in LA was the diversity with the gluten-free, wheat-free, and taking stuff out of baking. I went there and said, "Show me the best gluten-free thing you can do," and it was pretty good, to be honest.
What do you think Ellie Kemper and Zach Cherry bring to The Great American Baking Show that differentiates it from the U.K. version?
I'm not sure if this differentiates it, but what they do bring is warmth. The bake-off tent is like — in Norway they call it hygge. Hygge is like if it's a really cold day, and you put a dressing gown on after you've had a shower, and you've got a log fire on, and you're sitting in front of it on a beautiful carpet that's really soft going, "That's amazing." That's exactly what Ellie and Zach bring to the bake-off in the U.S. They bring that sense of hug that says, "Don't worry, it's OK." That warmth and love, which is what it's all about.
Do you feel like you're getting a softer with the handshakes? Giving them out more often?
Do you know what? No. But it's because the standard has gotten better. The show has been running for so many years now, so you attract the better bakers, and the handshake comes out more. Later this year, I'm going to pull back on the handshakes and make them more special. The problem is they keep moving the bar. It comes down to the bakers. If they smash it, they get a handshake.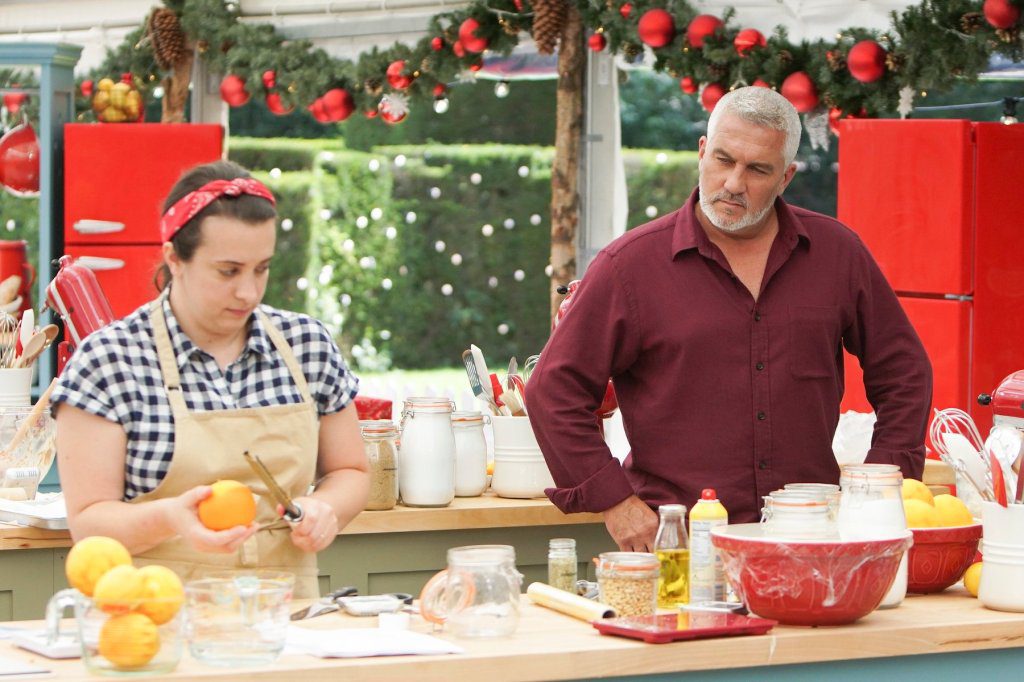 People must ask you for handshakes all the time. Are you choosy about how you dole out handshakes in your personal life?
[Laughs] Recently I was in a hotel, there was a group of us, and it was someone's 40th birthday. They came over and said, "Hi, it's my 40th birthday," and they had their hand out. I said, "It's not gonna happen." They said, "What do you mean?" I said, "Where's the cake? Give me something that I can judge, and I'll give you a handshake." David Schwimmer was on the British one recently and I gave him a handshake, and he was really moved over it. I was in shock. The handshakes have become a thing, and I don't know quite where it came from. It was my form of appreciation for what they baked.
You should get, "I ONLY SHAKE FOR CAKES" tattooed on your right hand.
[Laughs] Do you know what? I might do that.
Let's say you're at a wedding, and there's a cake there. Are all eyes on you and are the bride and groom like, "Paul, taste it first and let us know how it is."
I'll tell you a story. It was a few years ago, and I went to a friend's birthday party. Someone had made a cake for the birthday party. I sat there, the cake was brought to me, and they said, "That's my cake. Can you judge it?" And I said, "That's an amazing-looking cake. I think you've done a great job. The texture looks pretty good. Well-done." And she said, "No, no, no. Tell me as you do on Bake-Off." This was in front of 16 of her friends. I was like, "Why? I told you!" and she said, "No. Do it properly." I said, "Your texture is really taut in the middle, I'm not getting any flavor from the raspberries, and overall, it's terrible." She didn't speak to me for six months! Don't ask if you don't want to hear it! [Laughs]
If it's Paul Hollywood's birthday, what's getting served?
I like whipped sponge, so I like sponges that are quite light. Like chiffon. I like white chocolate and I like raspberries, so if all those are combined, you're on a winner.
So, you're dining at a restaurant. Do you have a go-to dessert that you order the most often?
That's an obvious one. It's the trickiest one in the book: soufflé. I know it annoys the chef. A soufflé should hold, and best one I've had would have to be at Le Gavroche in London. Michel Roux Jr. Amazing. There's a hot passionfruit soufflé with white chocolate ice cream dropped in the middle. It is to die for. The best American bake, for me, is a proper key lime pie. I love a proper key lime pie. The intensity of the flavors is just… ugh. Here's a secret I've never told anybody: If you make me a good key lime pie on Bake-Off, you'll probably get a handshake.
How long do you think you'll host Great British Bake Off? And what makes you still enjoy it after all these years?
Fourteen years I've been at the Baking Show — or the Bake-Off in the U.K. I love it. My father was a baker, I appreciate hard work, and I appreciate people who try their best. Baking is very nostalgic and very homely. There's nothing better than a homemade apple pie. They've taken time to create something for you, and it's about family, it's about friends, it's about sharing, it's about love, it's about passion. It's everything.
I'm curious: Have you ever seduced a woman with baked goods before?
Oh yeah.
And what would you bake them?
Oh wow, that's difficult. I think if you want to woo a woman, the best thing to do, for me, would be a beautiful pain au chocolat with their favorite chocolate inside. But it has to be fresh, and buttery, and crispy. That and a coffee in the morning. What's better than that?
My shirt's already off.
[Laughs]
You're known for your impeccable tan. How do you accomplish this?
Going abroad. Going to the U.S. I was in the Maldives a couple of weeks ago. I do travel a lot. I like exploring. One of my passions is traveling and understanding world culture when it comes to baking. I spend a lot of my time in the sunshine. The U.K. isn't the warmest place in the world, so I try to get out there.
It's a natural tan, then? This isn't a tanning bed/spray-tan situation?
I've never used a spray or lotion or a tanning bed, no! [Laughs] At the same time, I've never darkened my hair. I go natural white!
The Paul Hollywood staredown is a big thing, and bakers are quite intimidated by it. When did you know that you had an intimidating staredown?
I don't know, really! Because my eyes are quite blue — I used to do Halloween parties years ago when I was a kid, and I didn't bother wearing contact lenses. I just put vampire fangs in and people would get scared, because I looked like a Husky form of vampire. I think that's probably where it started! So, if someone I was working with professionally did something wrong, I'd look at them and they'd go, "Why did you look at me like that? It's quite an intense look." I'd go, "Really?!" On Bake-Off, I think it's just about the surprise. I think they just get worried about the color of my eyes. [Laughs]   
I wanted to ask you about the departure of Matt Lucas. How and why did that happen?
It's very sad. Matt's a very busy man. I've always been — and always will be — a massive fan of Matt's. I love Little Britain. He makes me laugh from the morning till night, but Matt's lifestyle and workload became too much. Bake-Off takes a lot of time, and it coincided with stuff he was already previously working on, and I wish him all the best. Matt's a hero of mine. We were texting last week. I love him. Always will.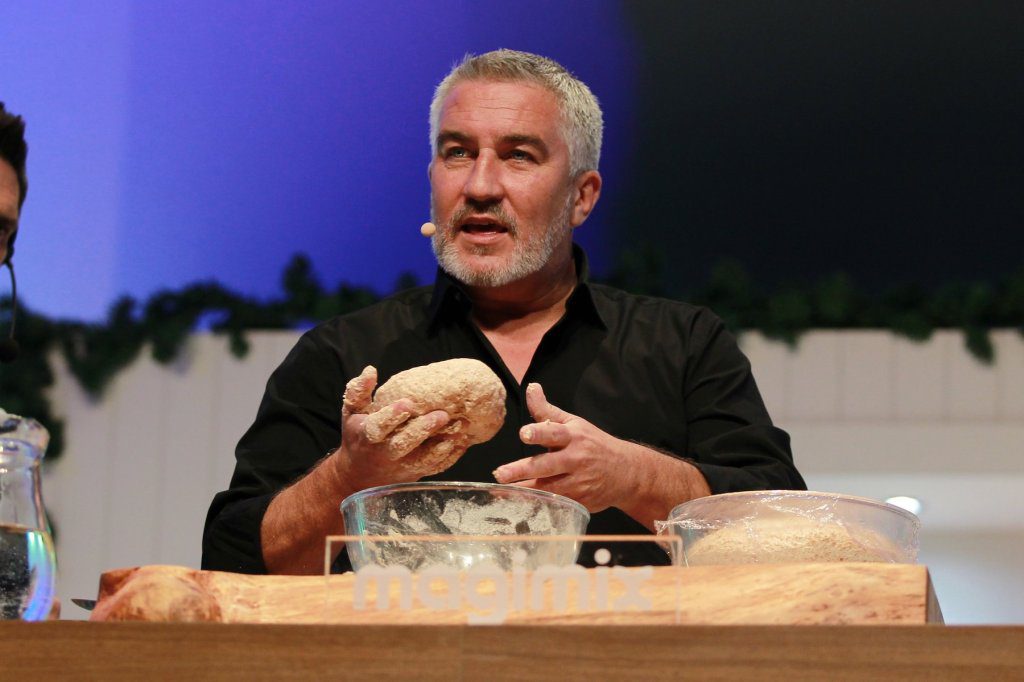 So, this wasn't a creative decision? Because I know some fans were not crazy about Matt Lucas' performance on the show and had trouble warming to him.
No, it wasn't. It was down to Matt and Matt's choice of direction.
The show got a little too male in recent years, in my opinion.
Yeah. Alison Hammond is taking over. She's amazing. I love her to pieces. We've already started working together and she's incredible. She's infectious. There's something about her, I think she's going to be great with the bakers when we start filming.
How did you land on Alison? What was that process like?
I think it's great to have two-plus-two — two males and two females. That works. But it's not my choice to choose who they have. I'm just the judge. I don't know! It's above my pay grade.
What's the key to your chemistry with Prue? And do you two hang when cameras are off?
Yeah. We were just having a glass of wine together ten minutes ago! Me and Mary used to sit too, have a glass of sauvignon, and it put the world to rights. I love Prue. If I'm that age and I'm that bubbly and active, I'm gonna be a happy guy. She's an amazing woman and I love her to pieces. And I love Mary to pieces. With Prue, I love her color, her vibrancy, her love for life. I'm the bit of rough from the North and Prue is the posh one. [Laughs]
Are you aware of the soothing effect of these shows? They have such a calming effect.
I watch a lot of American television — I'm a big fan — but I do get a little fired-up about the adverts that come in every three seconds, or the change in camera angle that comes every three seconds. There's something quite manic about it. Bake-Off will spend fifteen seconds looking at a cake. And it's not just about looking at a cake, but about that relaxation of looking at a cake for fifteen seconds and then questioning your life. It's that slowness of Bake-Off.
One thing Hollywood's struggled with is making good movies about cooking and baking.
Because they don't have me in it! [Laughs] Although, having said that, what was that film with Gal Gadot and The Rock and Ryan Reynolds? Red Notice? I was in that! There's a clip where Gal Gadot is watching TV and I popped up, and I was like, what?
They had the wrong tan guy with piercing blue eyes in Burnt. They could have had you in that instead of Bradley Cooper.
[Laughs] I think Hollywood needs to call Hollywood and sort it out!