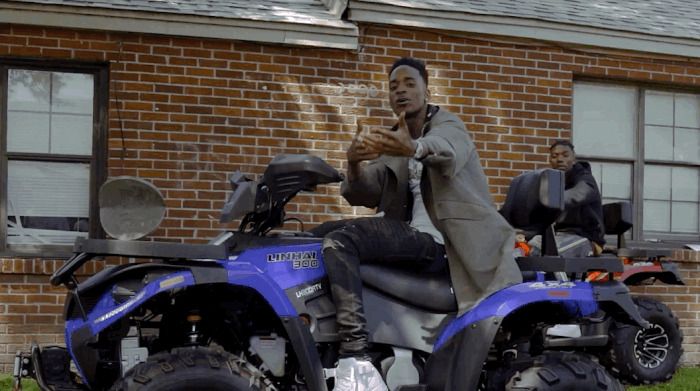 With an enthusiastic co-sign from Young Dolph, Memphis rapper Snupe Bandz is looking to be the next Paper Route EMPIRE rapper to hit the big time. Today, the rising artist shares the video for "Remember," a solo showcase from the Paper Route EMPIRE compilation PAPER ROUTE iLLUMINATi. With a mournful, piano-led instrumental from BugBangin, "Remember" is a reflective turn from Snupe, who reflects on his modest origins and compares them to his flex-heavy present–he's gone from relying on dice games for income to making bank every day from his music. In the video, directed by Young Dolph's visual venture Paper Route Pictures, Snupe returns to his home projects with his newfound status, rocking his PRE chain as he interacts with the locals and traces over his old graffiti with fresh paint.
"Remmeber" is the second video of the week from Snupe Bandz, following the video for "Bandaid," featuring his PRE labelmate Key Glock. Both videos hail from PAPER ROUTE iLLUMINATi, Paper Route EMPIRE's first-ever compilation mixtape. The mixtape represents the culmination of a long and fruitful rise for Young Dolph–the mogul is ready to flex his A&R and CEO muscles, bringing a new crop of talent to the forefront. Along with Key Glock and Snupe Bandz, the tape features standout contributions from street favorites like Big Moochie Grape and Kenny Muney, and new signees like PaperRoute Woo, Big Unccc, and PRE first lady Joddy Badass. The 23-track tape offers the label to showcase its roster in plenty of combinations, and leaves room for big shots like Dolph, Glock, and Moochie to show off on solo songs of their own. Featuring an appearance from Gucci Mane and production from Bandplay, Memphis beatmakers like Tay Keith, DJ Squeeky, and Sosa808, ands trap titans like Drumma Boy and Budda Bless, PAPER ROUTE iLLUMINATi is available to stream everywhere via Paper Route EMPIRE.
PAPER ROUTE iLLUMINATi continues a banner year for the label, following up the release of Dum And Dummer 2, a collaborative album by Young Dolph and Key Glock. Debuting at #8 on the Billboard 200, Dum and Dummer 2 generated nearly 36k sales equivalent units across platforms and scored the fifth-biggest streaming debut on Spotify during its first week of release. Earlier this month, the album received a glowing review from Pitchfork, who awarded the album a 7.5 score and cemented Young Dolph & Key Glock as a "once-in-a-generation" rap duo, akin to 8Ball & MJG or Method Man & Redman, and "one of the most in-sync alliances in the genre today." Dum & Dummer 2 is the duo's second Top 10 album, following the original Dum and Dummer, which debuted at #8 in 2019.
Watch "Remember": https://www.youtube.com/watch?v=uljTppWaUGg
Buy/Stream PAPER ROUTE iLLUMINATi: https://music.empi.re/preilluminati