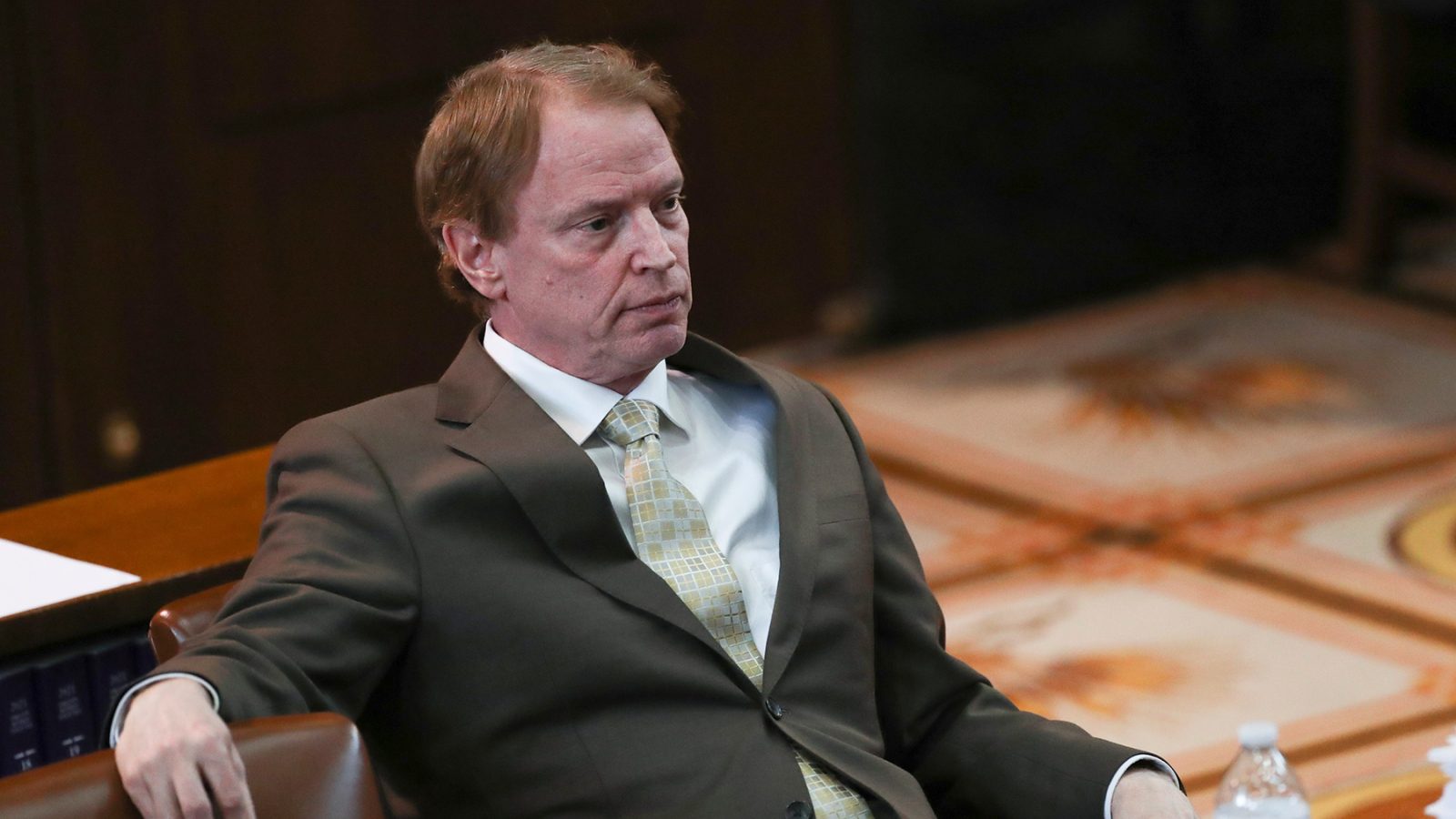 Oregon Republicans Are Literally Sacrificing Their Jobs to Block a Modest Abortion Bill
Back in October, Oregon Republicans were feeling optimistic for the first time in a long time: National GOP donors — with a major assist from local billionaire Phil Knight, the founder of Nike — were pouring staggering sums of money into state house races under the assumption they actually had a shot of flipping the Oregon Senate for the first time in 20 years. 
The man spearheading Republicans' efforts to retake the chamber was minority leader Tim Knopp. If they'd won, Knopp would have been anointed Senate president. But they lost. And instead of working to build on the modest gains they made in November, Knopp has led the Republican caucus on a sabotage mission that has disqualified 10 of its 13 members — one-third of the Oregon Senate — from running for reelection next term.
The debacle, which began in early May, was initially portrayed as a principled stand against elitism, with Republicans claiming they were walking out in protest of the fact that bills were no longer written at an 8th grade reading level. They later admitted the walkout was actually about a proposal that would have expanded protections for abortion access and gender-affirming care. It's a familiar story: Republican lawmakers, wildly out-of-step with their constituents on abortion, using any means necessary to impose restrictions or block protections.
In Oregon, it takes only a simple majority to pass a piece of legislation, but at least two-thirds of the chamber must be present to hold a vote. For decades, the minority party has taken advantage of the rules, walking off the job when they want to kill bills they don't have enough votes to defeat. Democrats pioneered the tactic back in 1971, but Republicans have invoked it with increased frequency in recent years, walking out to avoid voting on bills to fund schools (2019), limit greenhouse gas emissions (2019 and 2020), implement pandemic-era public health rules (2021), and redraw legislative districts (2021). 
There is one important reason why this walkout is not like Republican tantrums of the recent past. In November, Oregon voters overwhelmingly approved Measure 113, a constitutional amendment that declares lawmakers with 10 or more unexcused absences ineligible for reelection. Nine Republican senators, including Knopp, as well as one Independent, Sen. Brian Boquist, blew through that limit in late May.
Knopp's motivation, at least, seems obvious. "From the very beginning, when Rob Wagner was announced to be the next president of the Senate," says Sen. Floyd Prozanski, a Democrat, "the response from Tim was just over the top, very caustic, not a bipartisan approach, and made it very clear that he was not going to be able to or would be willing to work with him."
Things only unraveled over the course of the legislative session, culminating with Knopp seeking to remove Wagner from his position as president a day before he and 12 other legislators walked off the job.
Knopp did not respond to multiple requests for comment.
But casting the breakdown as driven by personal animus, another state house insider argues, lets Knopp and his fellow Republicans off the hook for a deeply unpopular political position. The bill that precipitated the walkout is HB 2002, an effort to codify the protections of Roe — including the ability of minors to obtain an abortion without parental permission — in state law. Oregonians are overwhelmingly supportive of abortion access, with 72 percent believing it should be legal in all or most cases, and they previously defeated a ballot measure that would have required parental notification for abortions. (HB 2002 would also require insurers to cover gender-affirming care.)
The high-profile walkout could have a political benefit for Knopp, who is widely viewed as unlikely to be reelected in the district he currently serves next year. (There is recent precedent: Republican Christine Drazen, former minority leader in the Oregon House, parlayed publicity she received leading a 2020 walkout into a bid for governor last year.) What remains unclear is how the rest of the "Oregon 13," as they are calling themselves, could benefit from a decision that torches their eligibility for reelection. Five of those lawmakers' terms will expire next year, four others are not up for reelection until 2026. Only one, Sen. Bill Hansell, has publicly announced he is not seeking reelection. 
At least two — Knopp and Boquist — have vowed to challenge the amendment in court, on the grounds that it violates free speech protections. Reached by email, Bosquist said he believed that barring him from reelection would require a two-thirds vote by the Senate. (The language passed by voters in November does not appear to specify that.) A political action committee, the Oregon's 13 Constitutional Defense Fund, has been created to bankroll Republicans' legal challenge, even as some experts insist their efforts are doomed.
"He's leading other Republican senators down this path," Sandy Chung, executive director of the ACLU of Oregon, says of Knopp. "The question is, do the other Senate Republicans actually understand, fully, the consequences? … They may be drinking the Kool Aid and thinking they have really good arguments to challenge this measure that was passed by the voters."
In the view of Chung and the ACLU, a well-known defender of free speech, Republicans' argument that Measure 113 violates their right to free speech "wouldn't hold any water." Before the measure passed last year, Chung says, "We engaged in a legal review, including seeing if there were any First Amendment issues.… and determined that it wasn't a substantive issue." After Republicans walked out in May, the ACLU of Oregon, along with Planned Parenthood Advocates of Oregon and Basic Rights Oregon, hired an independent law firm to assess the legality of the measure: that firm, too, declared the Republicans have no case.
However the court challenge shakes out, Oregon labor leader Melissa Unger says "it misses the entire point" voters made when they voted in November to punish lawmakers from walking off the job. Two-thirds of Oregonians supported Measure 113 — a majority in every single Senate district, and in 34 of Oregon's 36 counties. "By willfully ignoring this ballot measure, they are really ignoring what voters clearly said, which was: 'You have a job to do … Show up and do your job.'"
The question now is: How does this walkout — already longer than any in the recent past — end? One Democrat, Sen. Chris Gorsek, has been on medical leave since it began. When he returns to work as soon as next week, it would only take a single Republican defection to reach a quorum and resume voting.
If there are no defections, Gov. Tina Kotek will be forced to call a special session this summer to pass the state budget; the state is poised to run out of money as soon as September.
To Chung, the Republicans' defiance is symptomatic not just of an aversion to reproductive and LGBTQ rights, but of a larger anti-democratic rot in our politics. "There's no way that the Republican senators can win by actually engaging in our democratic processes, and so it very much appears they're willing to, basically, burn everything down … I don't know what winning is when you burn everything down."