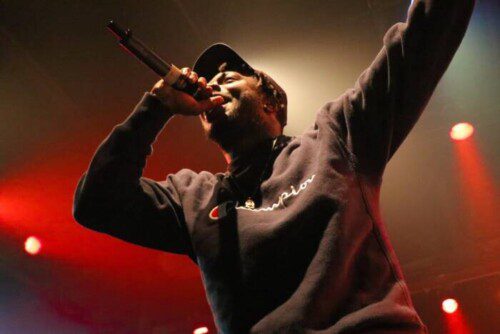 Online Magazines: The Key to Success for Up-and-Coming Rappers
Today's rap world is cutthroat. And honestly, it can be difficult for up-and-coming rappers to stick out. It's simpler than ever to produce and distribute music thanks to the Growth of social media and streaming services, but it's also harder to stand out. Future singers must therefore seize every opening that comes their way, including the chance to be featured in online publications.
For upcoming rappers, having work published in web magazines can have several advantages. First, it can boost visibility, allowing artists to connect with new fans and expand their fanbase. Additionally, it can strengthen an artist's reputation as a serious creative force who deserves to be taken seriously.
Online publications can also allow artists to network with other professionals in the field and possibly work together on new projects. Additionally, having work published in online magazines can give artists insightful feedback on what connects with their followers and what needs improvement.
Being published in online magazines also has the advantage of exposing one to new markets and genres. Being featured in one of the many subjects covered by online magazines can introduce an artist to fans in various marketplaces and genres. New possibilities, like collaborations with musicians from different genres or gigs in new markets, may arise due to this exposure.
Finally, publishing in online publications can have a positive impact on SEO. Being featured in an online journal, which frequently has a high domain authority, can raise an artist's search engine rankings, making it more straightforward for fans and business professionals to find them online.
We'll review these advantages in more detail in this article and explain why upcoming rappers must get their work published in online journals. We will also offer advice on locating the best publications and making a solid pitch for artists who want their work published in online journals. Future rappers can boost their odds of success and develop a successful music career by utilizing these opportunities.
Higher Exposure
Increased visibility is the first advantage of publishing a piece about an upcoming rapper online. An artist can gain new fans by being highlighted in one of the many online magazines with a large readership. An artist has more chances to succeed when people are conscious of their work. Artists can reach a larger audience than they could through their marketing efforts by publishing in online publications.
Online magazines are also frequently shared extensively on social media sites, which can further expand the artist's audience. This may result in more social media followers, music platform streams, and gig possibilities. In a crowded music business, increased visibility can also help an artist stand out, increasing their chances of being discovered by professionals.
Credibility
The credibility it lends to an artist's profession is another significant advantage of having work published in online magazines. An artist's publication in an online magazine demonstrates that they have something to contribute and that their skill is valued. This may play a significant role in attracting the interest of record companies, promoters, and other business leaders.
An artist can differentiate themselves from other upcoming rappers who might not have as much notoriety by having credibility. They may become recognized as a serious artist who merits notice. A credible artist will be more likely to be taken carefully and considered for opportunities by industry professionals.
Networking
Building a thriving music career requires networking. Being featured in online publications can facilitate connections between upcoming rappers and other professionals in the field. Other artists, producers, authors, publicists, and managers can be included in this.
Artists can interact with people interested in their work and want to work together through online magazines. A producer might contact an artist to work together on a new project, for instance, if they are featured in an online journal. Or perhaps a publicist will notice their work and want to assist them in developing their image.
An artist can discover new possibilities in the sector by networking. An artist can learn about new gigs, festivals, or record label opportunities they might not have otherwise known about by networking with other professionals.
Feedback
Receiving criticism of one's work is crucial for developing as an artist. An artist can hear reader feedback after publishing their work in an online journal. The artist may find this feedback helpful in honing their sound and style and understanding their audience's desires.
Additionally, feedback can assist musicians in determining what resonates and what doesn't with their audience. Artists can concentrate on producing material that connects with their audience by learning what their fans enjoy. An artist can progress and develop as a creator by using feedback to pinpoint areas where they need to improve.
Exposure to Fresh Markets and Genres
Online magazines cover numerous subjects, such as music, society, and lifestyle. An artist may discover new genres and marketplaces due to having work published in an online magazine. For instance, an artist might be exposed to fans of R&B, pop, rock, or other genres if they are featured in an online hip-hop journal.
Artists can increase their fan base and attract new audiences by being exposed to new genres and markets. Additionally, it may open up fresh possibilities, like working with musicians from different genres or performing in new marketplaces. Artists can broaden their views and develop as musicians by being receptive to new genres and markets.
Popular Publications Rappers Should Get Featured In
There are many magazines to choose from when it comes to online magazines. Being featured in one of these magazines, which is more well-liked than others, can give an up-and-coming rapper even more publicity.
Growth Illustrated is on the rise and getting a lot of traction as a music-related website. Rap is one of many categories that Growth Illustrated covers; it is renowned for its thoughtful and educational bios. An artist can identify as severe and respected by being featured on GI.
Complex is a different well-liked internet music publication. Complex also includes fashion, sports, and culture in addition to music. Musicians seeking to share their music and tell their story should use Complex, renowned for its in-depth features and interviews.
Another well-known publication for rap and hip-hop is XXL. The yearly "Freshman Class" edition of XXL is notable for featuring upcoming rappers making waves in the field. An artist's career can get a considerable boost and a lot of publicity if selected for the XXL Freshman Class.
The Fader, Noisey, and HipHopDX are other web publications to keep in mind for upcoming rappers. It's essential to do some study to determine which of these publications best suits an artist's style and objectives because each has a distinct readership and focus.
While being featured in a well-known online magazine can do wonders for an artist's work, it's essential to remember that each publication has its editorial guidelines. An artist should investigate the magazine's tone and substance before submitting a pitch to ensure their work fits. An artist can improve their odds of being published and engaging a larger audience by doing this.
© 2023, Logan. All rights reserved.