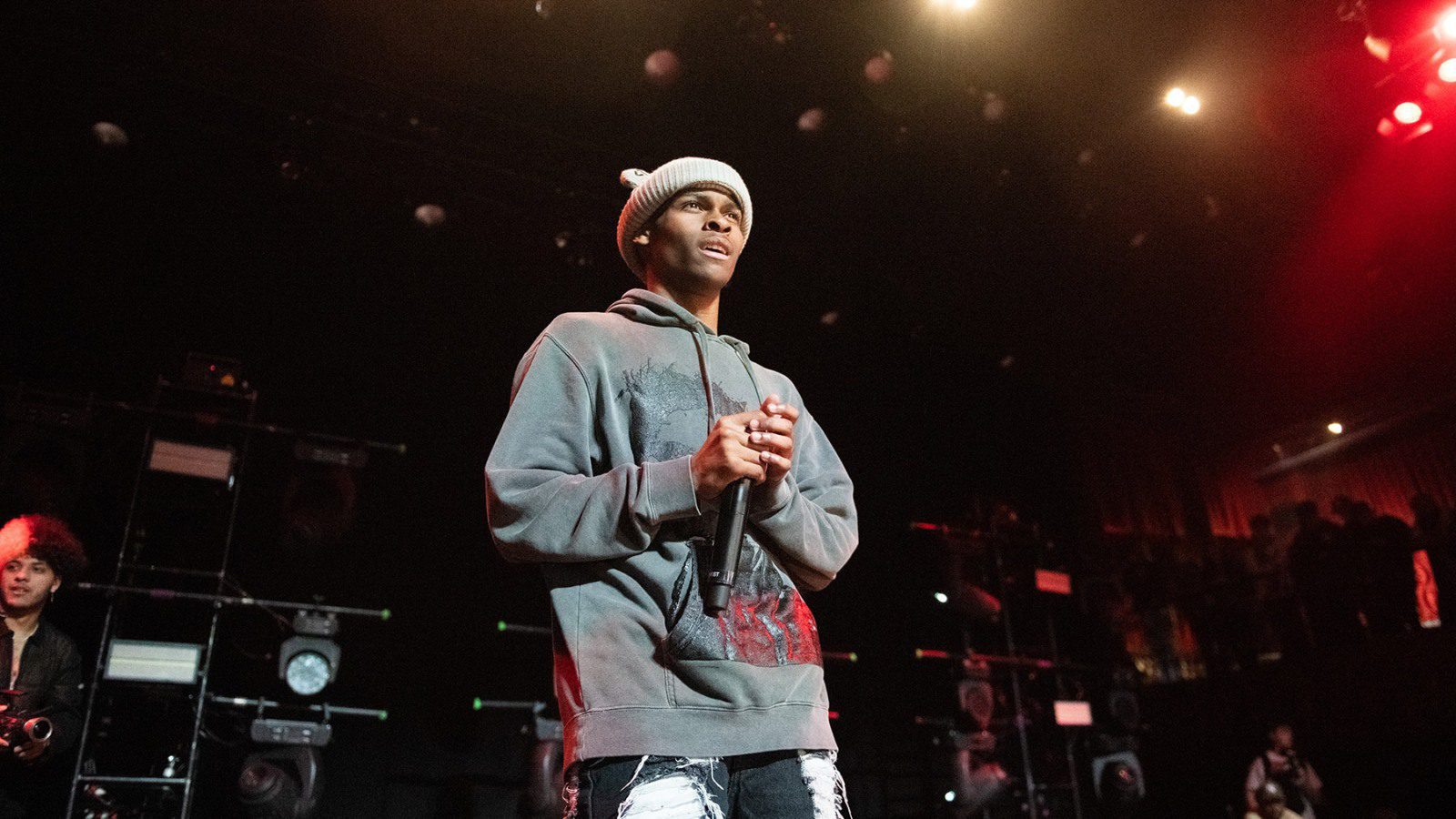 On His New Single, Yvngxchris Pays Homage to XXXTentacion
Today would have been XXXTentacion's 25th birthday. The quarter-century mark is a milestone that too many artists don't get to see due to the type of gun violence that XXX succumbed to on June 18th, 2018 (the same day that rapper Jimmy Wopo was shot and killed at age 21). The shooting was an abrupt end to the whirlwind life of one of the rap world's most polarizing artists. The Florida-raised musician allegedly committed abuses that made him a reviled figure in many circles, but his legacy isn't that simple for members of Gen Z like rapper Yvngxchris, who dropped "Serenity" today in honor of XXXTentacion and other murdered artists like Nipsey Hussle, Juice WRLD, and Pop Smoke.  
"[XXXTentacion's greatness] was his versatility and not just his music, it was the message he was trying to put out along with the music," Yvngxchris says over a Zoom call. "Being positive, being all one people, all loving each other. It was the message that went along with the music that resonated with me and millions of other people." Many would never put XXXTentacion and positivity in the same realm, but the reality is that he spoke to a generation of teens who feel unheard through their mental health trials. When parents, peers, and therapists can't reach them, songs like "Snow" and  "WingRiddenAngel" do. A YouTube commenter on the latter song stated, "I remember I use to play your music n' people looked at me weird I always wondered why because your music was a different type of beautiful to me because of how much I related to the darkness knowing not only me was feeling this type of pain living this horrid life."
Even after his death, XXXTentacion's influence has only become more pronounced within the fabric of hip-hop, as members of Yvngxchris' generation make waves while citing him as an influence. "Serenity" starts with the Virginia rapper's somber reflection on that tragic June day in 2018. "Don't you know the feeling of a loved one dying? / only difference we wasn't related he wasn't even close to me," he raps with his trademark double-time flow, following up by rhyming, "He taught us: distribute positivity / He taught us: to protect our energy."
The 2-minute song is a poignant open letter of gratitude to XXXTentacion, which is anchored by Chris's earnest mantra: "we could never stop 'til we got serenity." The second verse salutes Juice WRLD, Nipsey Hussle, and Pop Smoke as figures who "inspired kids to try to make some shit." The song is a doleful meditation on a generation of music lovers who keep losing their heroes. 
"Serenity" is the result of Yvngxchris' A&R Mont Brown urging him to pay homage to XXXTentacion, one of his biggest creative inspirations. The 18-year-old often rhymes with a dexterous, animated flow that shows remnants of XXXTentacion's effect, with rollicking songs like "Red Lyte" and the breakout "Off The Leash" marking him as a beacon of the new wave of SoundCloud rappers. Though Yvngxchris has been an XXXTentacion fan since "Look At Me" first went viral, he only recently felt compelled to articulate his feelings about him into song. "Back then, I would listen to the music, listen to his messages, and not really get it and be able to articulate what he's saying," he says. "But now as I get older, I understand it more and more." Yvngxchris cites XXXTentacion's unreleased FADER interview as a particularly insightful clip that he's better absorbed with maturation. 
Unfortunately, XXXTentacion didn't get to experience the clarity that can come with growing older. The FADER interview was aired on Hulu's Look At Me documentary, which chronicled XXXtentacion's tumultuous upbringing where he was exposed to domestic violence that may have shaped his later actions, specifically toward his ex-girlfriend Geneva Ayala. She says in the documentary that she forgave him for his abuse, and they were on good terms at the time of his death. For many, his premature death left him unable to do the work necessary to earn the redemption of other polarizing public figures who've mended their trauma (and reputation), but the bare honesty of Look At Me offered the closest we'll get to a holistic glimpse of the talented, troubled artist. Look At Me leaves viewers to their own conclusion, but the totality of his story suggests the futility of simple labels. There are those with unflinching perceptions of him as an abhorrent abuser, but so many young people, like Yvngxchris, celebrate him.
When asked how he reconciles XXXTentacion's music with his violent actions, Yvngxchris says, "That's his life. I can't really speak on what he's been through. I don't know him as a person at all, I don't know how to speak on anything he's been accused of. I just listen as a fan and I listen for the greatness, honestly, and for his message." That's the mindset of millions of fans who made ? the most streamed album in Spotify history last year. Five years after his death, people are still engrossed by XXXTentacion's music, with many hoping that his spirit has found the "Serenity" that Yvngxchris rhymes about.