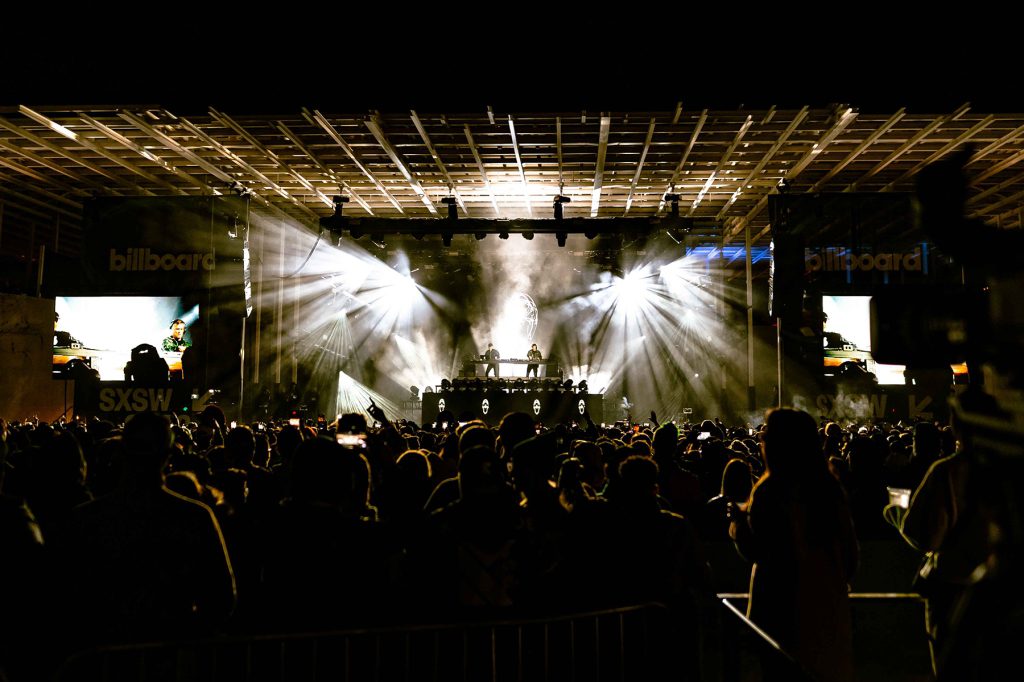 Noise Rules the Night in Austin
It's been a long week in Austin, and many of the musicians and fans who flew into Texas had already split town by Saturday night — but those who were left made it a night to remember, with furiously loud punk noise, enormous EDM beats, and more. Here are the best things we saw on the final night of SXSW 2023 (you can find all our coverage from this week here).
Model/Actriz Send SXSW Off on a High Note of Absolute Madness
All week long, those who'd seen Model/Actriz said their set was not to be missed. On the final night of SXSW 2023, as the clock ticked toward midnight at a stage curated by Sunflower Bean, the Brooklyn dance-rock/noise act showed how right that advice was, giving one of the most outrageous, amped-up, point-blank brilliant performances of the festival. Lead vocalist Cole Haden stood tall at the edge of the stage at first, one foot on a monitor, a floppy bunny-ears hat on his head, his body full of coiled energy. As the band's industrial throb kicked in, he sprang into motion — leaping into the crowd and inciting everyone within reach to jump in sync with bandmates Ruben Radlauer and Aaron Shapiro's blast-beat rhythm section and Jack Wetmore's icepick guitars. "You don't, you don't, you don't, you don't/Have to submit, submit, submit, submit yourself to it," he shouted over the din on "Crossing Guard" (a song that's a twisted tribute to Stefani Germanotta, among other things). But who could resist submitting to an energy that wild? Every time it seemed like he might let the crowd off easy, he drove them harder, ranging around the entire club floor and getting in people's faces until even the wallflowers were fully moshing. Part diva, part dictator, Haden was 100 percent unforgettable. —S.V.L.
Lifeguard Throw a Teenage Riot
Around 5:30 on Saturday evening, a loud noise exploded from the back patio of Tweedy's Bar, a spot north of UT's campus whose yard also contains a vegan bakery called Zucchini Kill. Onstage stood three teenagers making an unholy racket — freaked-out shouts, menacing bass hits, physically violent drumming, sour scowls all around. Lifeguard recently signed to Matador Records, where they'll fit right in; back in the day, they'd have made sense on Kill Rock Stars or Dischord, too. And while the Chicago DIY scene they come from is clearly well stocked with indie and punk connections — drummer Isaac Lowenstein's sister Penelope is in Horsegirl, another great young Matador band, and bassist Asher Case's dad has fronted several well-respected noise acts — they're plenty distinct enough to draw attention on their own. Case and screamer-guitarist Kai Slater bent over their instruments to summon waves of ear-splitting feedback with the intent focus of cavemen discovering fire. After a while, they perked up and got melodic for a fast-paced cover of the Jam's "In the City." Slater briefly paused between songs to tout tapes for sale by his and Lowenstein's IDM side project: "It's inspired by Warp Records and the utopian ideals of rave culture in the Nineties," he said. (Beat.) "Much like this band." Then it was back to noise and doom. —S.V.L.
The crowd at the Moody Amphitheater for Kaskade and Deadmau5's appearance at Billboard's the Stage was packed, easily featuring more people than there had been waiting for Lil Yachty to hit the same stage before his set was canceled due to severe thunderstorms earlier in the week. Maybe that's because this set marked the launch of Kx5, the first collaboration from Kaskade and Deadmau5 since they released "I Remember" 15 years ago. The contrasts between the two musicians are evident. Kaskade seems serious, dedicated to the task, while Deadmau5 — who was not sporting his signature mouse costume head — is wilier, as if he's amused by the turns in his own music. Those turns are deliberate, mapped out in advance of the performance. This isn't a haphazard improvisation, it's a coordinated attack. The set built momentum, gaining intensity as it went but always feeling carefully controlled: Not a beat was at risk. There was the vaguest air of this being an EDM equivalent of a classic rock reunion — a connection underscored by a moment when the chorus of Jefferson Airplane's "Somebody to Love" surfaced — because this is music made by veterans who adhere to their signatures even as they cautiously incorporate modern elements. That sense of familiarity also is what makes it satisfying. It's music designed to move the masses. —S.T.E.
Laraaji's Soothing Plant Music
By the last day of SXSW, most of those in attendance could use a break, and new age/ambient legend Laraaji was there to provide a generous one at Central Presbyterian Church. The night's performers were listed as Laraaji & Joe Patitucci with Plants, which turned out not to be a metaphor. Patitucci explained that he has dedicated his life to developing technology that can translate plants' internal flow of chloroplasts into audible sound. He gestured at a pot of ivy as Laraaji moved his arms in slow, deliberate, tai chi-like arcs. Then came the music: slow-building waves of synths, wind chimes, and occasional percussion, gently washing away any trace of skepticism. "I walked in the peace garden," Laraaji intoned as the plants did their thing. "Light was everywhere. Luminosity… weightlessness … space … timelessness … everywhere." He laughed in rich, bountiful peals. Longtime collaborator Arji "OceAnanda" Cakouros, standing beside him, repeated the monologue. After perhaps 40 minutes of incredibly soothing wordless sound (what was time inside that church?), and another dream narration from Laraaji and Arji, the piece ended. A long moment of peaceful silence followed, followed by laughter, applause, and an encore. "Goodbye for now," Laraaji said at last. "Hello forever." —S.V.L.
Soul Glo Brings the Noise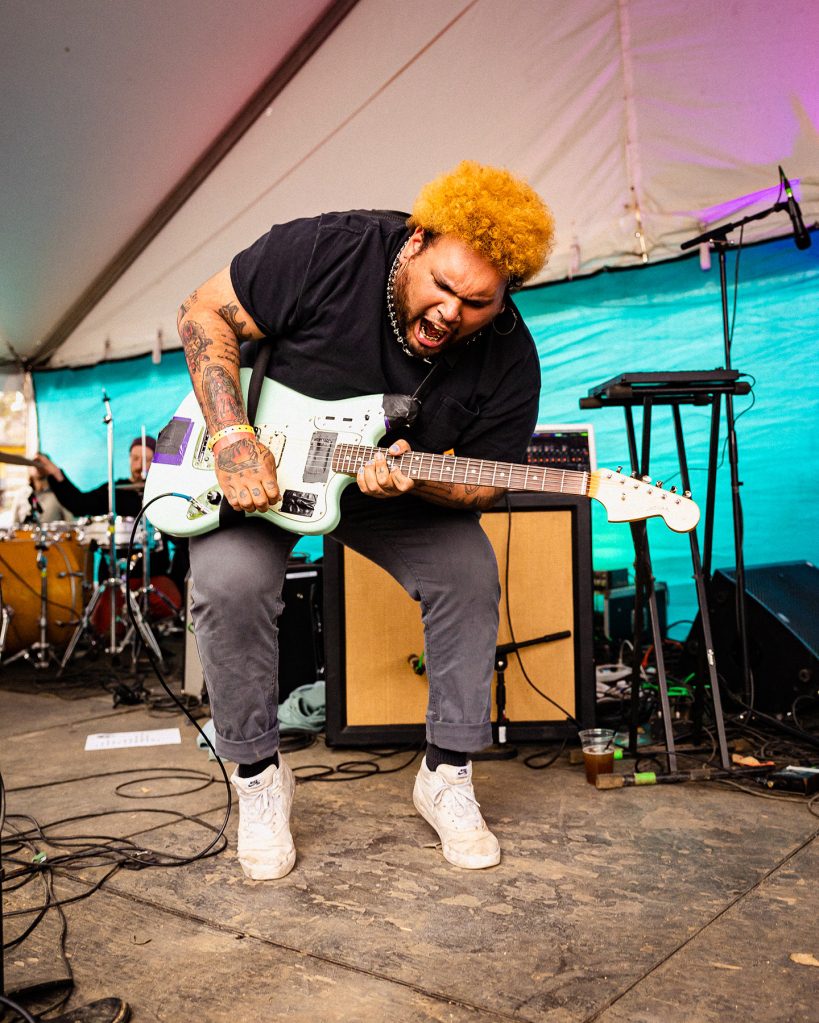 Like all good hardcore bands, Soul Glo is distinguished by how they play with generic conventions: the grain within the scream of frontman Pierce Jordan, the frenzy of their rhythms, the way fast riffs obliterate moments of slow tension, as heard on their album Diaspora Problems (which Rolling Stone named the best metal LP of 2022).  All that energy fueled Soul Glo's set at the Elysium, but it wasn't relentless. Momentum slowed during interludes where speeches and samples help underscore their message. These moments occasionally lead to effective transitions where the words give way to an ominous rumble that gets wiped out in the fiery roar of Soul Glo; ultimately, the band still delivers a direct hit to the gut. The careening chaos can disguise how hooky the bones of their songs are, but that's a hardcore trick too. Iit doesn't give you what you want, but what you need to hear.  —S.T.E.
Robert Ellis Sings Sweetly Above the Hubbub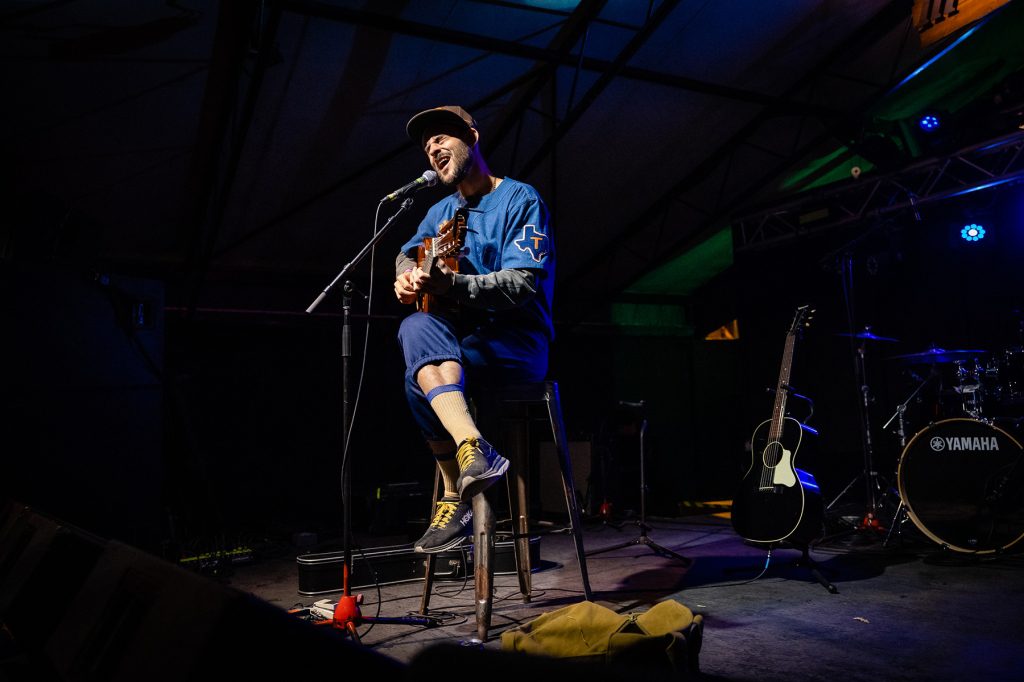 "Are your ears tired? You must be so sick of music." Robert Ellis asked this of the audience who gathered to hear him play an outdoor set at the Mohawk early on the last night of SXSW 2023. He was fully aware of the absurdity of singing soft, introspective numbers in this setting:  "This is the ideal situation to play quiet music, with four other bands coming from all directions." Ellis kept digressing into jokes and rambling stories during his set, even doing a bit of brief crowd work with the audience. The chatter might have been evidence that he was indeed "running on fumes" at the end of SXSW, but it also kept the performance lively and funny. His onstage humor helped counterbalance the songs he showcased from his new record, Yesterday's News, which is filled with gentle, intimate songs that require close listening. When heard in a crossfire hurricane of amplification, it can be hard to hear the subtleties of the songs — but the tenderness of his melodies and nimble nylon string fingerpicking rang sweet and true. —S.T.E.
Thus Love Soldier On to the Finish Line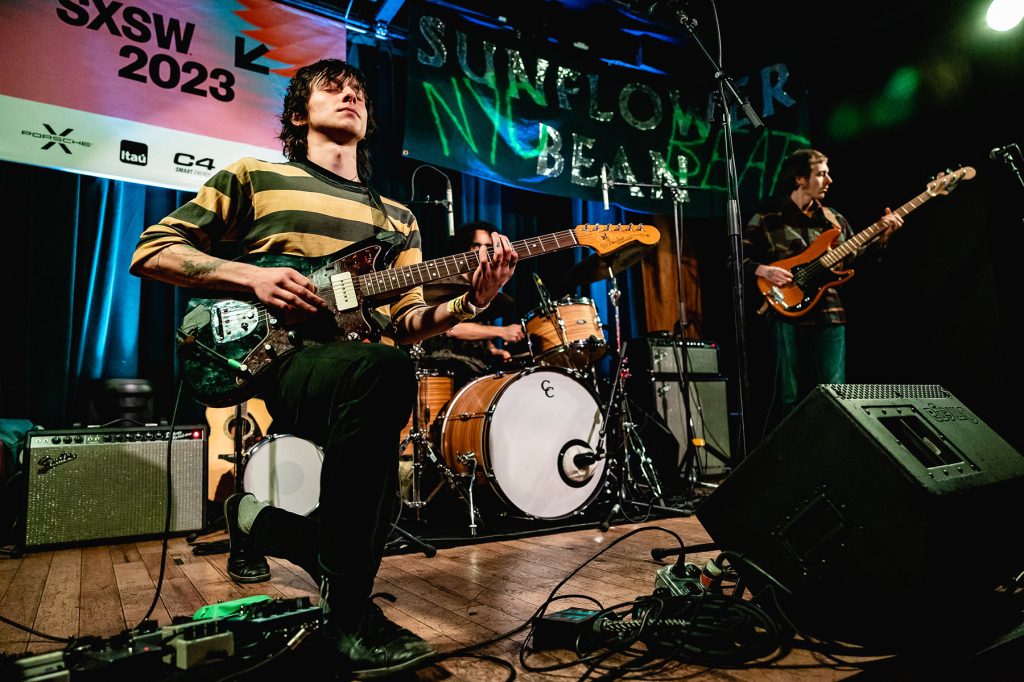 SXSW is a marathon for bands, so who could blame Thus Love beginning their set at Sunflower Bean's showcase with some solo strumming from lead singer Echo Mars? That wasn't the only change; their regular drummer tore a shoulder ligament stage-diving at an Oh Sees show earlier in the week, so they rallied with a replacement, who played with enough excitement to ensure that unwitting audience members never suspected something was amiss. Thus Love's music might have seemed like a hall of mirrors at times, a revival of the early-2000s revival of punk, but the danceable Strokes affectations were ingratiating as they were delivered with chunky chords and an energy that remained undiminished after a long, long week of gigs.  —S.T.E.
(Full disclosure: In 2021, Rolling Stone's parent company, P-MRC, acquired a 50 percent stake in the SXSW festival.)