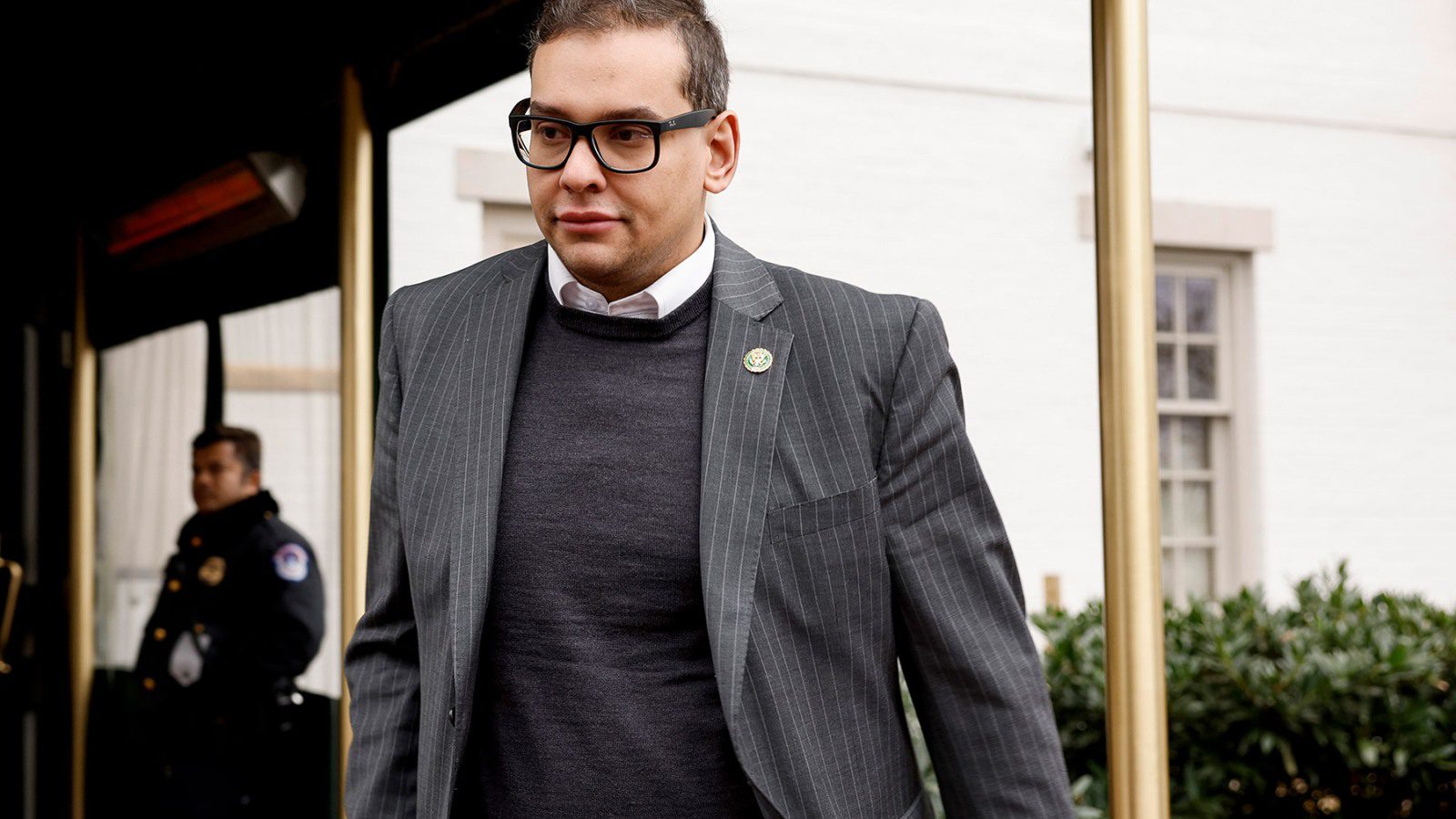 No Diluted Botox: George Santos' Former Volunteer Secretly Recorded Congressman
Congressman George Santos is a known karaoke lover, but we're pretty sure he'd like these hits to stop coming. The Long Island representative, who established himself as Congress' resident Liar In Chief, is now dealing with prospective staffers secretly taping him. An audio recording released Wednesday by Talking Points Memo revealed an utterly bizarre conversation Santos had with Derek Myers, a potential hire for his new congressional office.
The recording was created by Myers, a self described "media mogul turned Hill staffer," who  was working as a volunteer in Santos office at the time. In the recordings Santos and Myers discuss his future, and the reasons Santos had chosen not to rescind an offer for a full-time position as a staff assistant.  
Throughout the conversation Santos and Myers discuss an ongoing wiretapping case against Myers, a cause of concern for the congressman's office. Myers was arrested and charged with felony wiretapping in November of last year after publishing audio of testimony given in an Ohio court, that was obtained without authorization by a source. The case has been denounced as an attack on press freedom by various journalism watchdogs. Myers had previously worked for an NBC affiliate, and was fired after a confrontation with former U.S. Sen. David Vitter.
In the recording Santos can be heard telling Myers that, according to his knowledge, "recording in this building is a federal crime, and you get seven years," after the latter joked about taping the conversation. "Have fun at your peril!" Santos said.  
Santos referenced his own issues with public trust, admitting to Myers that he had lied extensively to his Chief of Staff Charley Lovett. "I've obviously fucked up and lied to him, like I lied to everyone else," Santos said, "And he still forgave me and gave me a second shot, unlike some other people."
"It's bad enough that I have to answer for myself these days, I don't want to have to answer, prospectively, for you," Santos told Myers.  
Myers told TMP that Santos had placed Lovett under a three year non-disclosure agreement because he "know's too much." Lovett denied the existence of an NDA for himself or any other staff.
The conversation ambles around, at one point the pair discusses thrifted ties, Colombian botox, and Santos getting a text from CNN Host Don Lemon. Myers told TPM that Santos "feels terrible about lying, he feels terrible that he got caught." Despite his admiration for the congressman, he says Santos' distracted attitude throughout their conversation "was insulting and it hurt my feelings." 
Myers explained to TPM that the conversation "shines a light" on Santos self-obsession. "It's all about George," he said. "We'll be talking about my livelihood and then here's a text from Don Lemon."
When the conversation ended, Santos advised Myer to "stop going to Colombia" for "diluted Botox." 
Santos previously told Semafor that he was aware that Myers had covertly recorded a conversation between the two of them after being contacted by TMP. The conversation recorded by Myers was reportedly about concerns Santos and his office had regarding a pending wiretapping case in Ohio. The congressman, however, told Semafor that he ultimately decided not to hire Myers due to his "evasive" answers regarding the pending criminal case against him.
Santos indicated to Semafor that Myers had "violated the trust that we had in him." Santos himself is no stranger to violating the trust people place in him, given that his tenure in Congress has been defined by an avalanche of reports regarding the many lies he has told throughout his life. 
In December, the New York Times published an in-depth investigation that revealed how Santos had invented the majority of his resume, educational background, and personal backstory. Subsequent investigations uncovered how Santos had lied about being Jewish (and having grandparents who survived the Holocaust) to court campaign support, allegedly committed check fraud in Brazil, and reportedly stole thousands in fundraising dollars raised for the service dog of a disabled veteran. 
Facing a litany of investigations, including potential criminal and civil investigations in New York, Santos recused himself from serving on congressional committees. Santos may also now need to add office security to the to-do list of controversies, ethics referrals, and law enforcement scrutiny he needs to address.