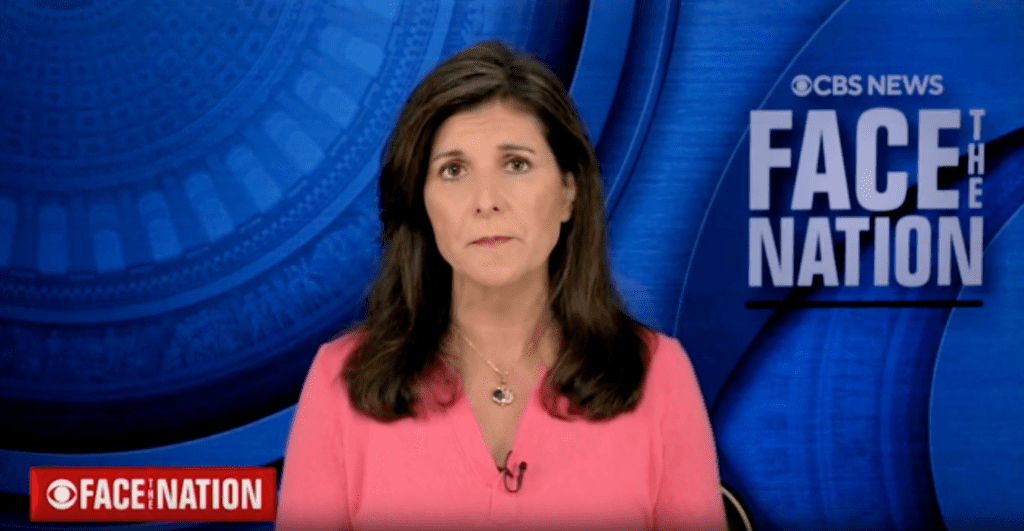 Nikki Haley on Trump's Sexual Battery Verdict: 'I Was Not on the Jury'
When asked if a New York jury finding Donald Trump liable for sexual battery and defamation undermines the Republican Party, GOP presidential candidate Nikki Haley on Sunday made sure to note that Trump has appealed the verdict, and that altogether, "the American people need to make a decision based on that."
Trump must pay $5 million to writer E. Jean Carroll, who is reportedly considering filing another lawsuit against the former president after he called her a "whack job" with a "fake story" during last week's CNN town hall.
Haley, one of the GOP's most high-profile women, reacted to the outcome of the civil lawsuit on CBS "Face the Nation."
"I have always said that anyone that feels like they have been sexually assaulted in any way should come forward and have their voice heard," Haley told anchor Margaret Brennan. "I also think anyone that's been accused should be able to defend themselves. I was not on the jury. I am not the judge. I think that both of them had their voices heard. There has been a verdict and there's even an appeal."
Brennan followed up by asking Haley if she doubted the outcome of the case.
"No," Haley said. "I said there's a verdict. And I think there's been an appeal. And I think it stands where it stands. And I think the American people need to make a decision based on that."
Haley made similar comments about the case to conservative radio host Hugh Hewitt in an interview last Wednesday, saying that Trump "has got to answer for it."
"But you know," she added, "it's not my case. It's his case."
In his deposition for the lawsuit, the former president was asked about the 2005 Access Hollywood tape in which he says that when you're "a star" you can grab women "by the pussy."
"It's true that they can grab women by the pussy?" a lawyer asks Trump in the videotaped deposition.
"If you look over the last million years, I guess that's been largely true — not always, but largely," he replies. "Unfortunately or fortunately."