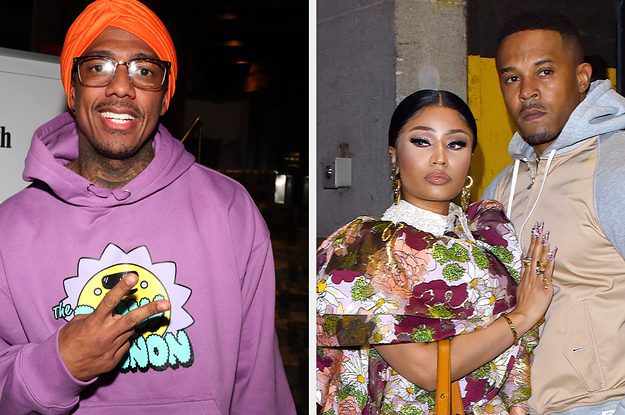 Nick Cannon Slams Nicki Minaj's Husband Kenneth Petty, Says He's 'Tarnishing the Brand'
"I believe what Courtney is saying is that he is tarnishing the brand," says Cannon. "You're standing on the corner of the block outside of the VMAs… If you a street dude, be a street dude. Don't be on the internet. Street dudes didn't even get on the phone. Like, real gangstas move in silence. He got a bunch of other cats around him, 'Yeah, we outside.' We know, n***a! I'm all for keeping it street, but keep it street smart."
Petty's IG Live did not sit well with a federal judge in Los Angeles who ordered him to serve up to 120 days on home arrest for "making threatening remarks toward a specific individual while in the company of someone with a criminal record." Last year, Petty was ordered to one year of home confinement and three years of probation for failing to register as a sex offender.
"If I marry a hood n***a, I gotta babysit your ass for 120 days? Oh n***a, you doing chores. You a housewife," added Bee. "Go ahead and wash them dishes."
Cannon and his co-hosts aren't the only radio personalities who've publically criticized Petty. The Breakfast Club's Charlamagne Tha God crowned Minaj's husband as "Donkey of the Day" on Thursday's show.
"Y'all do know, right, being a street n***a is not an actual occupation," said Charlamagne on the syndicated radio show. "There is not one single benefit you receive by being a street n***a. But for some reason, we just continue to see so many people, so many men who have the opportunity and the access to do other things, crash out because they still wanna be in the street."
He added, "I refuse to believe that standing outside of a hotel in the middle of NYC, mean mugging cameras, sending death threats makes you guys happy. In fact, I think you have to be pretty miserable to project that kind of behavior."