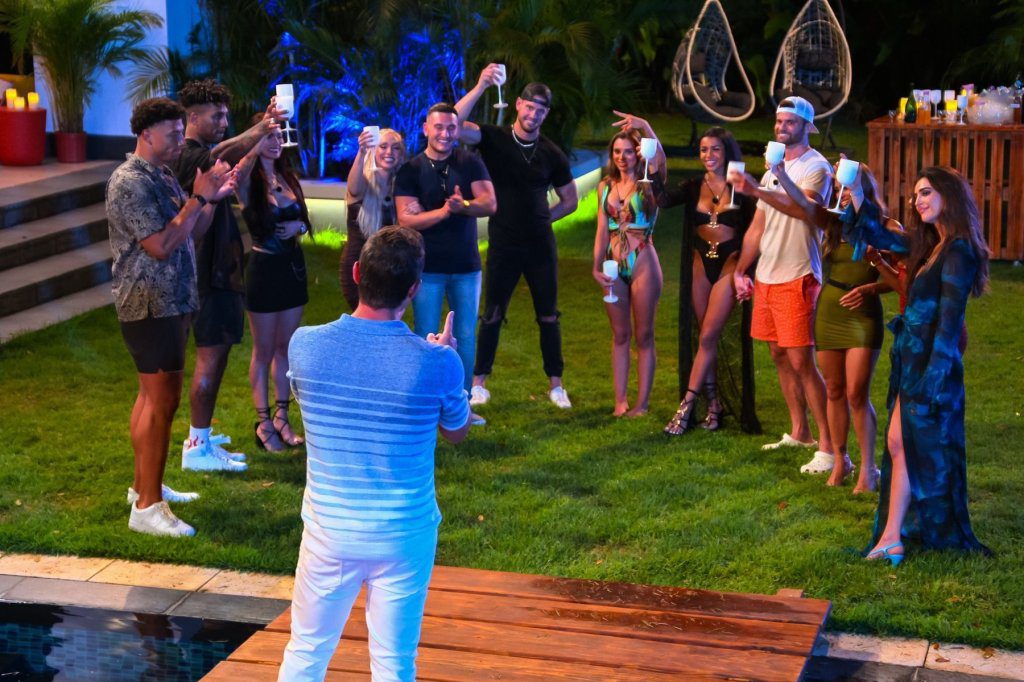 Netflix's 'Perfect Match' Is Horny, Utterly Ridiculous Fun
Back in the late '80s and early '90s, there was a CBS show called Circus of the Stars. The show featured a mélange of early '90s network TV stars, from Alfonso Ribeiro to Bronson Pinchot to  Six from Blossom. It gave fans a thrill to see all of these beloved TV stars assembled in a different context, usually doing minor acrobatic tricks or pretending to train Pekinese dogs. It was like the ultimate crossover episode. 
Perfect Match, Netflix's new dating show, is like Circus of the Stars — except for horny F-listers. A Netflix reality show comprised of cast members from former Netflix reality shows, it is the only TV show that has the bravery to ask: what if the winner of the first season of The Circle and the panda girl from the furry dating show were hooking up; and furthermore, what if people maintained enough real estate in their brains to remember who these two individuals were, and have an emotional investment in them? 
Hosted by perennial Netflix zaddy Nick Lachey, who does as good a job as he can telegraphing avuncular wisdom whilst wearing a Tommy Bahama shirt, Perfect Match is perhaps Netflix's least thoughtful reality dating show, and that is saying something. There is basically no point in telling you the premise of the show, as it is virtually impossible to follow and will make you feel like you're on edibles for the first two episodes. But essentially, what I can cobble together is this: a group of the most terminally horny and clout-hungry cast members from some of your favorite brain-dead Netflix shows (including Francesca and Georgia from Too Hot to Handle, Shayne and Damian from Love Is Blind, Zay from The Ultimatum, Joey and Nick from The Circle, Kariselle from Sexy Beasts, and Dom from The Mole) are assembled together in a comically oversized mansion to pair up into couples. 
The most "compatible" couples (a standard that's determined by a series of "compatibility challenges," such as couples kissing while wearing blindfolds and headphones) get to invite new former cast members from Netflix shows into the house. (To be fair to the contestants, this task requires an almost talmudic working knowledge of Netflix's programming from 2016 to 2023, and they more than live up to the challenge.) After entering a futuristic-looking "boardroom" to select the new contestant — a complete ripoff of the "truth booth" from MTV's Are You the One, a show that is sort of like Perfect Match for Nate Silver fans — the new contestants come in and try to break up old couples, and anyone left standing alone is booted from the show. The last couple left standing is voted "most compatible" by the former contestants and wins… I don't know, 50,000 or so new Instagram followers and a couple of vegan cream cheese brand deals. 
Depending on who you ask, the idea of casting a Netflix dating show with exclusively former Netflix dating show cast members is either stunningly lazy or brilliantly postmodern, an ouroboros of the stupidest parts of popular culture. In truth, it is both. Approximately 40 percent of the conversations on Perfect Match are contestants discussing each other's appearances on previous shows, complete with montages of the most underwhelming moments from their shows to jog the viewer's memory. (Even though I did watch Too Hot to Handle when it premiered in the spring of 2020, I had completely forgotten about both the creepy virtual assistant and the complete inability of Francesca Farago's face to evince any semblance of emotion. Thank you, Perfect Match, for reminding me of both.) 
Most of the contestants on Perfect Match are at least pretending to seek genuine romance. But of course, it's a reality show, so there are obviously two people who are there for "the wrong reasons": The Circle's Savannah Palacio and Nick Uhlenhuth, of Seasons Four and Three, respectively. Palacio and Uhlenhuth frequently tout their prowess at prioritizing "strategy" over emotion, though it's unclear what exactly that strategy may be aside from Palacio's aversion to shirts that provide sufficient torso coverage. 
The most charming and compelling, if not baffling, part of Perfect Match is the surprising sex appeal of Joey Sasso, the winner of Season One of The Circle who somehow, improbably, has ended up as the Pete Davidson of the Netflix reality show universe. Though Sasso was known more for his cuddly Italian charm than his sex appeal on The Circle, it's made clear in the first episode that prior to arriving at the mansion, Sasso had had sex with two contestants: Farago and Kariselle Snow, the motormouthed aspiring musician on Sexy Beasts. ("There are literally girls who think he's famous!," Snow tells another contestant of Sasso's "groupies," a sentiment  that parallels the incredulity of viewers at home.)  The on-again, off-again relationship between Snow and Sasso is the surprisingly sweet motor that keeps the first few episodes of Perfect Match running. 
"I am who I am," Sasso tells Snow when she informs him she's decided to match up with the vain and scheming Chase instead of him. "If I'm not good enough for you or anyone else, it is what it is." It's the perfect message for Perfect Match itself, a show that doesn't care if you or anyone else thinks it's anything but lazy, frothy fun.