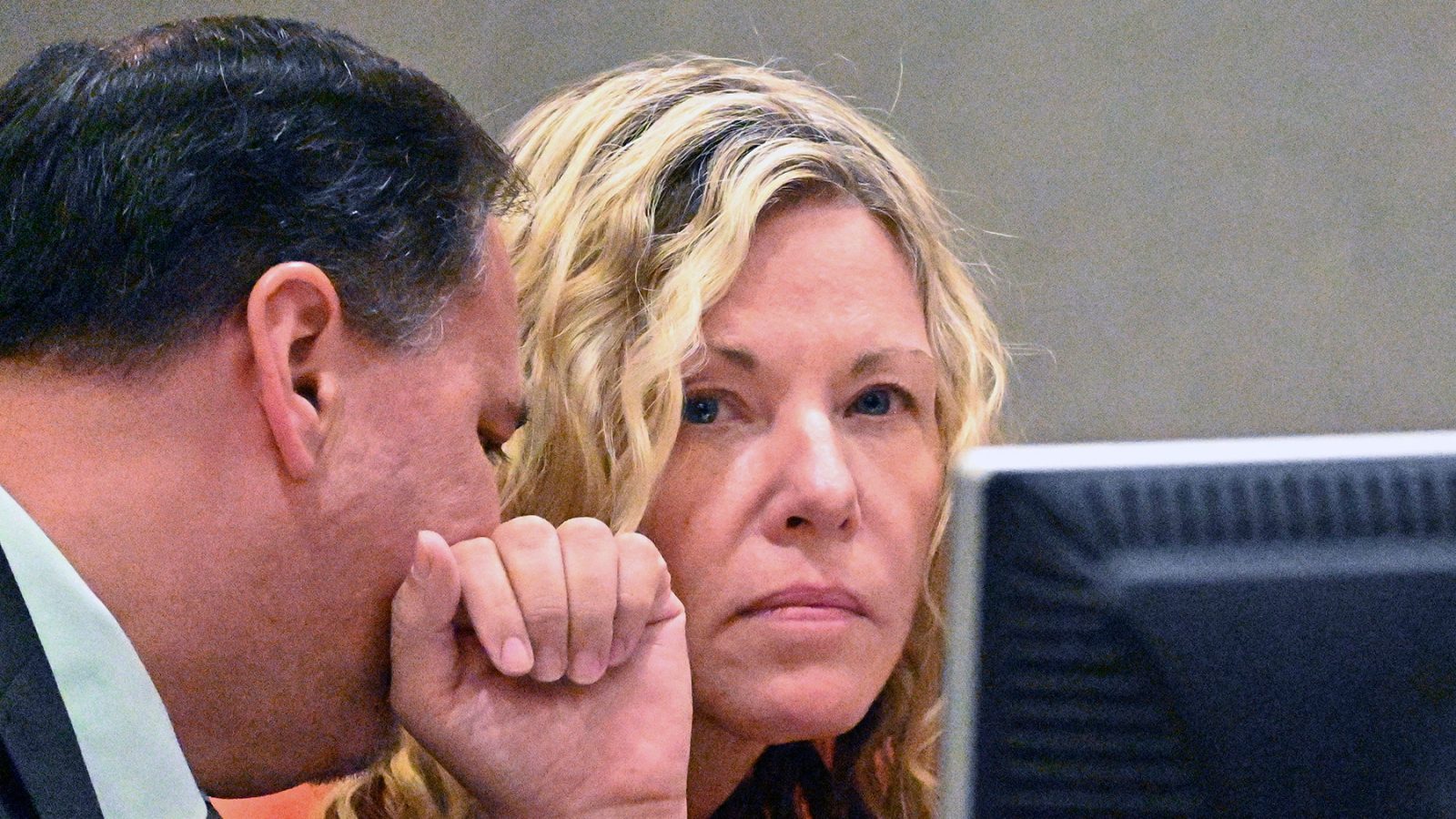 'Money, Power, and Sex': Jury Hears Dramatic Closing Arguments in Lori Vallow Murder Trial
The closely followed month-long trial of Lori Vallow for an alleged conspiracy to murder her children, J.J. Vallow and Tylee Ryan, with husband Chad Daybell, neared its conclusion on Thursday, as attorneys made their closing arguments to a jury in Boise, Idaho.
Madison County prosecutor Rob Wood addressed the court first, laying out what he said was a calculated plan by Vallow and Daybell, who were having an affair, to remove people who stood in the way of their life together — and profit from it.
"Money, power, and sex. Beginning in October 2018, Lori Vallow and Chad Daybell set in a motion of events," Wood's statement began. Showing pictures of J.J., aged 7, and Tylee, aged 16, whose remains were found buried on Daybell's property in Rexburg, Idaho, on June 2020, Wood said that Vallow never reported either child missing but continued to collect their Social Security benefits. He described in gut-wrenching detail how J.J., according to a forensic pathologist, struggled as he was asphyxiated with duct tape over his mouth and a plastic bag over his head.
Wood went on to remind the jury that Tammy Daybell, Chad's previous wife, was also found to have been asphyxiated and that Daybell stood to receive "$430,000 worth of life insurance" after her death. He and Vallow were married two weeks later. Wood also showed the jury a picture from their wedding, saying, "They were freed from the obstacles of their kids and wife."
Wood made mention of the bizarre spiritualism shared by Vallow and Daybell, who met through a religious conference in 2018 as members of the Church of Jesus Christ of Latter-Day Saints. (Daybell was excommunicated in 2020 following his arrest for apostasy and "promulgating teachings and doctrines contrary to those of the Church.") The pair believed they had special powers and could see beyond the "veil" that separates the mortal world from a spiritual one. Much of the case (and the media attention around it) has focused on the couple's obsession with doomsday prophecy and categorizing people as "light" or "dark," also referring to "dark" individuals as "zombies" possessed by demons. They were known to call J.J., Tylee, and Tammy "zombies," according to testimony from former friends.
"To be clear, nobody here has been charged for their religious beliefs," Wood assured the jury. "They have been charged for using those religious beliefs to justify murder." Religion had been a key subject in jury selection; Idaho has a significant Mormon population. Later, he added: "It does not matter what they believed. It matters what they did. They can believe whatever they want. But when they use that to justify homicide, that changes." Parts of Wood's argument addressed how Vallow used her religious faith to manipulate her brother, Alex Cox, into taking part in the conspiracy to murder her kids and Daybell's wife. Cox, who fatally shot Vallow's previous husband, Charles Vallow, in 2019, then claimed self-defense, died of natural causes in 2020. Lori Vallow has been indicted in Arizona in connection with that murder as well.
Wood also said that Vallow "manipulated Chad through emotional and sexual control," revisiting the passionate text messages they exchanged throughout their affair. Daybell is awaiting his own murder trial in Idaho, though no date has been set. Like Vallow, he has pleaded not guilty.
Jurors once again saw graphic photos of the Vallow children's bodies as investigators found them in Daybell's pet cemetery — J.J. wrapped in tape, Tylee dismembered and partially burned, with signs that she had been restrained. Wood argued that their grave had been prepared in advance as part of a premeditated murder plot.
"Who had motive to kill those people? Lori Vallow and Chad Daybell," Wood said, once again noting that Vallow never reported her children missing. "She lied, and she lied, and she lied about where they were, and while she lied, she kept collecting the money," he said. With pictures of J.J. and Tylee displayed to the jury, he concluded: "You must convict her."
Vallow's defense team — which rested without calling a single witness after the prosecution brought dozens to testify — countered Wood's argument by first walking the jury through the facts of their client's tumultuous life.
Attorney Jim Archibald recounted how Vallow had been married right out of high school, then divorced, then married and divorced again, and "worked hard as a single mother." He explained that her children "needed protecting from Joseph Ryan," her third husband and Tylee's father. (Vallow's surviving adult son, Colby Ryan, who testified for the prosecution, has claimed that Ryan was an abusive stepfather, but any testimony about Ryan and Vallow's rancorous custody battles was deliberately barred in this trial, and Ryan died of natural causes in 2018.) Charles Vallow was Vallow's fourth husband, Archibald said, and they adopted J.J. — Charles' nephew — because his parents struggled with addiction.
"They loved him, and they cared for him," Archibald said. "Then the story about Lori Vallow changes dramatically in October 2018." He began to hint that Daybell's nefarious influence actually led to the murders, explaining how Vallow came to believe in "dark" people or "zombies" through his teachings. "I talked to you weeks ago about paying attention to who does what," he reminded the jury.
Archibald disputed the state's claim that Vallow was motivated by money, noting that the late Charles Vallow had a substantial income compared to Daybell, who was supported by his wife, Tammy. He further argued that Daybell was the obvious leader of the small, fringe religious group he and Vallow presided over, having successfully recruited the entire membership, whereas Vallow had brought in anybody new.
But, perhaps most importantly, Archibald continued to insist that Daybell — the primary source of the "weird religious babble" swirling around this case — bore responsibility for the murders, which Vallow may have had no part in planning. He brought up how Vallow, when she moved to Rexburg to be near Daybell, enrolled her kids in school and hired a babysitter, suggesting this was incongruous with the state's portrait of a mother who knew her children were going to be killed. She didn't take out insurance policies for them, either, Archibald observed.
Archibald contended that Vallow only lied after the murders to protect Daybell. "We've heard how reason and common sense go out the windows sometimes when religious principles are involved," he remarked, saying that Vallow truly believed they were "eternal companions" who had been married in a past life.
Vallow's attorney dismissed a piece of physical evidence — her hair was found on the duct tape wrapped around J.J.'s body — as unrevealing because her hair could have been on his clothes or on the blanket he was found with in any case. "I would hope all of you who are mothers — I hope your hair is somewhere on your kid's pajamas, socks, or blanket," he said.
As for Tammy Daybell, Archibald questioned whether her death was a homicide at all, saying it stretched credulity to believe Chad had convinced coroners, police, and his children that she had died of natural causes if, in fact, she had been murdered.
Archibald continued to hammer the idea that Vallow was completely under Daybell's control. "Why can't people escape religious leaders?" he asked the jury. "She's following Chad. She thinks Chad is following Jesus, but he's not." He said Vallow believed in a kind and forgiving Jesus "until she met Chad Daybell."
"No one here thinks Lori actually killed anyone," Archibald said as he wrapped up. "That's why she's being charged with conspiracy." He instructed the jury that they "need to be concerned with following the law and the lack of evidence." In closing, he turned to the metaphor of a storm.
"If there is anything we've learned about a storm, you hide from a storm," Archibald said. "You seek shelter from a storm. Lori spent her whole life protecting her children."
Vallow is charged with two counts of first-degree murder and three counts of conspiracy in the deaths of J.J., Tylee and Tammy Daybell — in addition to grand theft, for allegedly collecting her children's benefits after they were killed. While Judge Steven Boyce ruled that the state could not seek the death penalty, Vallow faces life in prison if convicted of conspiracy to commit murder.