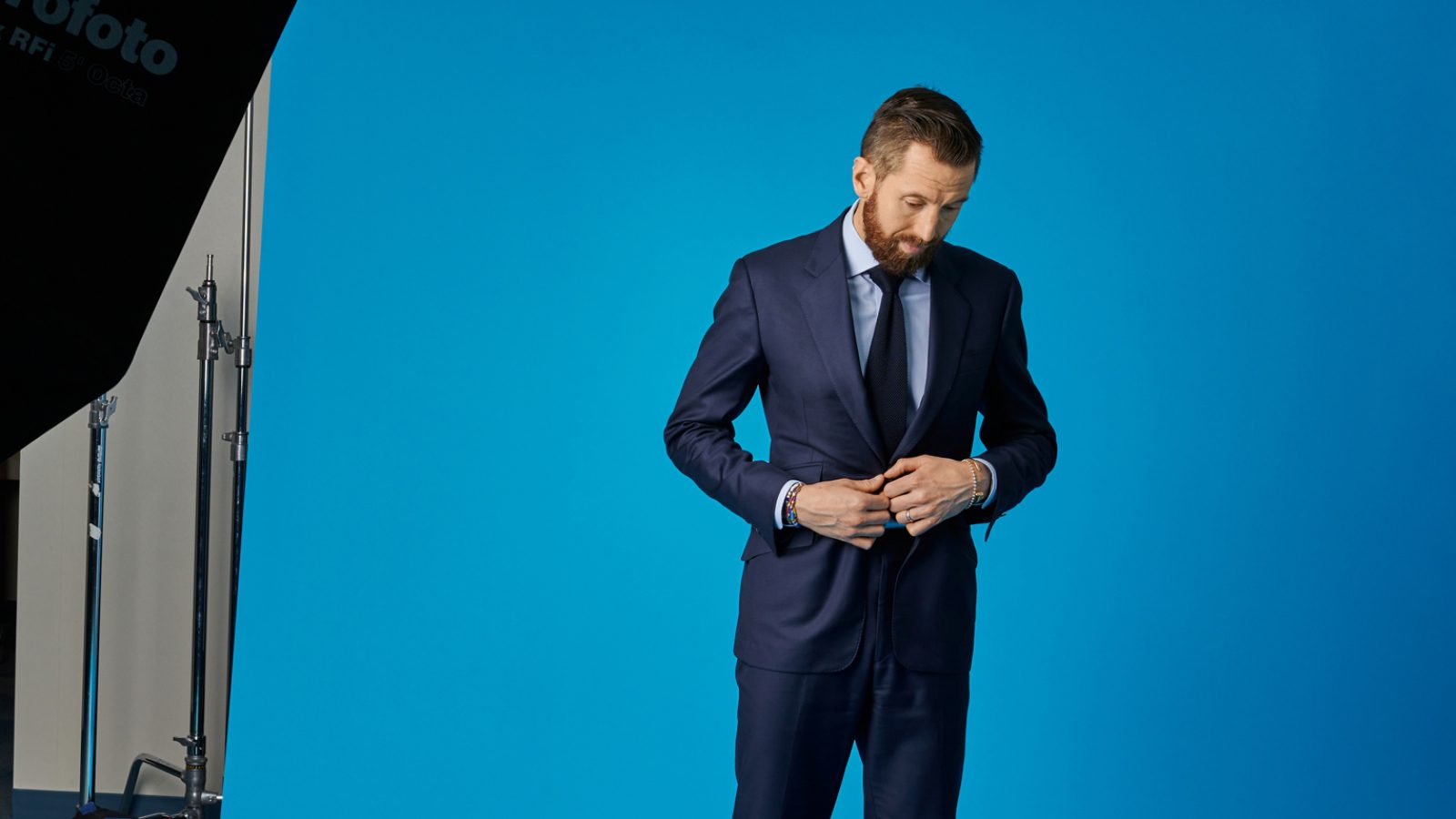 Meet the Overachieving Creator Teaching TikTok To Chill The F-ck Out
On a usual Sunday morning, Timm Chiusano has a somewhat extreme routine: a 4 a.m. alarm, emails, a 3.6-mile walk to the Brooklyn promenade, and a visit to the gym, all before most people wake up. With his sneakerhead style and full sleeves of tattoos, nothing about his slightly hunched frame, chill voice, or self-deprecating humor would clue a passerby into the fact that this Brooklyn dad has close to a million followers on TikTok — and has built a growing fandom simply by appreciating how good life can be at its most mundane. 
But today is not a typical Sunday. For one thing, his wife Kelly is out of town, which means fewer vegetables, a bit more candy, and a much later bedtime for both him and their 10-year-old daughter, Evelyn. "I think I actually fell asleep on the couch again this morning [after getting up], which is the first time in god knows how long," he chuckles. "We were up way too late the past couple of nights."
There's nothing groundbreaking about a white guy who wants to give the internet advice. Chiusano is wealthy, has a good job, and owns his home. With daily vlogging already considered a social media staple (YouTubers like Emma Chamberlain and Casey Neistat building legitimate empires from a few cameras) it's easier than ever for people to garner fame simply by oversharing. So it makes sense that people were initially drawn to Chiusano's content to simply find out why he works so hard. 
But it's his easygoing style — as well as an understanding that no one has to take his advice — that keeps his content refreshing. It's why every day, hundreds of TikTokers make copycat videos as an homage to his editing style. It's what made hundreds of people he'd never met cheer him on during the 2022 New York Marathon. It's what's made taco night at his house a coveted invitation for influencers. And above all, it's Chiusano's willingness to admit when things don't go according to plan, and how those things shaped his current life, that has turned the creator into one of TikTok's beloved authorities on becoming an adult. 
Chiusano, 45, juggles a few titles: V.P. in Spectrum's advertising sales division; a husband of 18 years to Kelly, who owns her own gym; dad to their 10-year-daughter, Evelyn. But it's the title of creator that he's still figuring out. More 2014 inspirational speaker than TikTok goals, Chiusano's content shouldn't work in a post-TedTalk era. But in a world where people can get torn to shreds for saying simple facts like "I enjoy coffee in my garden with my husband," Chiusano has managed to temper potential internet rage by humorously reminding people how things rarely go to plan. And even when discussing his schedule, which is often met online with suspicion, Chiusano doubles down on the fact that he only works so hard because it works right now. It doesn't have to work forever — or for everyone. 
"As [creators], we're mad disposable," he says. "I legitimately feel like I need to earn this life every day. I don't know if that's sustainable. At 45, it is what it is now, but I also don't pressure myself that I have to do this forever. I don't have to worry about that right now." 
Despite Chiusano's success — he's spent 20 years working his way up the corporate marketing ladder — in 2019, Chiusano became curious about TikTok as an up-and-coming medium. He had experience with Instagram and made exactly two Vines before the app shuttered, but thought TikTok's editing software might make the app a more interesting challenge. 
His first videos ranged from beer and protein bar reviews to 12-second videos about maximizing time. But it was his early experiments with vlogging that seemed to hit a nerve. "How was your weekend? It's such a simple question. Often we give such a generic response," Chiusano's voice smoothly croons in an early POV vlog. "But are we really enjoying the details of our life? Are we really taking the time to be mindful and reflect on those nuances?" The response — 17,000 views and a comments section full of people asking for life advice — made Chiusano keep going. By the end of the year, he was posting daily vlogs, opening with "This is a typical day in the life of a 40-something" or "POV," and averaging upwards of a million views, and thousands of comments per video. 
"My videos are abstract, kind of cringy stuff in my head that I try to turn around as quickly as I can," Chiusano says, sitting on the couch in his three-story Brooklyn townhouse. His voice drifts up to the tall ceilings, where an exposed walkway to his office stretches across the house. "The response that allows me to be more of myself is just a straight-up gift, especially at this age."
MEMORIES ARE A BIG DEAL. And nowhere is that more apparent than Chiusano's home. In between custom Beastie Boys wallpaper and an overabundance of Supreme merch are stickers, posters, and artwork given to him by other influencers. Photos line every available wall and mantle. His basement is filled to the brim with displayed sneakers, limited edition Jordan 1s next to marathon signs, and worn running sneakers. The feral cats in the backyard (Evelyn named them Puffy and Whiskers) return for food every night. His tattoos are keepsakes, like the stylized Canadian maple leaf, and his old hockey number. And even without Kelly physically present, notes that she has left while on various trips still dot the house. For Chiusano, TikTok is just one more way he creates tangible data, a living memory, of his life at each specific moment. 
"With TikTok, I get a chance to do a little bit of writing in my head every day," Chiusano says. "There's a strong argument to be made at 45 with a mortgage and a kid who loves the private school she goes to, why would I jeopardize that for making TikToks? But it's also so surprising to be welcomed into the space, especially to have younger creators that I've befriended. There's nothing about that that doesn't feel magical."
Caleb Simpson, a popular TikTok creator best known for taking viewers on tours of people's homes, says that being an influencer in New York City can often mean interacting with people who differ wildly from their online personas. But he tells Rolling Stone that when he met Chiusano, he was pleasantly surprised about how similar his content was to his actual life. 
"There are people who are definitely just playing a character online," says Simpson, who went to Chiusano's house for dinner just days after they first met. "I don't think Timm's playing a character. He's just being himself. He's a very present human and it does feel like he is trying to build a better life for himself and his family and the people around them. He just builds up whatever he's focused on." 
While Chiusano has been lauded for his positivity, it's also been a source of controversy. Last year, he posted a vlog detailing how he worked on the Friday after Thanksgiving. The video got 1.2 million views and sparked dozens of videos on whether Chiusano's content was actually toxic — a rebranded version of hustle porn, or a glorification of overworking and poor work-life balances. The controversy did little to dent his loyal following, but since the critique, Chiusano has been more active about pushing back against the idea that he's encouraging his followers to copy his life, or trying to sell his routine. 
"I would never tell anybody 'Hey, do [life] this way,'" Chiusano says. "No, I'm awkwardly sharing more than I probably should. Because that's the beauty of social media and the internet. Nobody has everything. But you can follow this person and that and kind of grab a mix of stuff along the way. That's what I hope people get."
While his content mainly focuses on his family, Chiusano is quick to make videos about harder subjects, like his genuine heartbreak over Roe v. Wade being overturned, his frustration at school shootings, or how the grief of losing a close friend can strike whenever he sees a red balloon. In the past two years, Chiusano says he's gotten messages asking about heartaches, handling sudden death, and addiction — all serious topics that have made him stop when he's gotten close to deleting the app. 
"I try to have fun and lead with appreciation above everything else because I am so appreciative of everything that I have and where we are," he says. "I'm fully aware of the privilege that I bring with me. So I don't judge and if somebody has a problem they want to talk through I'll be candid and try to have a straightforward conversation. Because I don't know that I would be able to do any better with anybody else's circumstances."
From the tidy office with a garden view, to the ever-present laptop, to the camera that is more often than not propped up grabbing content, work surrounds Chiusano. But so does rest, from his nightly snack hour with his family, to fish taco dinners with friends and creators alike, to simply enjoying a weekend bonding with his daughter. And while Chiusano himself seems constantly surprised that people would want to take advice from a seemingly average guy like him, each month he inches closer to the milestone of a million followers on TikTok, evidence that something he is doing is working.
But the creator's appeal is more than just his 4 a.m. alarm clock. By using his account as a celebration of the mundane, Chiusano's appreciation for life has built him a platform that challenges his viewers to be nicer to themselves — and their journeys — a little bit more. "I don't know that any of this is the right way to think about things. I'm always questioning," Chiusano says. "But what I do feel like I have down is an understanding that there are a lot harder things what I'm doing. At the end of the day, my only goal is to pick Evelyn up from school as much as possible. That's all I want."