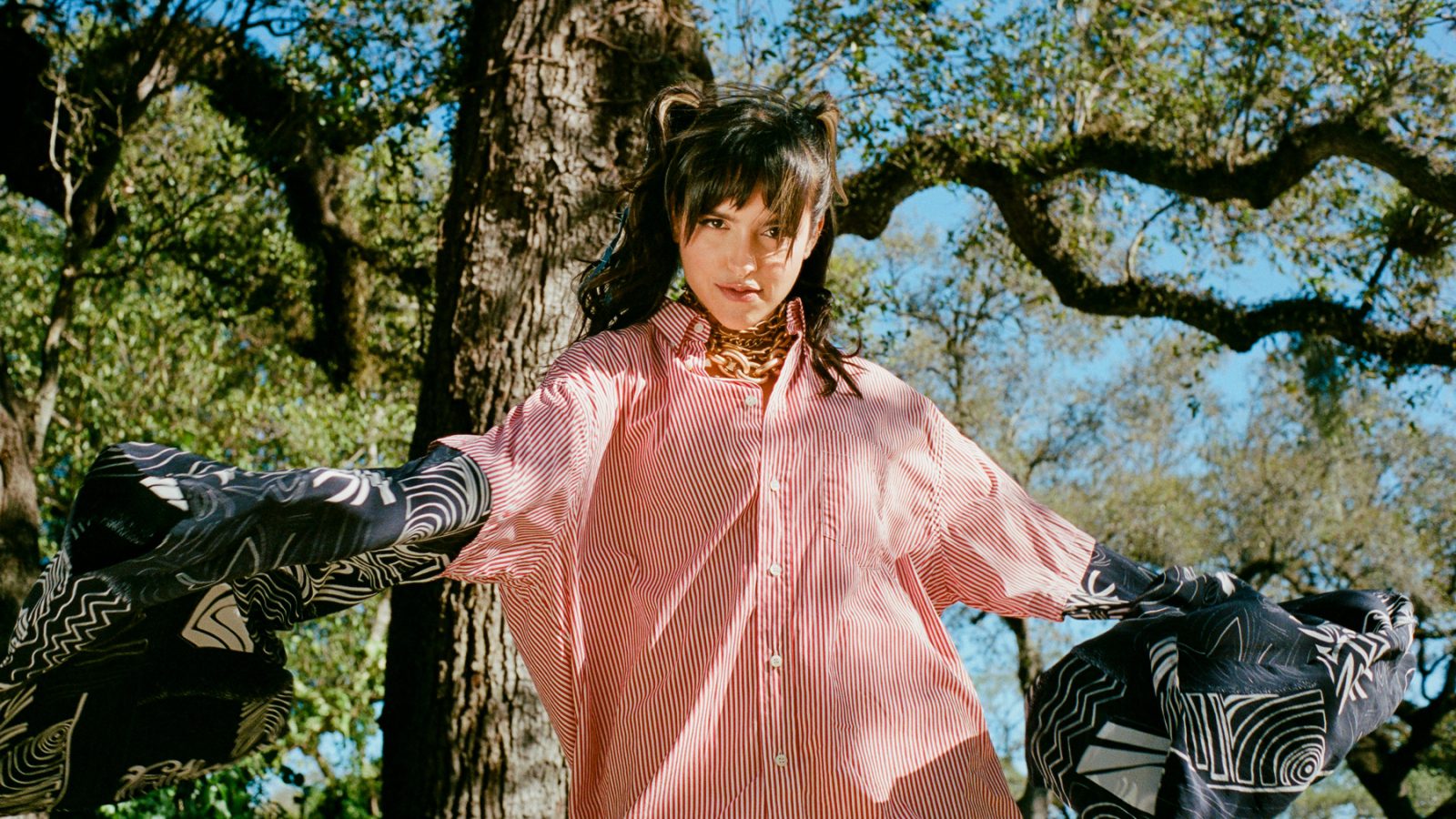 Meet Gale, Latin Pop's New It Girl
Gale is a giddy whirlwind of energy. Within seconds of meeting her, she dives into effusive stories about where she's been traveling and what she's been listening to; she'll share ideas she has for new songs and music videos, she'll tell you about her family and friends and inspirations. She'll even tell you if you have lipstick on your teeth.
There's an open-book quality to the Puerto Rican singer-songwriter, who's turned heads over the last few years writing for some of the biggest acts in Latin music, including Juanes and Christina Aguilera. She worked on several tracks that were featured on Clichés, the Latin Grammy-nominated album that Mexican pop duo Jesse & Joy released in 2022. And two of her songs — the victorious, reggaeton-laced "Santo" and the slinky "Brujeria" — landed on Aguilera's Spanish-language EP, which ended up winning the Best Traditional Pop Vocal Album category at the awards ceremony last year. 
Now, Gale is ready to launch a project of her own: Her debut album, Lo Que No Te Dije, is out in May, and it's a glowing collection of songs that puts Gale's knack for pop melodies and confessional lyricism on display. "I love opening a portal to vulnerability," she says. "I do want to be a badass bitch, but I want to be an honest, vulnerable, bad badass bitch."
Standouts on the LP are "D Pic," a hilariously upbeat objection to guys who send unsolicited dick pics, with a pop-rock twist. "Nuestra Canción," her latest release, is a break-up gem that channels the spirit of electro great Robyn, capturing both emotion and euphoria in a way that would make any listener want to sob at the club. Every song is testament to what a strong writer Gale is, and how she can make snappy, smart hooks feel uniquely her own. "I love that my lyrics are conversational and that because I'm from Puerto Rico, I have a little flow, here and there, in my verses," she says "But I also love to sing — that comes through in the melodies and the choruses that are very pop."
Lo Que No Te Dije is also an ode to her past and the experiences that have brought her where she is. Gale, whose real name is Carolina Colón Juarbe, was born in Arecibo, Puerto Rico. She's one of the people who knew what she wanted to do since she was a kid; she says she wrote her first song when she was seven years old. A lot of her first performances were at home, alongside her father, who played guitar and percussion. He loved romantic, traditional boleros by weighty artists like Armando Manzanero and Pablo Milanés, which became some of the first songs Gale learned to perform. 
She was shy at first, but she says her dad always encouraged her to start off with just three songs. "He'd be like, 'This is what you're going to be when you grow up. You have to practice.' And then after the third song, it would actually turn to 10 songs," she says, laughing. "It would be the whole repertoire."
Her mom, a theater actress in Puerto Rico, loved Eighties rock like Bon Jovi, while her stepfather loved old-school classics like the Beatles, Joe Cocker, and the Beach Boys. All of them encouraged her love of music, which she grew even more serious about when she enrolled at Escuela Libre de Músicato to study singing and guitar. When she was about 15, she remembers her stepfather saw a newspaper ad for a songwriting workshop and instantly signed Gale up, despite the fact that it made her nervous. "I'm a wreck, a mess," she recalls. "I'm like, 'No, no, I'm not going to go. I write songs by myself. I cannot be in a room with professionals. That's very uncomfortable.'" Her stepfather looked at her and said, "Do you want to do this for the rest of your life?" "I'm like, 'Yeah, of course.' And he says, 'OK then, even if you're afraid, you're going to do it.'" 
She tears up remembering her stepfather, who died of cancer last year. "He was always the one that told me, 'You have to do these things." And it was that drive and fearlessness that pushed Gale to move stateside once she graduated with a degree in marketing from the University of Puerto Rico and a certificate in songwriting from the Berklee College of Music. She lived with relatives in Pembroke Pines, Florida, about half an hour from Miami, and started trying to break into the industry. Songwriting was a path that revealed itself quickly. "I was like, OK, what are my options? Can I be a singer right now? No, but I'm going to start writing with other people," she remembers. "I'm going to start building relationships and I'm going to knock on doors and I'm going to find myself a publishing deal."
Like most things in her life, Gale went full steam, approaching her goals with endless enthusiasm and determination. One of the first opportunities she got was writing with the pop star Fanny Lu, who invited her back to more sessions. Soon, she had publishing deal with Warner Chappell Music — and eventually, a record deal with Sony Music Latin. 
Even when she was working on songs for other artists, Gale was busy brainstorming what she wanted to do in her own music. She wanted to come up with a name — not a pseudonym or alter ego, exactly, but a stage name that  would capture the boldest, most honest side of her artistry. She remembers one night, she was staring out of a cab window and looking at the stars when she began playing with the name "Galaxia." It reminded her a little of Gala, a muse in the 20th century surrealist movement who was married to poet Paul Éluard and, later, Salvador Dalí. She played around with the name, eventually coming up with "Gale," which to her seemed a little more unexpected and less common than something ending in the letter "a." She tucked the moniker away in one of her notebooks, where she'd collected hundreds of other concepts and ideas for her artistic vision. 
A few nights later, she woke up from a vivid dream. She'd been in the middle of a sea of people, engulfed by bodies all around her. All of a sudden, a name rose from the crowd: She heard someone shout directly at her, "Gale!" Her eyes flashed open, and she knew she had her stage name.
Now that her album is ready to launch, Gale is living that dream in real life. She's attracted the same kind of mass audience with the honesty of her songs; "Nuestra Cancion" made it to the top 10 on Billboard's Latin Pop Airplay chart. She's more ready than ever to keep connecting with her fans through Lo Que No Te Dije. "It's the best feeling in the world, because [this is] something that is born from my heart and that I went through, and then someone is like, 'Thank you for putting into words what I couldn't say myself or what I couldn't,'" she says. "I definitely know people go through lots of shit, but it's very cool to connect with someone with such a specific feeling. It's  crazy to me to think how fragile we are as humans. We are all so different, but we go through a lot of the same things."
And she knows that when the project comes out, it'll be a tribute to the people who helped get her here. She gives a lot of credit to her parents and her biggest supporters, but she's also thankful for the difficulties and the heartbreaks that laid out a path of her. "Even the broken, very sad feelings make me feel very grateful," she says. "I love feeling everything so deeply."
Production Credits
Produced by Joe Rodriguez. Hair and Makeup by Natalia Fernandez. Styling by Sarah Akiba