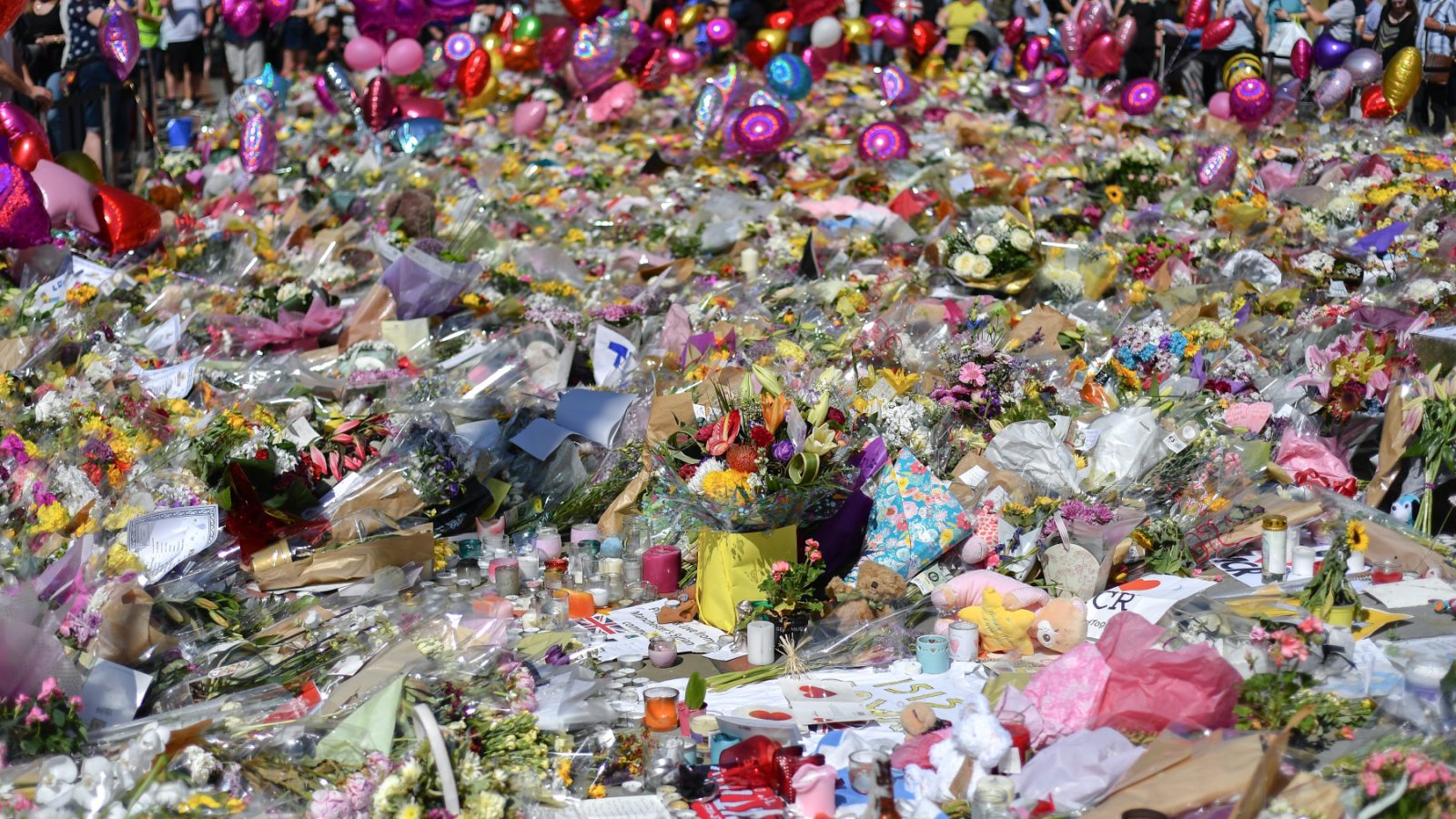 Manchester Arena Survivors Sue Conspiracy Theorist in U.K. Legal First
The lawsuit is the first of its kind to be filed in the UK against a conspiracy theorist
Martin and Eve Hibbert, a father and daughter who suffered disabilities from the May 2017 terror attack outside an Ariana Grande concert, are suing conspiracy theorist Richard D Hall for defamation and harassment. The lawsuit is the first of its kind to be filed in the U.K. against a conspiracy theorist.
Hall, a conspiracy theorist, has falsely claimed that the Manchester Arena bombing that left 22 people dead was faked. The family sought a restraining injunction and damages on Friday, according to the Guardian, after Hall promoted the theory that the attack never happened and reportedly admitted to spying on the victims.
Hibbert and his daughter Eve, who was 14 at the time, were standing about 5 meters from the bomb when it exploded, per the report, and both required wheelchairs after the blast. Hibbert suffered 22 shrapnel wounds and was paralyzed from the waist down. Last year, BBC reported that Hall told the publication that he spied on Hibbert's wife from a vehicle parked outside her home. Hall reportedly stalked Manchester Arena survivors to see if they were lying about their injuries.
Hibberts' lawyers, Hudgell Solicitors, told the Guardian on Monday that "Martin is very determined to shut this individual down from harassing his family, and for peddling his outrageous slurs, lies, and repugnant views that have caused continuing offence and distress."
Neil Hudgell, a lawyer representing other clients targeted by Hall, said in October when announcing the family's intention to take legal action: "Several of our clients have had this man on their doorstep, taking photographs, invading their privacy in the most intrusive way. Martin and others are determined to stop this individual from continuing with his repugnant behaviour."
The lawsuit echoes the series of defamation trials against Alex Jones brought by the families of children killed in the 2012 Sandy Hook shooting. Jones was sentenced to pay a total of almost $1.48 billion in damages after falsely claiming that the mass shooting was a hoax, and accusing both the murdered children and parents of the victims of being actors. He filed for Chapter 11 bankruptcy for his InfoWars parent company Free Speech Systems LLC in December.