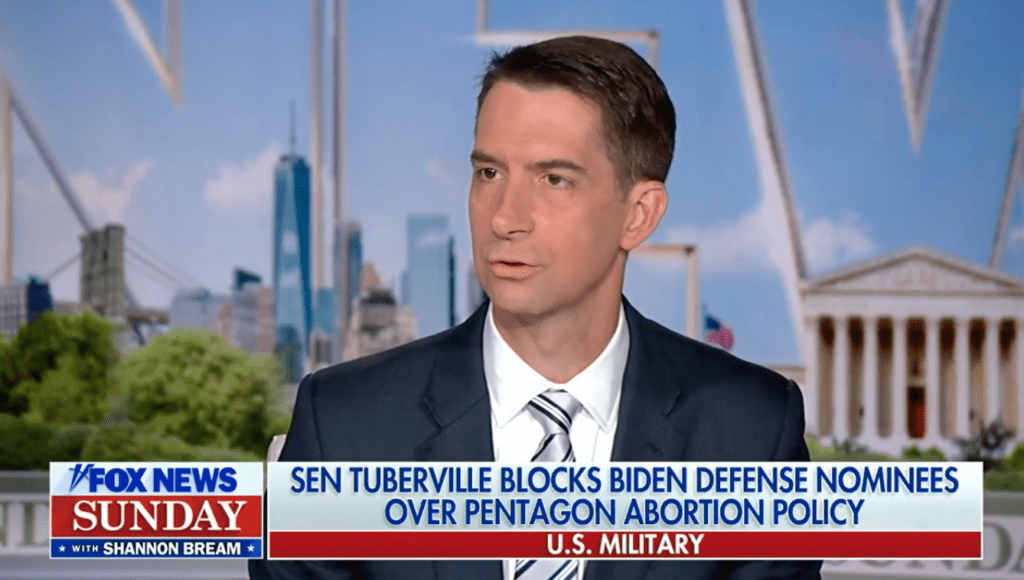 Male GOP Senator Smears Pentagon Reimbursement Policy as 'Abortion Tourism'
Sen. Tom Cotton claimed on Fox News that the policy, introduced after Roe v. Wade was overturned, is "unlawful."
Sen. Tom Cotton (R-NE) on Sunday shrugged off questions about his opposition to the Pentagon paying for service members to travel to receive an abortion, smearing the policy as unlawful "abortion tourism" and insisting that women should just use some their allotted time off.
On Fox News Sunday, Cotton was asked about Republicans in the House on Thursday adding several controversial amendments to the National Defense Authorization Act, including one that would nix the Pentagon's policy of reimbursing service members for the travel costs incurred to obtain an abortion. That policy has drawn the ire of Sen. Tommy Tuberville (R-AL), who in response has been holding up hundreds of normally routine and speedy military promotions in the Senate.
"So what should women who are in uniform in a place where they cannot access an abortion because they are there on orders, what should they do?" anchor Shannon Bream asked.
"Well, if they want to take that step," Cotton began, "they have 30 days of annual leave. It shouldn't be taxpayer funds giving them three weeks of paid, uncharged leave and then also paying for travel and lodging and meals–something that we don't even give our troops when they have a parent die, or a sibling die, or a beloved grandparent die."
Cotton went on to back Tuberville's actions, insisting that the onus is on the Biden administration and Secretary of Defense Lloyd Austin to "revert to the same practices we'd had for decades–the same practices we had last year after the Supreme Court reversed Roe v. Wade."
The Pentagon's policy was first announced last October, with Austin citing the court's ruling as having "impacted access to reproductive health care with readiness, recruiting, and retention implications for the Force."
In the wake of Roe v. Wade being overturned by the court's conservative majority, not only did trigger laws banning abortion take effect in several red states, but Republican legislators have been working to make it more difficult for voters to change those laws.