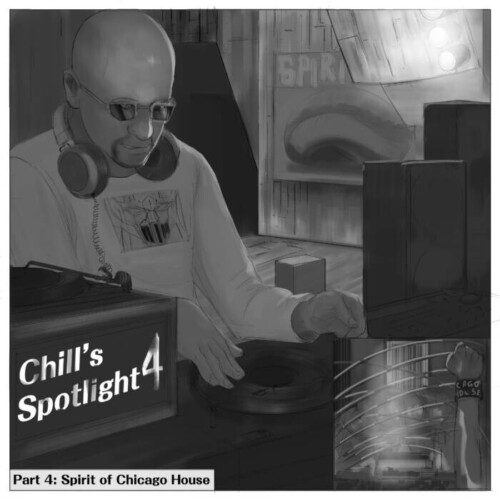 Lupe Fiasco Shares New Remix as Part of 1st & 15th's 'Chill's Spotlight 4' Compilation
A proud Chicago native, Lupe Fiasco is an inheritor and caretaker of his city's rich and innovative Black music history. Today, Lupe and his label 1st & 15th share Chill's Spotlight 4, a new compilation EP that delves deep into the history of House music, the now worldwide phenomenon that started in Chicago in the early 1980s. Produced in full by Vince Lawrence, known as the father of House music, Chill's Spotlight 4 takes the genre back to its roots, offering five pulse-elevating dance anthems from Chicago artists to salute "The Spirit of Chicago House."
Notable among the songs on Chill's Spotlight 4, is a brand new remix of Lupe Fiasco's song "Wild Child," originally released on Lupe's 2018 album DROGAS WAVE. Aided by Lawrence's smooth sensibilities, the new remix translates the bouncy guitar pop of the original version into the language of House, adding a liquid bassline, smooth electric keys, and prominent, washed out percussion, each element weaving between Lupe's rhymes to create an exhilarating effect. Featuring additional songs from Lil G, from the multi-Platinum-selling R&B group Silk, Chicago singer-songwriter Peter Jericho, and more, Chill's Spotlight 4 is available everywhere via Thirty Tigers.
The new Chill's Spotlight compilation comes hot on the heels of  "PRECIOUS THINGS," an innovative, Alberto Angelini-directed music video for a highlight from Lupe's acclaimed 2022 album DRILL MUSIC IN ZION. Released on June 24th, 2022, DRILL MUSIC IN ZION earned critical acclaim from NPR, Complex, The FADER, and many others, including Vinyl Me Please, who wrote "At their best, Lupe's bars are as visually and phonetically pleasing as popped bubble wrap." The product of a burst of thoughtful spontaneity, Lupe created DRILL MUSIC IN ZION over a short period, diving into a folder of beats sent by Soundtrakk and emerging with a fully-realized album in just three days ("Sometimes deadlines are lifelines," says Lupe). The album is home to highlights like "NAOMI," in which Lupe fuses playful political analysis with poignant emotional resonance, and "MS. MURAL," which continues a series of songs that started on 2014's Tetsuo & Youth ("Mural") and continued with his last album DROGAS WAVE ("Mural Jr."), and the jazz-inflected title track, which slyly comments on how art created amidst strife becomes commodified entertainment for the masses. DRILL MUSIC IN ZION earned "Best Of 2022" honors from the likes of Complex, Okayplayer, RIFF Magazine, and The Needle Drop.
Beyond DRILL MUSIC IN ZION, 2022 was a massive year for the iconic Chicago rapper. He celebrated the 15th anniversary of Lupe Fiasco's The Cool, recently certified Platinum by the RIAA, and launched "LFT," an NFT program that allows fans to get closer than ever to Lupe. He blessed his fans with archival releases and loose singles, including the self-produced "100 Chicagos" and "Galveston," an Apple Music exclusive created in observation of Juneteenth. In the fall, Lupe started his position as a professor at the Massachusetts Institute of Technology, where he teaches "Rap Theory and Practice." The rapper is currently teaching his first semester of the course, with plans to continue in the future. Beyond music, Lupe continues to focus on the community organizations he founded, including We Are M.U.R.A.L, The Neighborhood Start-Up Fund, Society of Spoken Art, and his cross-cultural content venture, Studio SV.
With more music and other ventures on the way, Lupe Fiasco has entered a new chapter in his career, but he's not done growing.
"Your whole life you're physically growing, and as an artist, I feel like I'm taller now," says Lupe. "Not that I'm at a higher place of morality, it's that my vantage point and perspective is higher. I can see further."
DRILL MUSIC IN ZION and Chill's Spotlight 4 are available everywhere via 1st & 15th/Thirty Tigers.
© 2023, Seth "Digital Crates" Barmash. All rights reserved.