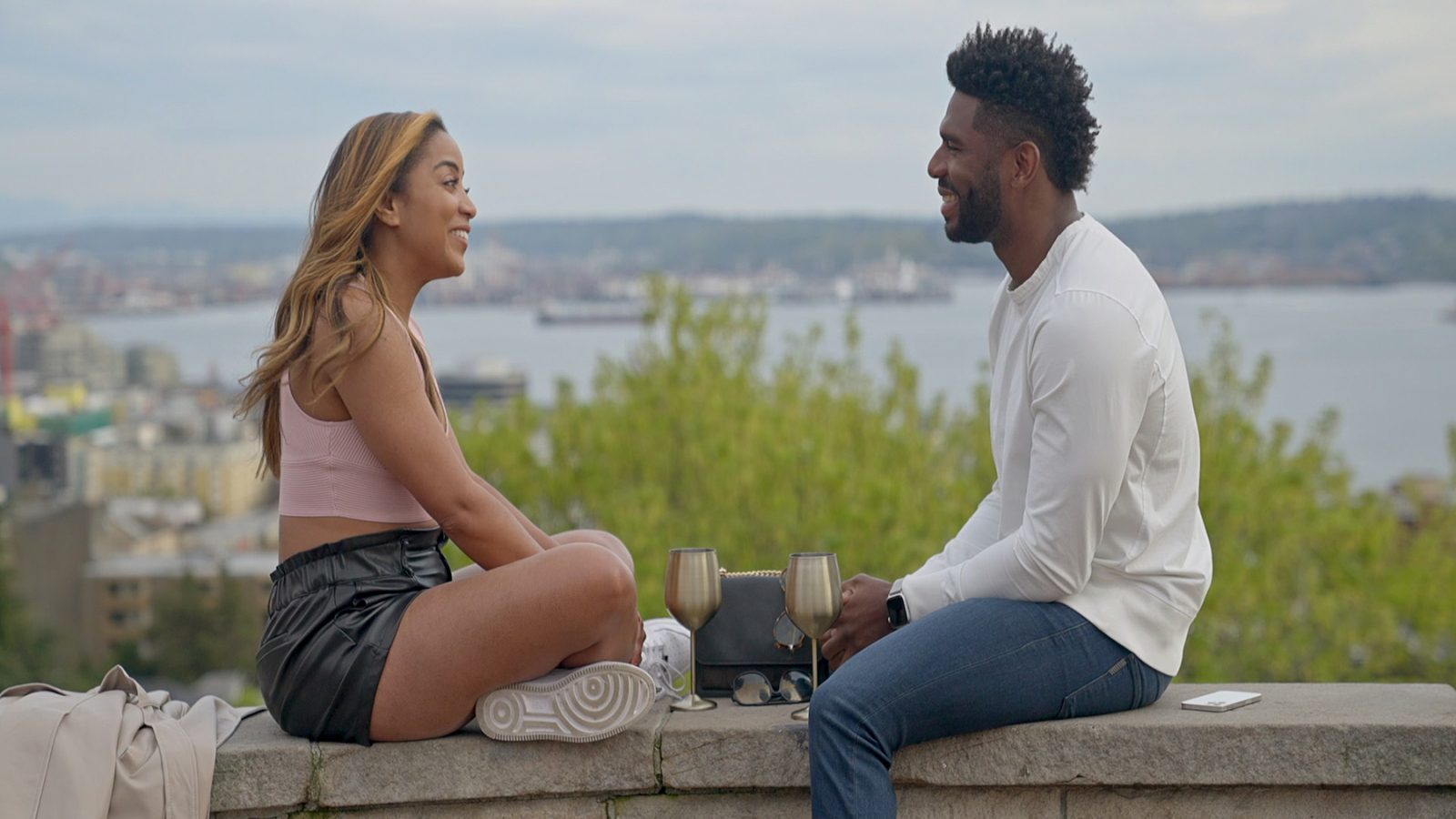 'Love Is Blind' (and Late) as Netflix's First Live Reunion Finally Drops After Delay
Love Is Blind, and apparently very, very late. The first-of-its-kind live reunion special for Season Four of the hit reality series finally arrived on Netflix Monday afternoon, April 17, at 12 p.m. ET — 19 hours after its scheduled premiere.
The reunion special was supposed to air Sunday night, but as excited viewers tuned in, they were met with a technical glitch informing them that the telecast was running behind schedule. "Pardon the interruption. We're having trouble playing Netflix. Please check your internet connection and try again," the message read.
Netflix gave a handful of updates throughout the night, at one point writing "Love Is…late" and promising the show would start around 8:15 p.m. rather than the scheduled time of 8 p.m. However, that time came and went with frustrated viewers waiting for updates on each Love Is Blind couple.
At around 9:30 p.m. ET, Netflix issued an apology, saying, "To everyone who stayed up late, woke up early, gave up their Sunday afternoon… we are incredibly sorry that the Love is Blind Live Reunion did not turn out as we had planned. We're filming it now and we'll have it on Netflix as soon as humanly possible. Again, thank you and sorry."
A few hours later, Netflix confirmed that the special would finally arrive at 12 p.m. PT today.
Meanwhile, cohosts Nick and Vanessa Lachey shared an Instagram video attempting to explain the delay. "Apparently y'all, everybody broke the internet to see this reunion! So we're ready to roll. We just gotta figure this out. We're getting everything to work. We are not asking any questions to anybody until we are streaming live into your living rooms, onto your phones, onto your tablets, whatever you're watching on. I promise we will save all of the tea for you." 
The cast members also couldn't help but poke fun at the situation, with Marshall Glaze joking that he was trying to fix the problem himself. "I'm trying yall," he tweeted.
And of course, (rightfully) frustrated viewers spoke out about the delay on social media. Throughout the ordeal, hashtags like "GET IT TOGETHER", "WTF Netflix" and #loveislate began trending on Twitter.
Representative Alexandria Ocasio-Cortez referenced a scene from the LiB finale, writing, "Someone call Lucia the seamstress to fix this. I believe in her."
"Netflix, you have 34 minutes before succession and barry take away all the momentum you built for this reunion, embarrassing," one viewer wrote.
Sunday night's reunion was set to feature the couples from Love Is Blind's fourth season. Three of the five couples — Chelsea Griffin and Kwame Appiah, Tiffany Pennywell and Brett Brown, and Bliss Poureetezadi and Zack Goytowski — said "I do" and legally tied the knot during the final. Meanwhile, Micah Lussier and Paul Peden and Jackelina "Jackie" Bonds and Glaze chose not to marry.
This story was updated on 4/17/23 @ 3:33 p.m. ET after the Love Is Blind reunion special finally premiered on Netflix.