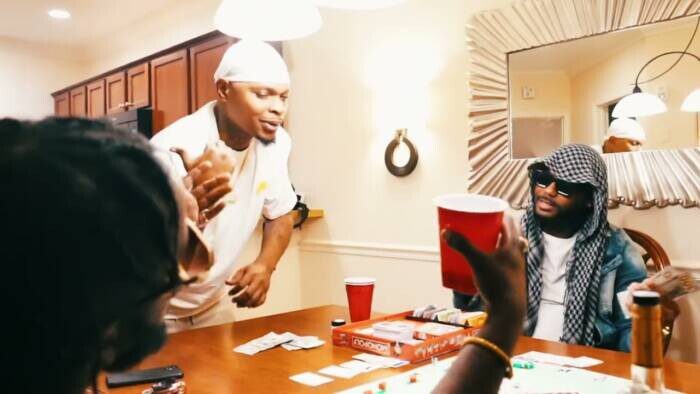 Loki Releases A Double Feature "Take Control" & "F*cked Up"
Loki, an emerging recording artist out of Fort Pierce, Florida, with a buzzing style and failure is not an option mentality, is quickly becoming one of the year's most exciting new artists in today's music. After securing popularity in 2022 with a string of breakout tracks, Loki kicks things into overdrive as he ascends to new heights and claims control of the game with the release of his latest tracks, properly titled "Take Control" and "Fucked Up."
Both track are accompanied by music videos. On "Fucked Up," Loki cruises the streets of Fort Pierce in the flyest cars, lavish wardrobe, and flashy jewelry. The visual showcases the pride of his community and the unwavering love they have for the emerging star.
On the Tazerboy-directed "Take Control," Loki and love interest enjoy various nights of passion in the bedroom and resort's shark-infested poolside. Loki and the leading lady take control of each other at various points of the visual. "Take Control" arrives at the perfect time as the summertime flings quickly approach. On both visuals, Loki exhibits impressive lyricism, undeniable appeal, and crossover capabilities that we've naturally seen come out of Florida in the past.
"Take Control" and "Fucked Up" are the perfect origin point for newfound fans of the Florida native. Loki's career is built on persistence, a trait he credits to his late brother. "Sometimes it gets frustrating but I think about my brother and keep going," he demands. "I'm very persistent. When I'm locked in on something, my mind is focused on it."
Loki's journey into music began with a promise to his late-brother who passed away several years ago. when he released the Burga321-featured hit "Favorite Things," Loki's style took center stage and star power rose to mainstream prominence. "I knew that I wasn't always musically inclined. So I started going the extra length to learn how things work. I took it upon myself to learn that craft because of what he was going through," he explains. "For a whole year, I seen him talking with the microphone to his throat. He would still try to talk, knowing that he couldn't talk. That's what motivated me to try to do music.
Outside the music, Loki and his large family were raised by the streets of Fort Pierce. "We didn't have anywhere to go," he remembers. "We went to rooming houses and churches and kept getting denied because it was too many of us. We landed somewhere… I remember bathing in a five-gallon bucket because the tub was so dirty… After my mother bathed us, she took us from over there.There's a lot of animosity in Fort Pierce, but once you get into a circle where it's love, it's real genuine."
Loki is signed to MixBlood Entertainment — his older brother Lailo's record label. "Fucked Up" appears on the label's compilation effort released in August 2022. Following the 2022 project, Loki is currently developing the anticipated full-length follow-up, slated for 2023 release. Meanwhile, the rising star promises more new music to come to build anticipation for the album. Fans can stay up-to-date on all things Loki via social media.
Take a look at Loki's new visuals below, and afterward, stream both tracks, available on all streaming platforms.
© 2023, Bryson "Boom" Paul. All rights reserved.