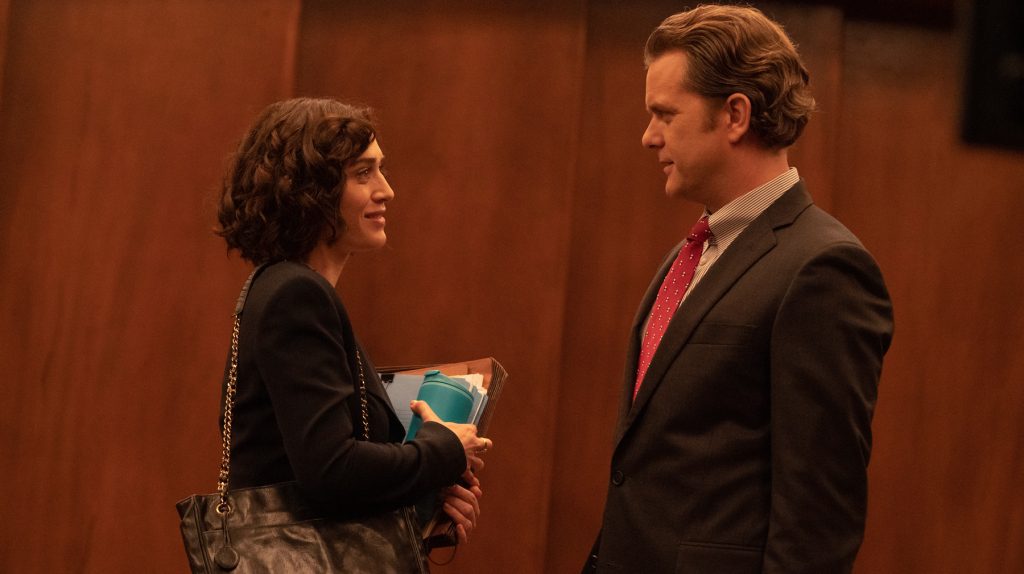 Lizzy Caplan Is Not Gonna Be Ignored
Lizzy Caplan is lying. Well, let's rephrase that: Lizzy Caplan is selectively truth-telling. Lounging in a gray Texas Longhorns T-shirt and yellow-green leggings, Caplan has such a stripped-down, let's-talk-about-it approachability, you would think we were having a late-night sleepover chat instead of a cross-continental Zoom. But before I tell you what Caplan's not telling me, I'll begin by saying that the ocean between us has no effect on the quality of conversation. We are digging into everything — Caplan's blizzard of a work year, parenting a toddler (hers), whether or not she should move to New York. I encourage the move — if you can do it, why not be a Brooklyn clog mom?
Right now, the 40-year-old actor is calling in from London, where her husband, fellow performer Tom Riley, is set to appear in a stage revival of Dancing At Lughnasa. After this, she's off to have dinner with friends, and then it's early to bed. "Because I feel like I'm a 700-year-old woman with a baby who wakes up at 6 am," she cracks. "I'm really relishing this time off.I'm trying to bank as much time as possible with my kid. It's great because he's 18 months now, which is an extremely hilarious and fun age. But, as anybody who has a baby that age knows, it's very exhausting. So I hang with him, and then I basically faceplant at the end of the day."
Anyone who has been following Caplan's career over the last 12 months would know that she absolutely deserves a break. At the moment, Caplan is promoting Paramount+'s Fatal Attraction miniseries (premiering April 30), where she reprises Glenn Close's infamous knife-wielding Other Woman Alex Forrest opposite Joshua Jackson, who plays Dan Gallagher (originally played by Michael Douglas in Adrian Lyne's 1987 thriller). Prior to Fatal, which Caplan filmed on location in Los Angeles, she was in New York for Hulu's miniseries Fleishman Is In Trouble, where she played Libby, a magazine writer turned stay-at-home mom grappling with a midlife crisis. 
Caplan has been so busy, in fact, that she had to miss appearing in the much-hyped Party Down reboot, which just wrapped on Starz. And now we come to the Big Lie. During our call, Caplan says she "remains devastated" that she couldn't appear in the cult comedy's third season, which brought back original players such as Adam Scott, Ken Marino, Jane Lynch, Ryan Hansen, and Martin Starr. Except she does make a cameo at the last possible second in the last episode's post-credits scene. ("Even though this was incredible to be able to pop in at the end, I still feel like I didn't get to come back," Caplan told Rolling Stone.)
"It's so funny, it's so good, I love it," Caplan says of watching the new Party Down episodes. "I thought that it would be hard to watch, but honestly I'm just getting endless joy from it."
In a few months, Caplan and her family will swing right back over to New York for another job she can't talk about just yet. The back and forth suits her just fine. "I can't imagine actually only living in one place — I get bored," Caplan says. "We like to switch it up. But it's also SO MUCH paperwork to live in two countries." Then, Caplan catches herself. "I'm just thinking about that sentence written down and what a douchey, douchey sentence it is." She puts on a fake British accent: "It's soooo haaard to live in two countries."
After eye-rolling herself, Caplan switches to a but-no-seriously tone: "We go wherever our jobs are… We've been doing that since we've been together, which has been eight years," Caplan says of herself and Riley. "But now we've got a kid. So the clock is ticking. We can't do this forever. Like eventually, I guess we have to educate him." 
Caplan's tendency to slide into the sardonic is precisely what shot her to fame as Lindsay Lohan's gothed-out co-conspirator in 2004's teen classic Mean Girls. Since then, the LA-born actor has enjoyed a steady rise to A-list fame, playing restless millennial antiheroes in the aforementioned Party Down, plus big-screen comedies like Hot Tub Time Machine and Bachelorette. Effectively splitting her time between TV and film (not to mention comedy and drama), Caplan spent the aughts and 2010s making memorable guest appearances in high-profile shows such as True Blood and New Girl. More recently, from 2013 to 2016, she starred opposite Michael Sheen in the period drama Masters of Sex, where she portrayed mid-century sexologist Virginia Johnson.
As for what piqued her interest in the Fatal Attraction revival, Caplan says she was a "massive fan" of the original film and thought it had reboot potential from the jump. "I'm as guilty as anybody else when I hear that something is being remade. My knee-jerk reaction is always, 'Well, why? Why would we do that?'" Caplan reasons. 
"But Fatal Attraction, there's something so unique about it in that it is a film that fully holds up," she continues. "It's just as sexy, exciting, and scary, and the performances are just as compelling as they were in the '80s. And yet, audiences — and the world — have changed so dramatically. Our sensibilities have shifted completely to the point that [the original] Fatal Attraction, I truly believe it couldn't exist today. Because we want to know more about where the Alex Forrest character is coming from. We want to see the Dan character suffer consequences for his actions. At the end of the movie, they zoom in on a photo of the family, like, 'Domesticity wins!' And I just feel like [today] we are more primed to look for gray areas and nuance." 
Caplan certainly brings both attributes to Alex. For the uninitiated, the original Fatal Attraction follows a married New York attorney (Douglas) who engages in a weekend affair with Close's Alex, an editor whom he meets through work. After a few torrid dalliances, Alex becomes emotionally unstable, threatening to hurt herself and/or Dan's family if he refuses to see her again. Spoiler alert: Dan and his gorgeous, way-too-understanding wife (Ann Archer) manage to fend off Close, who ultimately dies of a gunshot wound — but only after a classic horror-movie "Surprise! They're not dead!" moment.  
Given its superficial illustration of unmarried women and mental illness, it's understandable that anyone watching Lyne's Fatal Attraction in 2023 might want to know more about Alex — beyond the "binary, black-and-white, hero-vs.-villain story," as Caplan put it at the reboot's Television Critics Association panel. (For her part, Close has criticized Fatal Attraction in the years since its release, telling CBS in 2013 that her portrayal of Alex played into negative stereotypes around mental illness. "I think as public figures, as entertainers, that we have a moral responsibility to only portray characters, that if they have disruptive behavior or behavior that is negative that it has to be responsibly explained,"Close reasoned.)
To that end, Caplan is careful in how she describes her character's history of mental health. "It was always very clear to everybody involved that while we wanted to do a deeper dive into Alex's psyche and her mental illnesses. This wasn't going to be a clinical exploration of a very specific mental illness. We were sort of cherry-picking from different things," Caplan explains. "I spoke to a forensic psychologist about it, we were all on the same page about the things that she was struggling with. I hesitate to even diagnose her, but one of the many diagnoses that we talked about was that she has borderline personality disorder — but dialed up to 11. We wanted to give that space to breathe, which you'll see explored more deeply in the later episodes while also keeping in mind that we're making Fatal Attraction and this isn't a lecture on the actual minutiae of any specific mental illness." 
Whenever Caplan had questions about Alex, she'd reach out to showrunner Alexandra Cunningham, who "had really done her research." Caplan adds, "Alex is living in constant fear of abandonment. We'll get to see more of her upbringing, her family life. I think for her, it's a combination of brain chemistry, upbringing, and circumstance. So we wanted to take all of that really seriously without saying, 'Oh, this is a detailed portrait of somebody with borderline personality disorder,' because it certainly is not."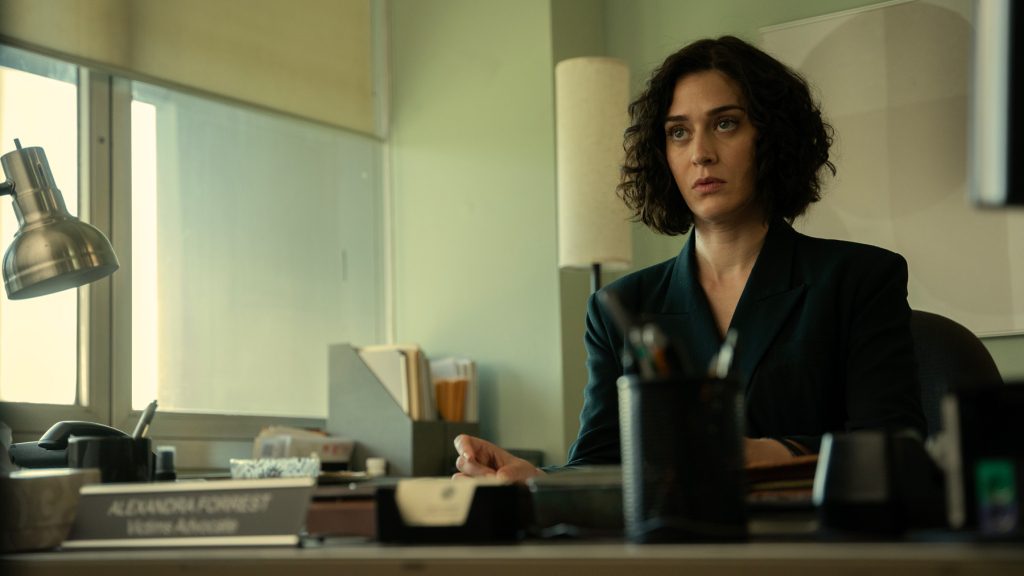 Though Caplan did rewatch the original a few times prior to filming, she is resolute that "our Alex feels so different than that Alex." True enough, Caplan's Alex has a calculated quality — less outwardly reactive and more poker-faced. However, Caplan did revisit certain scenes she felt "really, really worked," such as the first sex scene between Dan and Alex. "There were elements of it being funny, like, his pants are around his ankles and he's stumbling."
Taking inspiration from Fatal Attraction's original scripted ending, where Alex commits suicide and frames Dan for her murder, the series opens with a present-day Dan sitting before a parole board after spending a decade in prison. He has barely any relationship with his daughter, a now-grown Ellen (Alyssa Jirrels), or ex-wife (Amanda Peet), but desperately wants to make amends and prove his innocence. Through a series of flashbacks, we see how Dan meets Caplan's Alex, who works as a victim services advocate in LA County's District Attorney's Office, suffers a career setback, and copes by falling into bed with Alex.
As for Jackson: anyone who remembers his breakout role as the smart-mouthed Pacey Witter on the '90s teen drama Dawson's Creek will immediately recognize why this was the right casting choice. As Dan, Jackson mirrors Douglas's smooth charisma — that type of cis, white male confidence that ensures any error in judgment will be cleaned up after or simply disappear on their own. (Until, of course, one won't be ignored.) 
"I had not met Josh before," says Caplan. "And that is strange, considering we've both been at this for so long — our paths just never crossed. But because we both came up at a similar time, it's easy to have an immediate shorthand with somebody who's had a very similar experience." Then, Caplan grins: "Although I can't say that I was on anything quite as massive as Dawson's Creek. I mean, Christ, the amount of people that texted me." 
Caplan also acknowledges how both she and Jackson have extensive experience filming erotic scenes: for her, it was on Masters of Sex, and Jackson on The Affair, where, funnily, he played a spouse getting cheated on. "I adore Josh, he was a wonderful partner in this particular thing," Caplan says. "We have a very similar approach to sex scenes. We take it very seriously — but also, this is a completely ridiculous way to spend your day. But it was really important to Josh in the beginning, and he really wanted to take Dan to task. He wanted him to be held accountable for his part."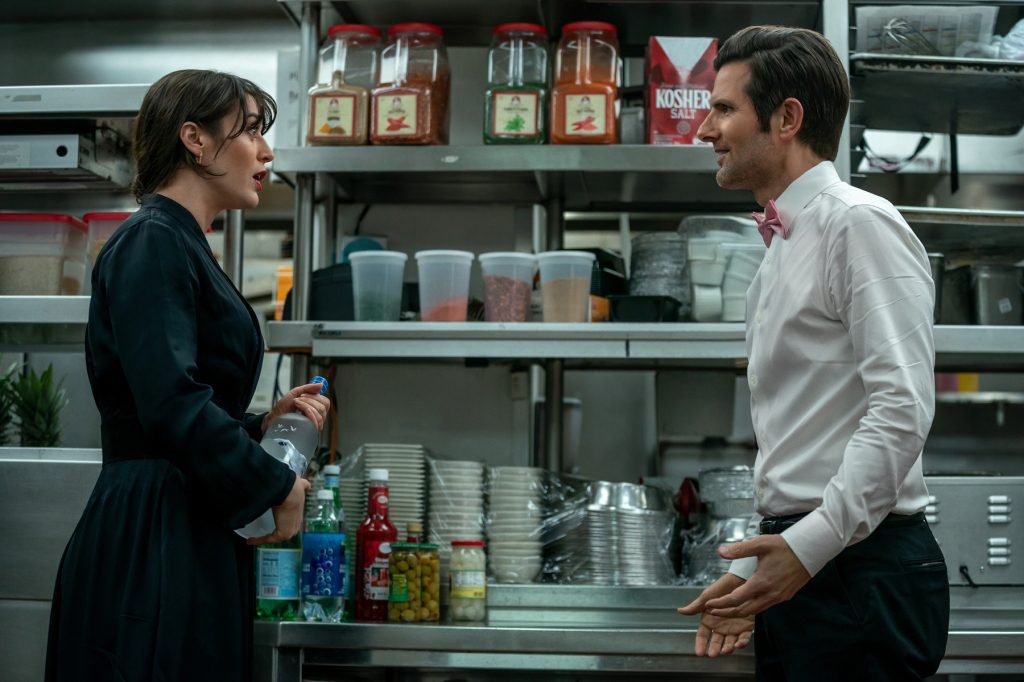 One thing Caplan says has changed about filming explicit sex scenes: having an intimacy coordinator on set. "Josh and I had many laughs about that — how swiftly everything's changed, because when he was doing The Affair and I was doing Masters of Sex, that was not a job that existed," she remarks. "It is a wonderful thing to have on set. It is designed to protect people who don't feel like they have enough power on a set to speak up for themselves. 
"Our intimacy coordinator [Nicole Randall] on Fatal was wonderful," she continues. "It forces you to slow down and break down every single beat of the sex scene. You're being really forensic about it, which I think has to happen — that's part and parcel of the protective side of it. But it's also like, you have these hilarious conversations." Then, breaking into a laugh, Caplan recites a typical sex-scene breakdown, making it sound like a clinical game of Twister: "And… then… right… nipple… is… exposed, left… hand… goes… on… left… thigh."
Ultimately, Caplan hopes the new Fatal Attraction will get audiences thinking about what has — and hasn't — changed regarding what we think is frightening. "It hasn't been that long since that movie came out, and what scares us has changed so much," Caplan says. "Some of the things that scared us back then maintain their fearfulness today. For me, it's revisiting a moment in time that feels at once so far away, and yet was in our lifetime. So how far away could it have possibly been?"
Caplan is also intrigued by how the landscape has changed in regard to sex in the media, whether that be in film, TV, or online. Contrasting with the '80s, which reacted to the freewheeling '60s and '70s by pushing domesticity and abstinence, Caplan muses about how "we're almost shifting back into a prude-er way of being." She adds, "I do think it's a strange time in our society where, on one hand, things feel hyper-sexualized in terms of your appearance, on social media, and flaunting your body in that way. Yet it also feels removed from actual sexuality and eroticism and all the things that made these erotic thrillers work back in the day. There's a distance between the sexiness of Instagram and actual sexiness."
On this note, it's getting late in London, and I expect Caplan will want to get going for her dinner and early bedtime. Before we sign off, I ask her about future projects, including a potential fourth season of Party Down. Will she slide everything else off the table for a chance at reprising Casey Klein? "Of course if it comes back for a fourth season, there's no chance in fucking hell that I'm not going to be there," Caplan asserts. "I'll park people's cars, I don't care. I'm gonna be there."