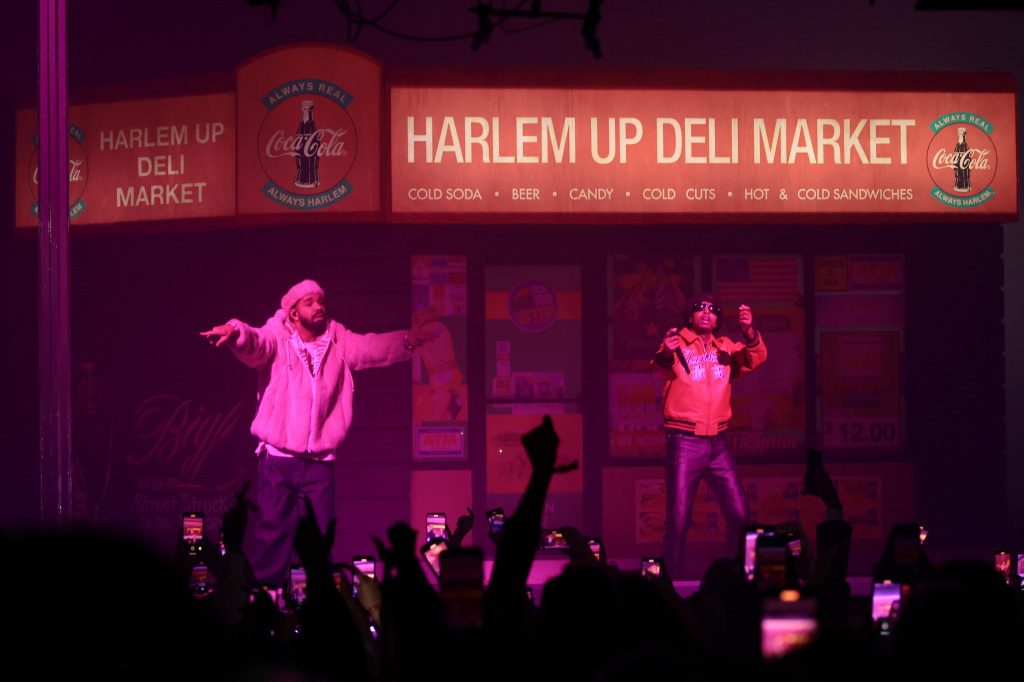 Live From New York, Drake Night at The Apollo
Moody blue lights drench the audience at the historic Apollo Theater in Harlem. We're in Drake's bedroom. Or some version of it, at least. The musician born Aubrey Graham is seated on the edge of a neatly made bed, and a dim tulip-shaped lamp stands in the corner of the stage, designed as a replica of the teenage bedroom where he wrote his first songs. His outfit of baggy jeans and a yellow-and-blue basketball jersey complete the tableau. Number eleven, Degrassi High.
Before he appears on stage, we hear a recording of Drake's mother, Sandi Graham, by now a central character in the Drizzy cinematic universe. "Aubrey, try to keep it down tonight when you're working," she says. A supportive parent trying to get a good night's sleep. Drake turns the introduction's quintessential Drake-ism inward.
The show, presented by SiriusXM, would be about gratitude. And the meticulous recreations at moments have the feeling of naked sincerity. His own version of The Rehearsal, except as Drake tells us on "6PM in New York," absent on the night's setlist, he'd just like, "to feel a couple things twice." As he describes them, the tracks he would play are what got the 36-year-old rapper out of that bedroom.
It was Drake's first time performing at the Apollo, and the venue's legacy as a proving ground for raw talent brought the rapper's scrappy origin story to life. It was indeed on medium capacity stages like this one that Drake put in an athlete's effort to win audiences' attention and keep it. Starting with Take Care's "Over My Dead Body," which punctuates his introduction. You can feel the historic venue's warm and organic acoustics cradling the lush, thunderous lows that have roiled beneath Drake songs for decades courtesy of longtime producer Noah "40" Shebib.
After the boom-bap sampling "Wu-Tang Forever," he dives headfirst into the emotional corners of his catalog. Following a rendition of "Trust Issues," in which Drake delivered a vocal performance worthy of cheers on Showtime at the Apollo, he tells the crowd to essentially buckle up. "Nah, we going there tonight promise you." Then came "Marvin's Room," possibly the rapper's opus. The venue's comfortably packed crowd quickly realized that he wasn't kidding.
Throughout the night, Drake managed to convey a quiet understanding of his music's appeal. Of the perhaps exaggerated emotional stakes that he's been able to manifest for so long. Drake's catalog is so varied — there are mixtapes, EPs, loosies, and "playlists" in addition to full-length albums — it allows him to go from "Say Something," a 2010 Timbaland single that he was featured on, into "Practice," the slow-rolling, New Orleans-style club banger from Take Care.
Such is the story of Drake's career. Before long, the bedroom would make way for a boardroom, where Drake has hired convincing-looking actors to play the label executives debating whether or not to sign him early on. The attention to detail feels tantalizing as if this is indeed living out a deep-seated fantasy in Drake's mind.
After running through a slew of hits from Nothing Was the Same, Drake, adorned in Cam'ron's famous pink mink (according to Drizzy, it was literally Cam's mink), brought out members of Dipset. In front of a replica of a Harlem bodega, Jim Jones, Juelz Santana, and Freekey Zekey performed "I Really Mean It," "Dipset Anthem," and "We Fly High (Ballin)" while Drake glided across the stage in Cam's pink mink. The night's theatrics didn't stop there, Drake later invited 21 Savage on stage to perform cuts from their recent album Her Loss. The duo teased that they might go on a joint tour this year.
Drake's performance at the Apollo, with attendees like Justin Bieber and Kevin Durant, will likely be one the smallest venues he'll play all year. With a max capacity of around 1,500, the show felt like the big-budget stadium productions artists like Drake are accustomed to, except on an actual human scale. For an artist whose career relies on sincerity, it was a blessing.
"I know 'fuck Drake' is the cool thing," he told the crowd towards the end of the show, thanking them for remaining loyal fans. "I've thought about a bunch of things in life, but at this moment in time, none of those things are stopping making music for you, so I'll be here for you for a little bit at least. And I hope I can strike up more emotions for you, maybe this year. I might get bored and make another one, who knows!"
Setlist:
Over My Dead Body
Wu-Tang Forever
Trust Issues
Marvin's Room
Say Something
Feel No Ways
Practice
Jaded
Jungle
Karaoke
Best I Ever Had
Headlines
HYFR (Hell Ya Fucking Right)
Started From the Bottom
I'm on One
No New Friends
Energy
Know Yourself
Nonstop
God's Plan
Laugh Now Cry Later
Hold On, We're Going Home
Controlla
One Dance
In My Feelings
Passionfruit
Way 2 Sexy
Wait For U
Massive
Calling My Name
Sticky
Yebba's Heartbreak
I Really Mean It (with Dipset)
Dipset Anthem (with Dipset)
We Fly High (Ballin') (with Dipset)
Rich Flex (with 21 Savage)
Privileged Rappers (with 21 Savage)
Spin Bout You (with 21 Savage)
Jimmy Cooks (with 21 Savage)
Knife Talk (with 21 Savage)
Legend