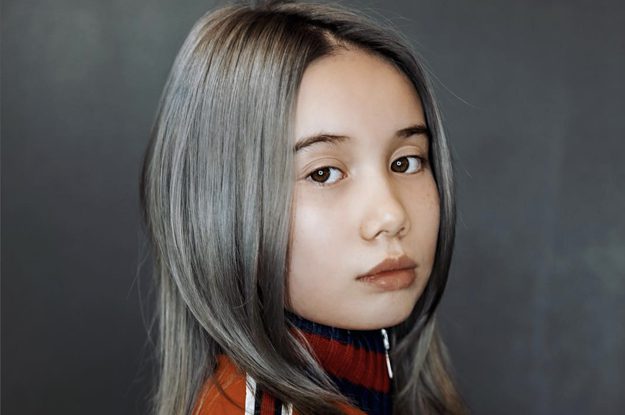 Lil Tay Has Not Died: Viral Star Says Her Account Was Hacked
News of Lil Tay's death at age 14 appears to be false.
According to TMZ, Tay spoke with the outlet and said that her account was hacked.
"I want to make it clear that my brother and I are safe and alive, but I'm completely heartbroken, and struggling to even find the right words to say. It's been a very traumatizing 24 hours. All day yesterday, I was bombarded with endless heartbreaking and tearful phone calls from loved ones all while trying to sort out this mess," Tay told TMZ.
She continued, "My Instagram account was compromised by a 3rd party and used to spread jarring misinformation and rumors regarding me, to the point that even my name was wrong. My legal name is Tay Tian, not "Claire Hope"."
A slew of conflicting reports followed yesterday's news, including managers' comments that cast doubt on the story that the viral star died "entirely unexpected" along with her 21-year-old brother Jason Tian.
Henry Tsang, an ex-manager of Tay's (legal name Claire Hope), told Entertainment Tonight in a statement, "I have been in communication with individuals who have an intimate understanding of the family's situation. Given the complexities of the current circumstances, I am at a point where I cannot definitively confirm or dismiss the legitimacy of the statement issued by the family. This situation calls for cautious consideration and respect for the sensitivities involved. … We must exercise patience while awaiting further developments before drawing any conclusions."
Insider reached Lil Tay's father Christopher Hope, but found "he could not comment on the Instagram post and declined to answer whether his daughter was still alive."
Reports of Tay's death stemmed from an announcement shared on her official Instagram midday Wednesday. The account has 3.4 million followers, but the most recent post—a XXXTentacion tribute—is from five years ago.
"It is with a heavy heart that we share the devastating news of our beloved Claire's sudden and tragic passing," the Aug. 9 upload claimed. "We have no words to express the unbearable loss and indescribable pain. This outcome was entirely unexpected, and has left us all in shock. Her brother's passing adds an even more unimaginable depth to our grief. During this time of immense sorrow, we kindly ask for privacy as we grieve this overwhelming loss, as the circumstances surrounding Claire and her brother's passing are still under investigation."
The post on Tay's IG concluded, "Claire will forever remain in our hearts, her absence leaving an irreplaceable void that will be felt by all who knew and loved her."
The Daily Mail reported that it reached police in Tay's native Vancouver as well as L.A., "where she had been living with her mother," and were told "they had no record of her or Jason's deaths."
On the other hand, a number of people pointed to an Aug. 6 article from the Canadian Press that revealed a teenager died after a jet ski crash on Skaha Lake in Penticton. The article notes "four youths" were involved in a collision between two watercraft, then "taken to a local hospital where one of them—a 14-year-old girl from Alberta—died of her injuries."
The U.S. Sun got a comment from another "shocked and concerned" former manager, albeit one who's been out of touch with the artist for "a few years." Speaking anonymously, they questioned the statement's lack of attribution. "To me, that is a very telltale sign," the individual said. "It doesn't make sense. Even when you have passings, there's a group of people that come together to make the statement, usually the family, and we don't see that here. I send my condolences and I'm shocked by the news." 
They closed, "I should be grieving right now…but I just have so many questions."
On an Instagram account purporting to be run by Tay's brother—@termanii—a post arrived about an hour after the death announcement, reading in all caps:
"To be clear I am not dead. I dont have access anymore to the Lil Tay instagram account. My sister and I were winning our case. It was just a couple of days before we got it all back, all her social media and come out about the truth.

Me and Tay are not dead. We dont got access to the account. Our parents wants us gone off the internet but we will not go away. This is our new account (for now). They are spreading misinformation we are not dead. They're the only one that got access to the account. Do not believe it. Our parents took everything and they abused Tay, hard."