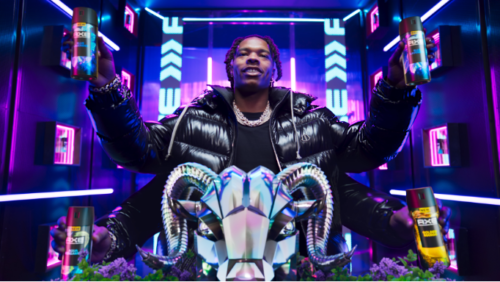 Lil Baby Headlines New AXE National Commercial
AXE® and award-winning rap artist, Lil Baby, premiere their new campaign "The Fine Fragrance G.O.A.T." The campaign celebrates the launch of the AXE Fine Fragrance Collection, a set of five fresh new scents formulated by world-renowned fragrance experts. This campaign is the latest in an ongoing brand effort to redefine "premium" with a gen-Z lens and pushes hard against the outdated luxury symbols of the fragrance world.
Set to the tune of Lil Baby's smash hit "Drip Too Hard," the new spot aims to cement AXE as the Fine Fragrance G.O.A.T. (Greatest of All Time). The new creative is directed by SNL short director Mike Diva, who is a frequent collaborator with several high-profile hip-hop artists.
The spot unveils a four-armed and flying Lil Baby alongside the newest AXE icon, the G.O.A.T. head, and new Fine Fragrance scents. The spot itself is dripping with surreal AXE energy – bringing the boost in confidence that AXE gives millions of guys to life with vibrant, dreamlike animation that pops off the screen.
"This is the freshest thing AXE has ever done. The Fine Fragrance Collection has me feeling like I'm wearing the finest of fine colognes," said award-winning artist, Lil Baby. "That's why it's the new GOAT."
The spot smashes through the stuffiness of traditional perfumery shops, as the rap icon and Fine Fragrance Collection transform a typical mall into a gaming experience that matches the energy and adventurousness of the AXE fan.
"We set out to create new fresh symbols of luxury. To create something that truly didn't look like anything else out there. If you're going to launch the G.O.A.T. you can't be shy," said Mik Manulik, Creative Director at The Martin Agency. "We pulled from anime, gaming, music, and modern art wove them together to bring to life a visually stunning world of new luxury. One that perfectly represents the new Fine Fragrance Collection."
Formulated by some of the world's top perfumers, Givaudan and Firmenich, as well as Ann Gottlieb, AXE is disrupting the old luxury fragrance category with great, affordable scents that will make you smell finer than the finest fragrances. In a blind smell test, AXE's Fine Fragrance Collection beat out premium fragrances from Chanel, Versace and Ralph Lauren – with 73 percent of guys saying they'd replace their current cologne with AXE Fine Fragrance.
The spot debuts on the heels of a multichannel national marketing campaign featuring the world's first IRL ratio, that included a 3D billboard takeover in Times Square and a ratio filter on TikTok that asks fans everywhere to ratio anything they think AXE smells better than. Comedians Preacher Lawson, Adam Conover and TV personality Chanel West Coast kicked off the challenge, which has garnered over a whopping 7 billion views to date.
This is the second spot that Lil Baby has been featured in for the brand, as AXE continues their partnership with the chart-topping artist. Last year, he appeared in the "Fresh as Fr*sh" campaign, which also featured an exclusive collaboration on limited edition products.  The partnership stems from Lil Baby's affinity for AXE products, which have always been included on his tour rider whenever he's on the road.
© 2023, Seth "Digital Crates" Barmash. All rights reserved.