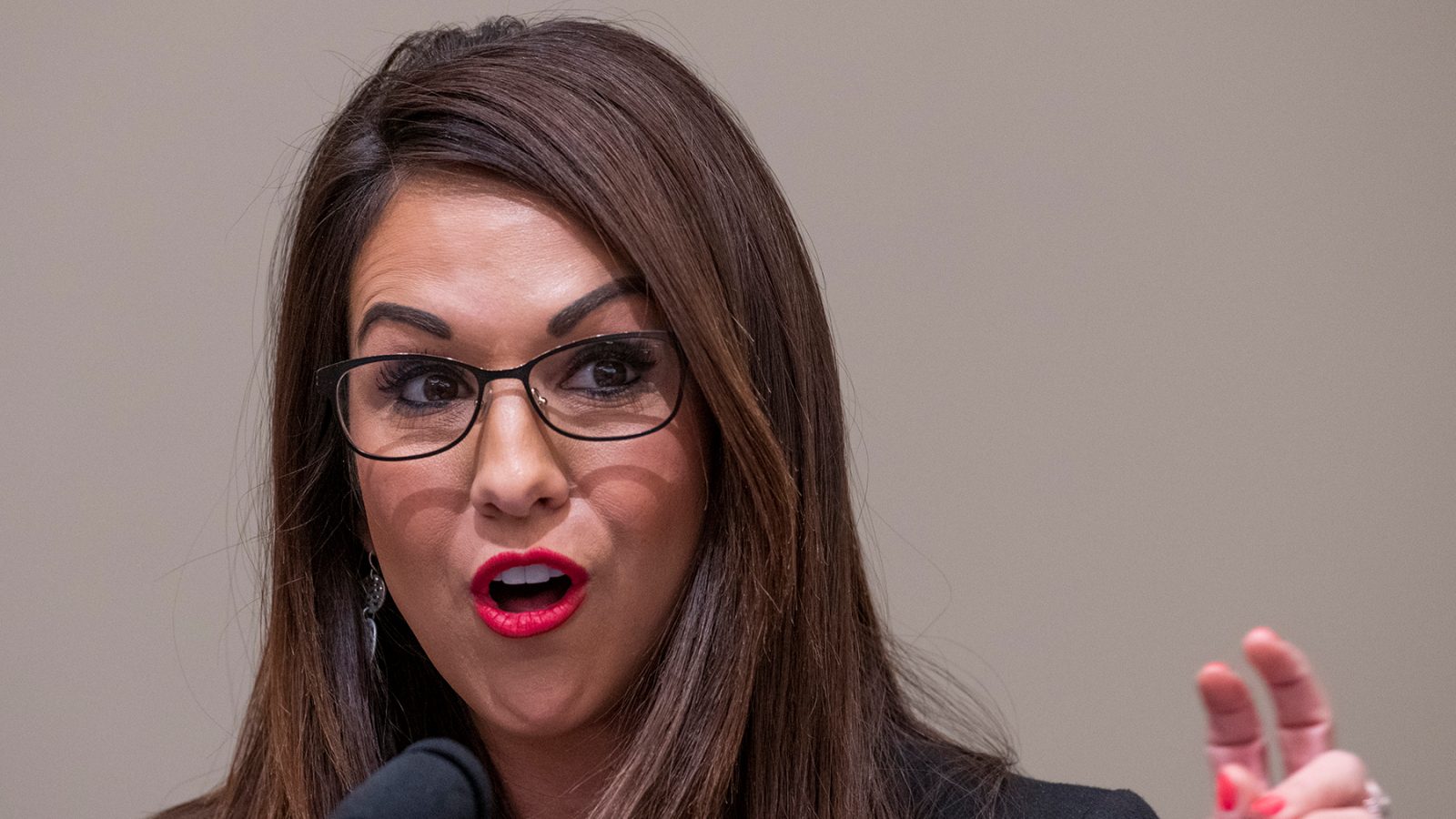 Lauren Boebert Can't Even Talk About Her Divorce Without Trashing Bud Light
All's fair in love and culture wars, as Rep. Lauren Boebert proved in pushing back against reports that husband Jayson Boebert reacted threateningly when served with divorce papers. The Colorado congresswoman apparently couldn't resist taking a jab at Bud Light — continuously maligned by right-wingers for over a month because of a minor endorsement deal with trans entertainer Dylan Mulvaney — as she defended Jayson against the media.
"Jayson, a man I spent half of my life with, did not sign up to be in the public limelight, and he certainly did not agree to be falsely accused of things he didn't do," Boebert tweeted on Wednesday, conjuring the bizarre hypothetical of a person who does consent to be defamed.
She was irked, it would seem, by an affidavit from a process server who claimed that her partner of 20 years reacted harshly upon receiving notice that she had filed for a legal separation as of April 25. "Once he learned that he was being served with Dissolution of Marriage papers he was extremely angry," the process server wrote, according The Daily Beast, which reviewed the document. "He started yelling and using profanities, and told me that I was trespassing, and that he was calling the Sheriff's Office."
The affidavit also noted that Jayson was cleaning a gun and had a "tall glass of beer," two details that Boebert disputed — while, of course, reminding her supporters that whatever their irreconcilable differences, the couple bravely stands together against the woke menace of a beer brand trying to make inroads with the LGBTQ community. "Jayson doesn't sit around cleaning guns and he certainly doesn't drink beer out of a glass, just as much as he doesn't drink Bud Light," Boebert declared in her lengthy tweet.
Jayson Boebert also denied the details laid out in the affidavit. "I was not drinking and I was not cleaning any gun," he wrote in texts to The Daily Beast. "The divorce is sad, I did not expect this, I love her with every bit of my heart, she has been my soul mate and she is the mother of my Children." He added: "We have been through a lot together and I just want her to be happy."
The Boeberts first met in 2003, when Lauren was 16 and Jayson was 22. In 2004, Jayson was arrested for — and pleaded guilty to — public indecency and lewd exposure after an incident at a bowling alley bar in Rifle, Colorado, serving four days in jail and two years of probation. Just as she now denies his belligerence as described in the recent affidavit, Boebert has claimed that Jayson never actually exposed himself in the bowling alley incident (she was present at the scene). "But the entire experience opened Jayson's eyes to the reality that he needed the alcohol and anger management classes that came with the plea deal," she wrote in her 2022 memoir, My American Life.
Also in 2004, Jayson was charged with domestic violence against Lauren, and pleaded guilty again. Months later, Lauren was booked for third-degree assault against him, though the outcome of that case is unclear. The pair were married in 2005 and have four sons, the eldest of whom is now 18 years old and, according to Boebert, expecting a baby with his teen girlfriend.
In her tweet on Wednesday, Boebert also denied a neighbor's account of Jayson running over their mailbox last year. That claim was made in one of multiple 911 calls about the Boebert family, The D enver Post reported. The congresswoman called that story, and the statements in the process server's affidavit, a "complete lie."
"Our divorce is a private matter, but the misrepresentations must be addressed," Boebert wrote. "Jayson deserves his privacy, not slanderous stories."
Of course, no one had accused him of drinking Bud Light, but maybe she was just getting ahead of those allegations in case they emerge later on in the divorce process. Either way, when your projected image as a defender of family values and traditional marriage is looking a little shaky, it helps to stoke outrage about something else.