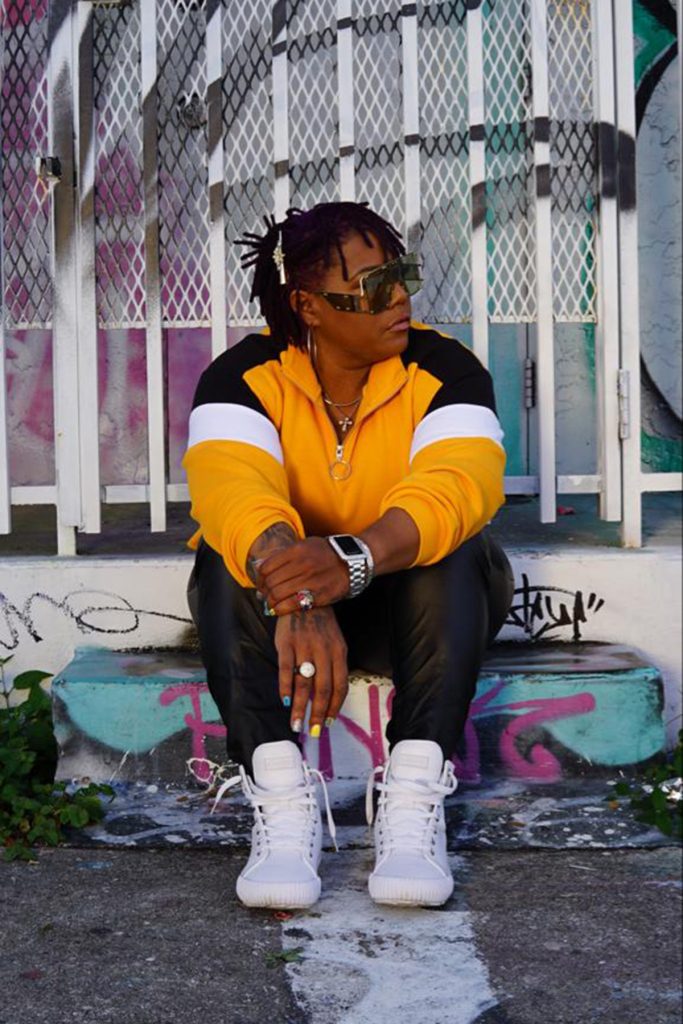 La Sista, One of Reggaeton's Black Female Pioneers, Is Back and Stronger Than Ever
From the time she began making heartbreak anthems and sexy ballads that dominated the mid-2000s, La Sista — a proud bombera and one of the first Black female reggaeton pioneers — was ahead of her time. The artist always showed off her lyrical dexterity, even when she was rapping about the ups and downs of relationships  —  a theme that's been a rite of passage in the genre. She made powerful emotion the center of her sound, and also set a blueprint for a generation of female acts who came after her.
Born Maidel Amador Canales, the Puerto Rican trailblazer was born in Loiza, Puerto Rico, a primarily Afro-Puerto Rican town. She grew up watching live performances of bomba and plena, Black musical traditions on the archipelago, that celebrate uniquely Black experiences. "It's rich in music, culture, music in its own way" she says about Loiza. "It was beautiful. As a child, I recall adults saying, 'Just take out the drums! Let's dance! Start dancing!'"
La Sista found her own voice through music. Her 2006 album Majestad Negroide was a powerful homage to her Afro-Boricua roots, featuring songs like "Yemayá" and "Anacaona" that offered a femme ancestral perspective following Tego Calderón's classic El Abayarde. She knew how to translate pain into musical anthems and understood pain as a universal. One example was "Se Desvive Por Ella," a 2007 collaboration with the late Jadiel El Incomparable, centered on healing. "It was important for me to translate sonically how the beauty, the horror, all of its effects, remain on the inside of a person, and that's something that resonated with a lot of fans," she says. "Sometimes I think that if I hadn't been open-minded or had some inclination towards my own sexuality, maybe I wouldn't have the 'flow' or that interpretative force when I compose something more street and also that sensuality, passion, and tenderness when composing something romantic."
The emotional intelligence in her music and the soul in her voice captured the attention of her colleagues as well. Divino, Jowell, Y Randy, Arcangel, Yomo, and Ivy Queen are just a few of the popular features on her romantically themed catalogue, which boomed across the island at the time. By the 2000s, reggaeton was picking up after the "Dale Don" and "Gasolina" buzz. Perreo was at the forefront, but La Sista knew that in this realm, she was very different. La Sista has always embodied the aura of a Black goddess, from her Afros to African bubble ponytails to the faux locs and head wraps. Her artistic style, she explains, was majorly influenced by none other than Beyoncé, as well as the legendary Calderón, who she says "had the agenda straight" when incorporating his identity into his music. 
But in reggaeton, less than 5 percent of mainstream women are dark skinned. The historic racial barriers are incredible for Black people in Latin music, but especially Black women, leaving too many in vulnerable positions to be tokenized, discarded, and ultimately forgotten. Despite La Sista's undeniable talent and drive, she faced insurmountable battles, including executives who mismanaged her career and the racism that runs rampant in the industry. All of it nearly derailed her artistry, but La Sista has continued to prevail. Now, she's back this month with "Freshy," a song that showcases her versatility in her style ​​ — and that proves she's stronger than ever. 
"'Freshy' demonstrates that I'm coming for my rightful place and that I've survived," she says. "After 20 years I can be refreshing and relevant in this music. For me, [the song] represents that after all I endured, I came back and I'm being 100 percent who I am."
La Sista's songs have become classics in the genre. "Destino Cruel," featured on Rolling Stone's list of 100 Greatest Reggaeton Songs of All Time, is a standout that holds up today. She described the story behind its creation as "magical." She shared what she'd been working on with Divino, a romantic reggaetonero known for incorporating ballad-styled singing into his unique flow and prioritizing storytelling in his music. He had an immediate response: "Divino heard the track and his eyes lit up: 'I wouldn't change a thing. I'm going to get on this song right now,'" she remembers him. The song, with its combination of Divino and La Sista's soulful voices, remains one of the most powerful heartbreak anthems of that time, prompting Arcangel to jump on the remix. 
La Sista always approached how different she was and her Blackness with pride. She found beauty in herself always, explaining, "I was fat while everyone else was skinny, but this is my flow. It's how I am." Still, she was up against the extreme pressures of body politics, which are especially intense in Latin America, where aesthetic surgeries can be a class and or race standard. She tried to let music be her motivation, driven by her love for the genre and her creative ambitions, yet the odds were severely stacked against her.
"I had many teams throughout the course of my career, and at a most crucial moment I recall being left out of the editorial press for what I was told: Being fat, Black and ugly," she says, alluding to internal and external struggles she described for the first time this year in an interview with Puerto Rican YouTuber YoSoyMolusco.
She encountered more turmoil. Her career began to plateau, due to the legal troubles of an outside manager who had discovered her earlier and overseen her career. She also describes a lack of allies in the industry. "Those assigned to my team said they didn't see the value in directing resources towards me," she explains, adding that she was left to fend for herself. She found support from the iconic reggaeton artist Zion, who signed her to Baby Records at one point and helped her during her career. Due to health concerns, La Sista embarked on a weight loss journey, losing such a significant amount of weight that she was prompted to get a few plastic surgery procedures herself to reduce excess skin. Those efforts were supported by Zion. "At the time I was signed to Zion's Baby Records and he sponsored my surgery in Colombia, a tummy tuck, and a revision of my teeth," she says.
But her relationship with her new body was complicated: Although she met the aesthetic body standards industry professionals wanted her to have, she no longer felt like herself. "I love performing — it's my favorite part of my artistry – but it felt like the people couldn't connect with me," she explains. "They felt it like I did, that this new body and image just wasn't who I was."
She also struggled since, because of early mismanagement, she was not receiving royalties from parts of her discography in the 2000s. Instead, she made income from doing hair from her home salon in Puerto Rico. Things began to look up in 2020, however, as she stepped into music again. Her song "Awipipio," produced by Young Martino and featuring Ñengo Flow, Joyce Santana, and Brray, was a pleasant surprise that  took over the underground reggaeton market. "It all happened so naturally," she says. "The song was presented to Ñengo and he loved it." She shares that the other collaborators loved it as well, and that there wasn't any pressure for anyone to join the track. "It all happened organically, recognizing talent and a great sound above all else."
There's even more on the horizon. With talent and a catalog like hers, it's clear that in the right hands, she had the potential to be a great product, and she's coming back for her rightful place in a genre she helped build. She's shown she's been more resilient than most, and she's determined to prevent anything from deterring her from the future she wants. She has plans in store, celebrating talent from a feminine standpoint: She says she loves what Cardi B, Missy Elliott, and Karol G are up to. "I hope one day to be able to collaborate with them," she says. "They're powerhouses standing in all of who they are unapologetically."
Above all, she's excited to reconnect with a fanbase that hasn't forgotten her contributions to music history. "What I love most about music is that people can identify with me, with my lyrics, my feelings, my music. Now they have the opportunity to do that again. Imagine the immense joy, to feel independent, without thinking about, 'I can' or 'I can't," she says. "The simple fact that I can give music to people again and share my talent — well, that's more than happiness."