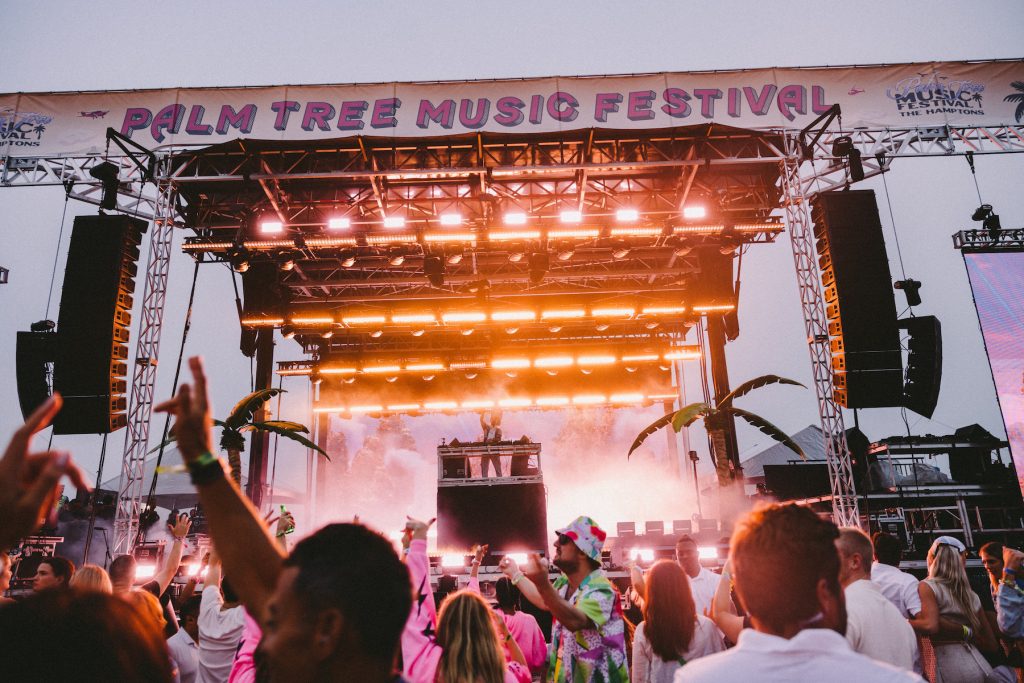 Kygo and Calvin Harris Trade Hits at Palm Tree Festival in the Hamptons
On a chilly, foggy Saturday evening at Palm Tree Festival in Westhampton, New York, Paul Saltzman leaned against the railing near Don Julio's VIP section and eagerly eyed the stage. There was perhaps no one more excited for Norwegian DJ and multi-platinum recording artist Kygo than the 62-year-old from Westchester.
Saltzman doesn't look like the average Kygo fan or the average festival goer. Wearing a gray sweater over a dress shirt, and flanked by his daughter Stephanie Saltzman who works at an entertainment marketing agency and couldn't resist taking her dad to see one of his favorite acts, the elder Saltzman's face lit up when Kygo took the stage.
"I once saw Kygo alone at Madison Square Garden," Saltzman explained, adding that he arrived at 7 p.m. for the MSG show, not realizing that was way too early, but ended up near Kygo's booth for an incredible experience.
On Saturday, we're over 70 miles east of midtown Manhattan at the Palm Tree Festival, created by Kygo and his manager Myles Shear's holding company Palm Tree Crew.
Conducive to the affluent who took private transportation to the festival, the grounds took up space at the Francis S. Gabreski Airport. A seaplane operated by Blade loitered nearby while at least half a dozen private jets taxied adjacent to the festival grounds, emitting an ethereal glow during extremely foggy parts of the day.
This was the festival's third stint in Westhampton since its debut in 2021. Since then, Palm Tree Crew has held versions of the festival in Aspen, Colorado, Cabo, Mexico, Pag, Croatia, and more. This year in Westhampton, the show was headlined by Kygo and diamond-certified producer and recording artist Calvin Harris.
"He's the GOAT," Kygo told Rolling Stone backstage, flashing a smile when talking about his friend. Kygo said the two got close when he went to Harris' show in Vegas and then the next day, Harris came to Kygo's show. "He's…if not the biggest, the one with the most hits out there. He's been on top for so long, he just keeps on releasing bangers."
After warm up acts of Chantel Jeffries, Sam Feldt, and Loud Luxury, Kygo took the stage with the lighting system blanketing the fog surrounding the festival grounds. The Norwegian star has no shortage of hits, with a wave of recognition and excitement going through the crowd when he played his 3x platinum 2017 song "It Ain't Me" (featuring Selena Gomez). He also made room for the oldies, playing his tropical house remix of Whitney Houston's "Higher Love" cover.
Midway through his set, Kygo honored Tina Turner with "What's Love Got to Do With It." Back in 2020, Turner came out of retirement at 80 years old to team up with the DJ for a remix of the legendary track.
"I love working around timeless vocals and although it's challenging to preserve elements of the original track and adding my own touch, I'm extremely happy with how it turned out," Kygo said at the time.
There's a reason Harris is a festival mainstay: his setlist plays like a greatest hits album. Opening with "Blame" from his project Motion, Harris launched into his extensive catalog. "This Is What You Came For" (featuring Rihanna, and written with Taylor Swift who at the time used a pseudonym) and "I Need Your Love" (featuring Ellie Goulding) received two of the biggest pops of the night as the crowd's kinetic energy released and the air filled with inflatables and water bottles being flung around.
One of the more impressive moments of the set came when Harris played his 2012 track "Sweet Nothing" (featuring Florence Welch). At one point, Harris cut the music of the Grammy-nominated song without the crowd skipping a beat, singing the chorus back to the DJ. It wasn't just Harris' own hits during the 90-minute offering: at one point, the Scottish DJ played a dance remix of "Boy's a Liar," injecting life into a crowd who'd been partying since early afternoon.
It's easy to see how familiar the crowd is with Harris. Much like Kanye West introducing "Runaway" on the Yeezus tour with that one piano key, Harris' first note of "Feel So Close" sent palpable excitement through the crowd. Days after the solstice, Harris also played "Summer" as his best response to combat the off-putting gray weather and to deliver some main character energy inspo to the masses.
The crowd was a sentient TikTok FYP. Barstool Sports' BFFs podcast's Brianna Chickenfry looked on as Kygo performed and joked on social media about her leg getting caught in the VIP table fence. Ultimate it-girl and recent University of Miami graduate Alix Earle cemented the festival's cool status by posting a GRWM for Palm Tree Festival from her bathroom that garnered almost two million views in sixteen hours.
At a backstage lounge, influencers, music execs and those willing to shell out big bucks for an upgrade had the option of lobster roll or pommes frites food trucks, or getting an IV vitamin treatment to keep the good vibes going as EDM filled the air.
Kygo said Palm Tree Festival is open to experimenting more then it comes to genre in the future, noting that the White Stripes performed at the Aspen iteration of the event.
"I feel like people that come to Palm Tree Festival are very open minded so we definitely want to expand and have different genres, definitely have some live acts and some bands," Kygo said. "We've been experimenting some, and we're going to continue doing that in the future."
As the evening (but not the crowd) wound down, Harris delighted fans with his new track "Miracle" (featuring Ellie Goulding) that just spent its eighth week at #1 on the United Kingdom's singles chart. It tied "One Kiss" (featuring Dua Lipa) as Harris' longest running hit in the UK.
"That's what I love about him," Kygo said about Harris and "Miracle." "He's not afraid of doing something new. It's like 143 BPM or something and it kind of has a nineties techno vibe to it."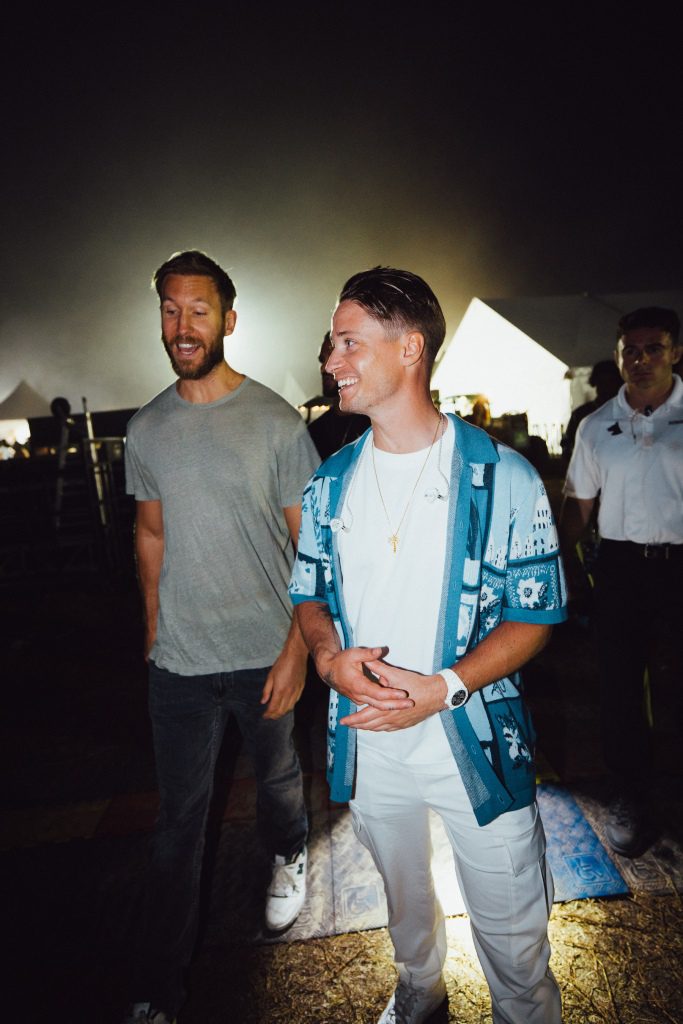 Saltzman, the dad from Westchester, and I exchanged a thumbs up at the end of the evening. He leaves satisfied, much like the thousands in the crowd who will make treks back to the city or the harbor of the Hamptons.
Still, the buzz from hours of chart-toppers fills the air long after the music has stopped and you're struck by the longevity of Harris' discography. Kygo's earlier admiration for his friend being "on top for so long" manifests itself in a set that spans from the 3x platinum "Feel So Close" released in 2011 to "Miracle" currently setting records, acting as an ultimate kickoff to summer in a place that does summer all too well.