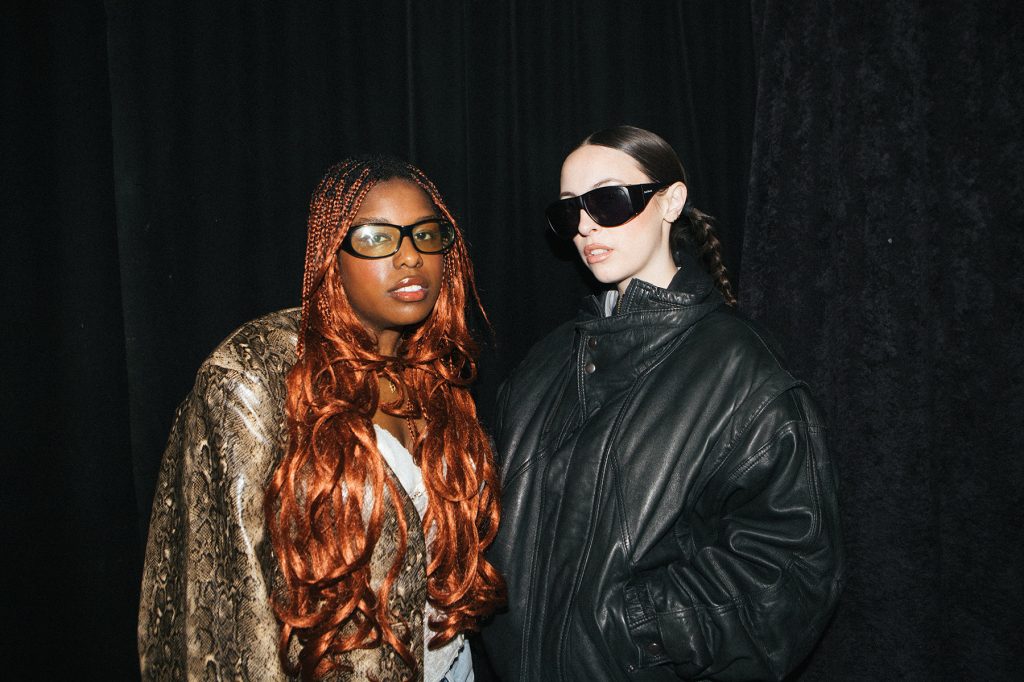 Koffee, Chloë Bailey Close Out the Future of Music Showcase With One Hell of a Party
The slogan "Keep Austin Weird" doesn't make much sense. It implies that weirdness requires effort and upkeep, like laundry or a monthly bill. But on the fourth and final night of Rolling Stone's Future of Music Showcase, the weird, awesome stuff was there in abundance. 
The mood at ACL Live at the Moody Theater was one wild concoction of SXSW and St. Patrick's Day on a Friday night, with a crowd that featured leprechaun top hats, men in full Santa attire, glowsticks, and more. The openers, Atlanta duo Coco & Clair Clair, only added to the ultimate party vibes. "Make some fucking noise, we're clinically insane!" they screamed. 
Don't feel uncool if you don't know the group yet. They broke their career on TikTok, where 40,000 videos have been made to the glittery bop "Pretty." (It also has 80 million plays on Spotify, so maybe you are just a little uncool.) They ran through cuts off their recent debut, Sexy, including "Be With U," "Love Me," "Pop Star," and "The Hills," the latter their tribute to "Malibu and Starbucks." Coco rapped hilarious lines while Clair dropped delicate harmonies, such as the cheeky intro to "Wishy Washy": "3 o'clock on the dot, he pull up on my block/We goin' to the mall, I'm gettin Nike Shox/No I'm not Baroque but he treats me like he's Bach/I take a lil off the top, he my dog, Iggy Pop." Now that's some raw power.
"We always knew our songs would go viral on TikTok," they told The Fader. "It was something we were almost waiting for because so many of them are cute, bubbly beats with funny lyrics. They make sense for the TikTok formula."
Singer and actress Coco Jones followed, winning over the crowd with her R&B jams and lovely stage presence. "We gonna turn up!" she announced, wearing gorgeous sheer black tights and heels. "You gotta be singing, though. 'Cause I see everybody's face." In a tight 30-minute set that in a perfect world would have lasted for hours, she guided the theater through gems off her EP What I Didn't Tell You, released last year. Before she launched into "Caliber," she spread some words of wisdom. "Basically, this song is about having your standards [and] telling somebody what you want. If they can't give you what you want, goodbye!"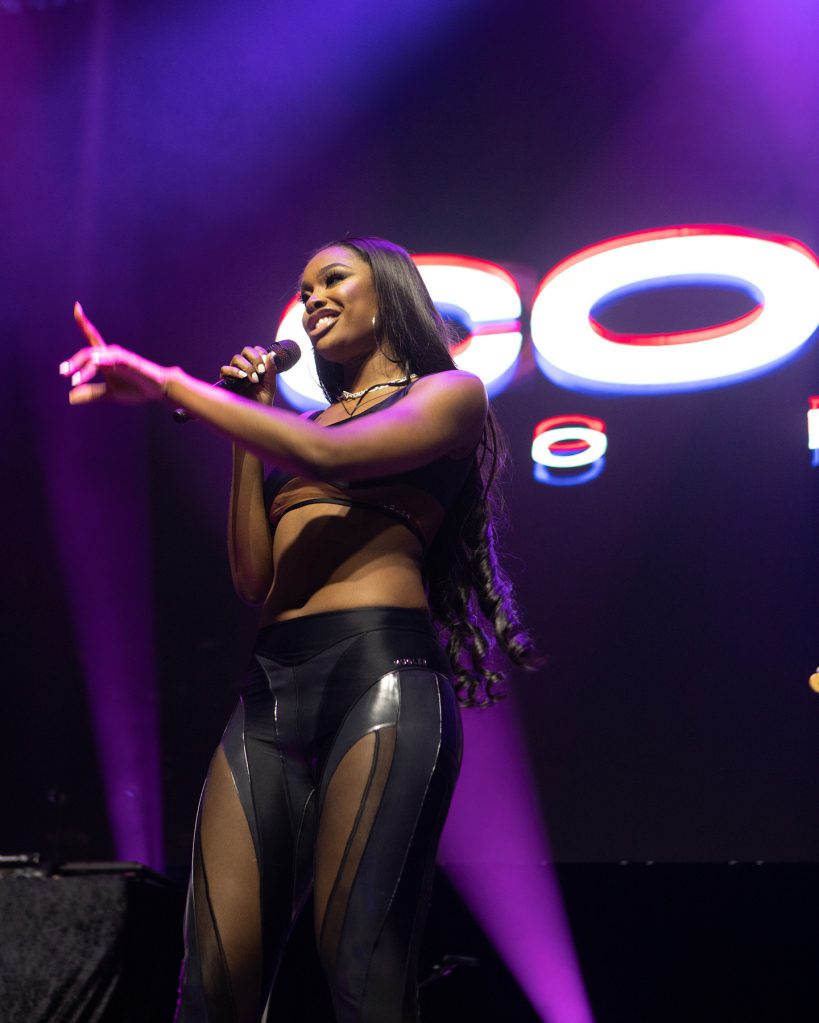 Fans were chanting Chloe Bailey's name well before she claimed the stage. The star, also known as half of the sister duo Chloe x Halle, arrived in a fiery red and black long-sleeve leotard as the words "BOOTY SO BIG" flashed across the screen. Flanked by dancers, she kicked off with her debut solo single "Have Mercy," followed by songs like the tranquil "Pray It Away" and "Treat Me."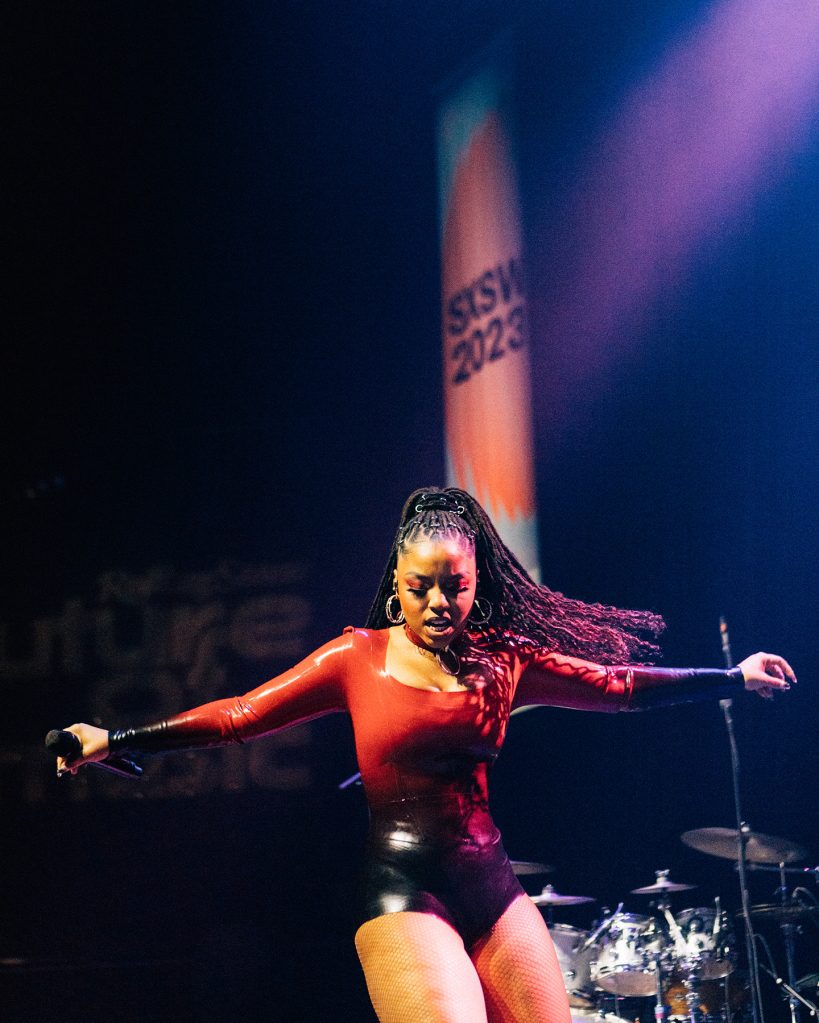 "I have an album coming," she said, beaming. "It's my first solo album, and it's called In Pieces. There hasn't been a day where I'm not filled with such gratitude. Because you don't know this album is a piece of my heart, literally. I've been through a lot, as I'm sure all of us have been in here. And I use the music as therapy to get me through, to help me believe in myself more." 
After Genrus gave a brief yet exhilarating set, Mikayla Simpson greeted a sea of light-up cowboy hats and adoring fans. The Spanish Town, Jamaica star, who performs as Koffee, dove into her blissful reggae tracks tinged with dancehall and pop, including songs from her debut, Gifted. Decked out in black denim with a red beanie, she connected with the audience with not just her music, but her indelible charm. "I have a question," she said, before launching into the soothing stunner "Lonely." "Are there any lovers in the house tonight? Anyone on a date time with their partner? Somebody you like? … Y'all are lonely!" 
"Positivity is definitely a theme," Koffee told us of Gifted in 2021. "It will be a very interesting twist for people who knew my music before, and also for people who will discover me. I think it will be really awesome." And as the Future of Music showcase came to an end after four days of great music in Austin, that's exactly what it was.
(Full disclosure: In 2021, Rolling Stone's parent company, P-MRC, acquired a 50 percent stake in the SXSW festival.)