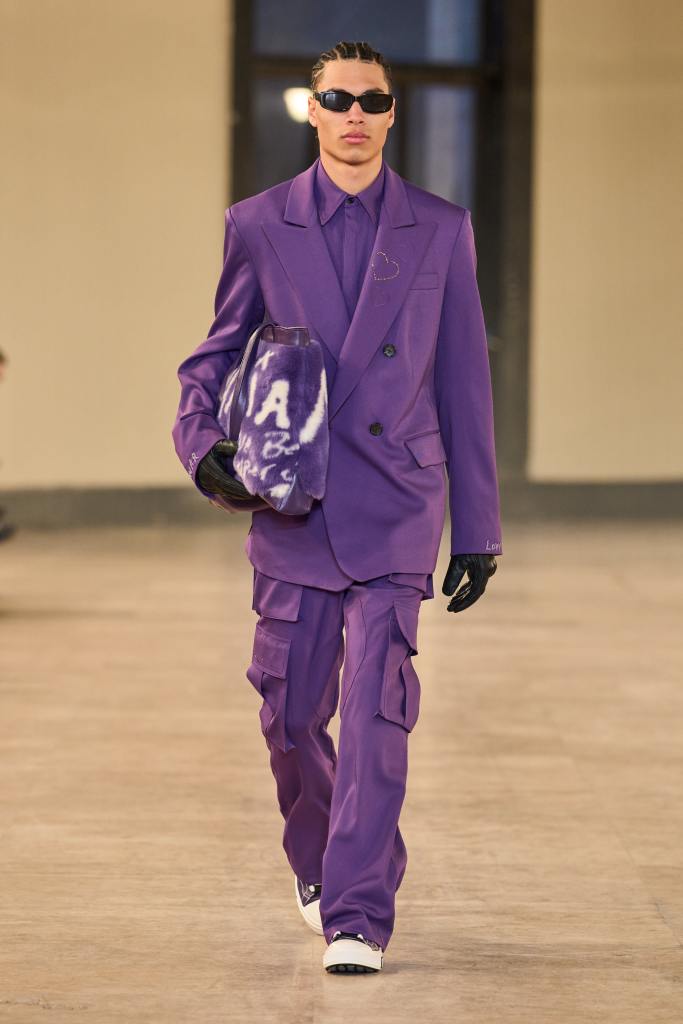 Kodak Black Debuts Paris Fashion Week Collab With Menswear Brand Nahmias
If you purchase an independently reviewed product or service through a link on our website, Rolling Stone may receive an affiliate commission.
Kodak Black traded the stage for the runway Sunday as the rapper debuted his first-ever fashion collection as part of a Paris Fashion Week collaboration with menswear designer Doni Nahmias.
In front of stars like G-Eazy and F1 driver Charles Leclerc, Black unveiled a 10-piece capsule inspired by nostalgic outfits, music and his deeply personal lyrics. Just how personal was the collection? The rapper performed his song "Super Gremlin" on the runway while rocking a purple faux-fur coat hand-painted with lyrics from his composition notebooks.
Channeling freedom and movement, Black also showcased a purple suit with a rhinestone heart sewn into the lapel and the words "love" and "war" knit into the sleeves (purple is Black's favorite color). The rapper helped co-create each of the ten looks in the capsule, working closely with Nahmias on the runway presentation as well.
Though he's known for his love of designer duds, this was Black's first official foray into the Paris fashion scene. In an Instagram post, the Florida native wrote about how thankful he was to be there, writing, "I'm sitting in Paris like WOW, I really made it out [of] the projects for real."
Even more special: Black was accompanied in Paris by his daughter Yuri Kapri, who turned one-year-old on the day of his Nahmias show.
Black and Nahmias are longtime friends, having most recently teamed up for a party at Art Basel in Miami. Nahmias had teased to Rolling Stone that there was something big in the works with the "Tunnel Vision" rapper, which turned out to be the Paris Fashion Week collab.
The Kodak Black x Nahmias capsule was just one part of the designer's fall/winter 2023 collection, which was dubbed "California Poetry" and inspired by "Nineties California hip-pop culture."
Models walked the runway at Paris' Palais de Tokyo in wide-leg trousers, oversized sweaters and reworked denim, with the pieces drawing from elements of athleticwear, streetwear, graffiti art and hip-hop.
Indeed, like Black's music, there's always something expressive and lyrical about Nahmias' work, which is at once familiar and forward-thinking. For his F/W '23 collection, the Summerland, CA native riffed on the California poppy — the official state flower — with custom poppies sewn into knit sweaters and hand-painted onto silk shirts and pants. 
While Black's capsule was inspired by streetwear and primarily grounded in shades of purple and black, Nahmias' collection was decidedly more whimsical, with free-flowing silhouettes and colors inspired by the California coastline (the designer also showed shoes and hats with floppy rabbit years — likely a coincidence, but also fitting for Sunday's Lunar New Year celebration of the Year of the Rabbit).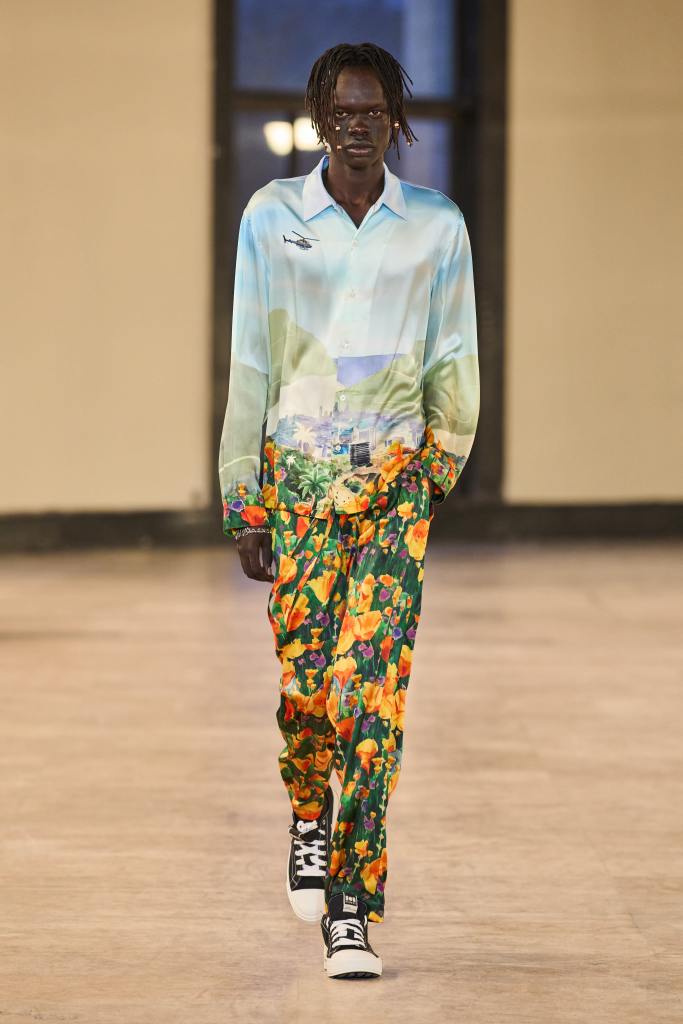 This was Nahmias' third Paris Fashion Week showing, having debuted in Paris this time last year.
You can shop Nahmias pieces online at stores like Saks Fifth Avenue, Selfridges and SSENSE. It's unclear as of this writing as to where fans will be able to pick up the Kodak Black collaboration, though all of the pieces seemed prime for the same department stores and boutiques.