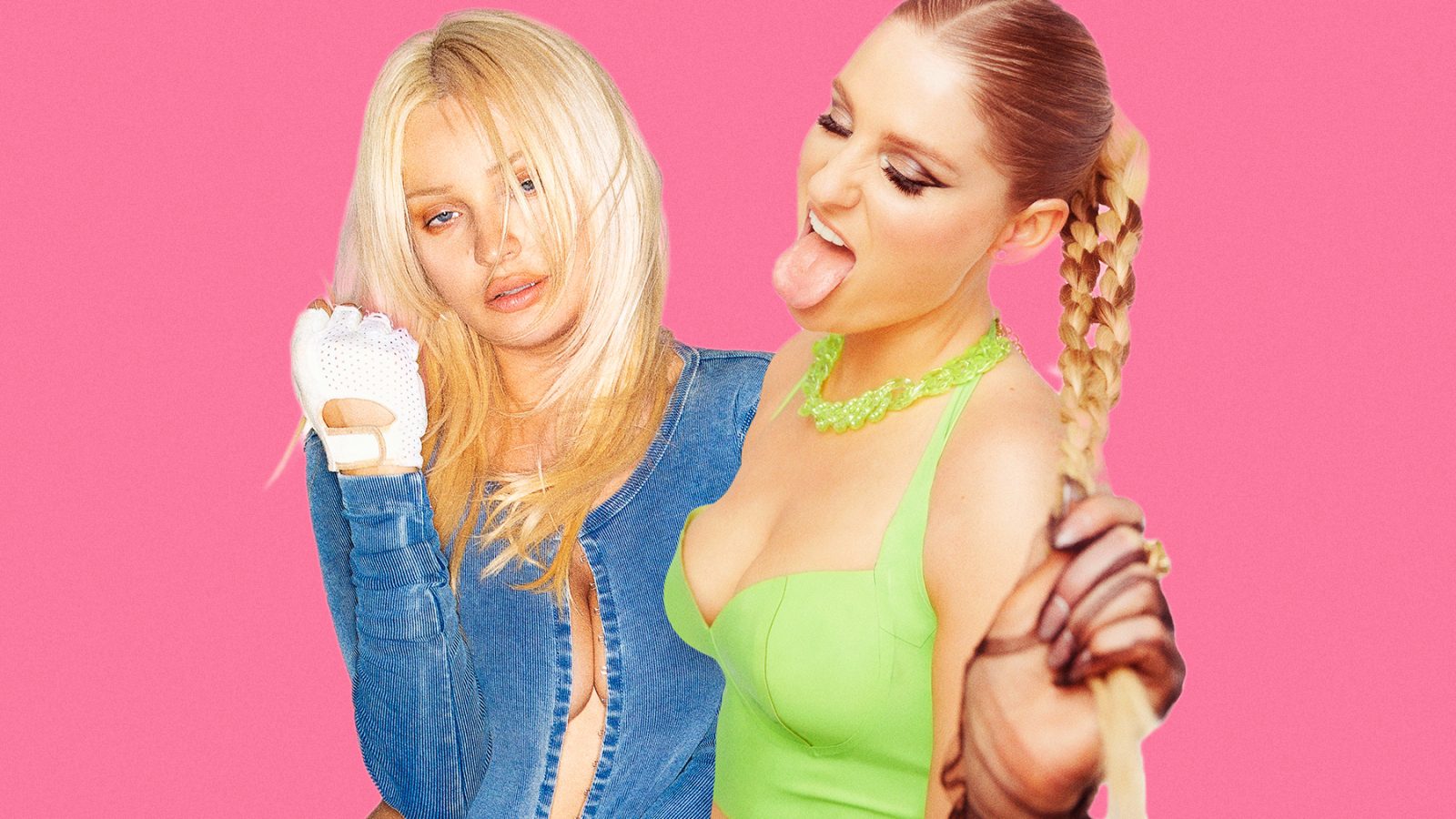 Kim Petras Adds an Even Sexier Twang to Meghan Trainor Earworm 'Made You Look'
The party friend sure knows how to make a mom friend tap into their sexiness! On Friday, Meghan Trainor released a remix of her TikTok earworm "Made You Look" featuring vocals from "icon" Kim Petras.
After the song's catchy chorus of wearing luxury clothes (and stripping them all off), Petras dives in for a welcome sexy verse as she hits high notes and ad libs to accompany Trainor.
"Don't be shy, just put your hands on me/One night I'll let you live your wildest dreams/Tell me what you, what you, what you gon' do, ooh, baby," Petras sings, before Trainor joins in: "So watch me break my back underneath the cover/Double take for that 'cause no one does it better for you, ooh/Tell me what you, what you, what you gon' do."
It's a fitting collaboration for Trainor, who describes Petras as an "icon," who she's been a fan of for a "very long time. "We had such a fun time in the studio together and she added the perfect energy to the song," Trainor said in a press release. "She is a queen and I cannot wait for everyone to hear her voice on this song! She really brought it to a whole new level."
The arrival of the track comes at a huge moment for Petras following the success of her song "Unholy" with Sam Smith, which she performed on Saturday Night Live last weekend. She also delivered a dose of hyperpop perfection with "Brrr" on Late Night with Seth Myers.
"I had 'Made You Look' stuck in my head for months," says Petras. "It's just so catchy and I felt like the song was like a warm hug. So I loved it right away, and then when I got asked to jump on it, I was really, really excited."
Petras described Trainor as a "great pop songwriter" and says she "won't forget" what it was like recording her part in the Takin' It Back singer's at-home studio. "I've never worked with an artist who wanted to track me and comp my vocals and do it all together," Petras adds. "She really is like a little angel and such a treasure and deserves everything that's coming her way with the song and I just feel so excited and honored to be a part of it."
The two stars teased the collaboration on TikTok, posting a video about Trainor "the mom friend" and Petras "the party friend" coming together to create a collab that's a "banger."
The Petras remix of "Made You Look" comes after a massive comeback for Trainor, partly thanks to her TikTok following. On Spotify alone, the song has amassed nearly 260 million plays.
"I stopped chasing radio and what I thought people wanted to hear and just wrote what I enjoyed," she told Rolling Stone following the release of her album Takin' It Back. "I put my heart into each song. Sometimes my sad, broken heart and sometimes my happy, confident heart."
Among the songs on the album, alongside "Don't I Make It Look Easy," is the Natti Natasha-featuring "Mama Wanna Mambo," where she welcomes the Latin star for a song on how mothers want to have fun too.
"I was like, 'God, I don't remember the last time I did that.' I bet every mom feels like that. I just want to escape and have a crazy wild night," she said. "I wanted a feature on this song. And I wished that it would be an icon, but also someone who's a mom. We were talking about Natti Natasha, and we were like 'She never would. There's no shot!' But the day the master was due, we got a phone call. It was like a movie scene, and they were like 'Natti is down.' And we're like, 'What? You're joking.' But it was real. She recorded a verse and sent it in, and it was magnificent."