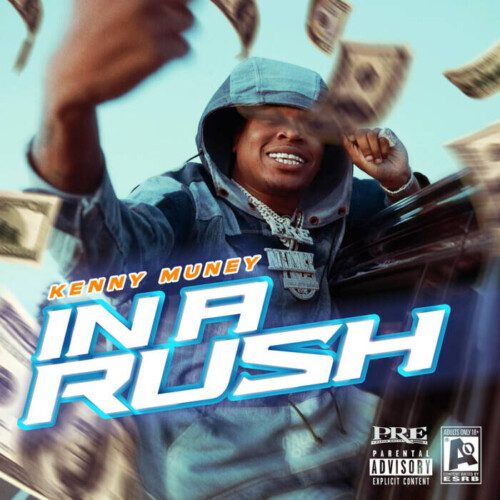 Kenny Muney Pulls Up "In A Rush" in New Video
A true Memphis original with a buoyant flow and a vibrant persona, Kenny Muney came to play. Without a second to spare, the Paper Route Empire artist returns to share his new video single, "In A Rush," from the upcoming Time Is Muney (Deluxe) project. Produced by HitKidd, "In A Rush" finds Kenny cutting through an ominous instrumental with surgical efficiency as he sorts his priorities: "Look, I ain't even gonna lie, I love you but I love my money / Please don't make me pick, cause I promise I'll pick, then you gon' think I'm heartless."
The video for "In A Rush" finds Kenny and company taking their business on the road in a black SUV, before touching down on Coach Primetime's sideline at a Jackson State University football game for the dedication of the "Paper Route Tunnel," the Mississippi Veterans Memorial Stadium entrance tunnel, in honor of Young Dolph at the start of the 2022 season. After kicking back to watch the game in their red recliners, Kenny and his crew head to the locker room to meet with the team before quickly hopping back on the road, as he's always "In A Rush."
"In A Rush" follows in the wake of his recent singles "Big Muney Sh*t" and "King Pin," both of which prepare PRE fans for Kenny's upcoming Time Is Muney (Deluxe). Released last February, Time Is Muney is a project suited for headphones–the better to be mesmerized by Kenny's hypnotic flows. The tape is home to singles like "Backend Freestyle," a flex heavy track that allowed Muney to reintroduce himself to fans, both new and old, "Worthless," which received a tequila-fueled music video, and the street hit "No Days Off" (2 million combined plays on YouTube and Spotify). Featuring guest appearances from Kenny's PRE associates Big Moochie Grape and Key Glock, as well as Dreezy on the romantic duet "Nobody," Time Is Muney is available everywhere.
With Time Is Muney, Kenny Muney showed that he has the talent and determination to succeed in the Empire-building business. Stay tuned for more from Kenny Muney and Paper Route Empire.
© 2023, Seth "Digital Crates" Barmash. All rights reserved.