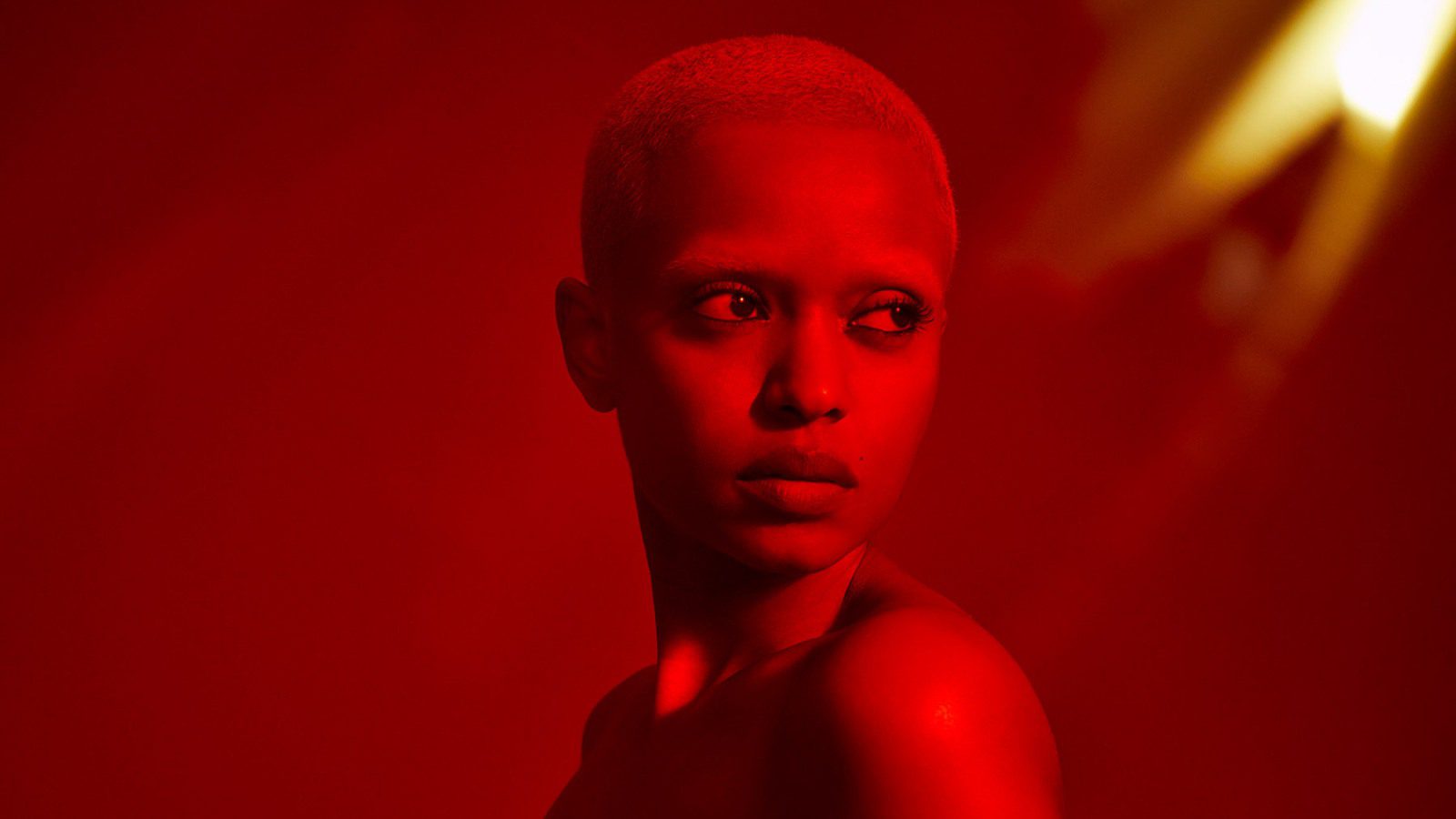 Kelela's Long-Awaited Return Is So Vulnerable It Scared Her
Language can be intuitive, starting somewhere in your gut before transfiguring into speech. Effective communication, however, is more complex. Feelings sometimes encompass more than words can offer, making for crossed wires and missed connections. Kelela Mizanekristos, the R&B visionary who performs under the name Kelela, is aware of her gifts in this regard. Her excellent new album Raven, released last week, is a sprawling excavation of emotion. Her process, she says, relied on instinct. "I'd record the first take as I'm listening to the song for the first time, just so that I can be sure to capture the one time when I won't have any preconceived notions about what I'm going to do on this thing," Kelela explains over Zoom. "I'm responding to it in the most instinctive way."
The album gets its title from the oft-misconstrued creature made famous by poets like Edgar Allan Poe. "The raven is associated with loss and ill omen. This resonated because when you listen to the record, I imagine people would make the assessment that it's dark, and maybe it's kind of sad on some level," Kelela says. Except, there's more to it than that. She pauses to Google the bird's symbolism, ensuring she explains the idea clearly. "The raven also represents prophecy and insight, connecting the material world with the world of spirits. And I don't know if I'm connecting the world of spirits with the material world, but I will say I am a translator of emotion."
Raven is the long-awaited follow-up to Kelela's 2017 record, Tear Me Apart, a sensuous dive into the emotional textures of heartbreak. Sonically, the album achieved a reconstruction of feeling; Kelela built oceans of sensation within the experimental gradients of dance music and R&B. That attention to detail was one of the reasons for the gap between the two albums. "That's what took a long time for this record because I am always looking for the sound that exists between established sounds and established producers. So, for me, it's a lot of building of tracks," she says. 
Raven opens with "Washed Away," a gentle introduction to the world Kelela spent all that time constructing. Shimmering and airy synths courtesy of Berlin sound artists OCA, known for experimenting with sounds that elicit specific emotions, create a stunningly vivid effect, letting the listener float away in an ocean of feeling as the singer's quietly mighty vocals steer the ship. The sonic palette places you firmly in Kelela's universe. Her voice delivers rhythmic gallops into the psyche, using a sparse collection of words sung with deliberate care as if placing them gently in the back of your mind. "The mist, the light, the dust that settles in the night / The hope, the longing, fade away, blurry-eyed," she sings.
"The first half feels like summer, and then the album carries you into the winter and through the winter," she says. "You run off the cliff in 'Contact,' and then you basically just dive deep into the depths of the ocean on 'Fooley.'"
But finding the right sonic textures wasn't the only part of the record that required patience. After her first studio album, Kelela knew she needed to dig into the specifics of what she was experiencing as a queer Black woman in popular music. "One thing my friends will tell you about Kels is I'm not about to experience a pattern in something and not find language for it. I'm going to find a term or find out the meaning behind something." 
She created a manifesto of sorts — a curriculum for those who wish to truly see her. Works ranging from podcast clips and social media videos to texts like Kandis Williams' Reader on Misogynoir and articles like "Decolonizing Love in a World Rigged for Black Women's Loneliness" by Shaadi Devereaux. She included personal notes where she'd add her thoughts on a particular work. "I was just processing with my friends and reading and talking about what's going on, just so I could have a clear map of what I have to navigate when it comes to the next rollout," she says. "I was just like, 'I know it'll be hard for me to do this work while it's happening. So let's just take a moment."
The album is a product of that emotional and intellectual rigor. Around January of last year, she sent the sprawling document to collaborators and friends. If you wanted to work with her, you'd need to do the work. "And that's what I'll say about this record. It was not like I made a zillion songs and then narrowed it down. It's not giving that," Kelela adds. "Even when people approached me, they had such a clear picture of what they were going to do for me."
It's what her fans have come to expect. Where others might bemoan an artist's slower pace of output, Kelela's music engenders a different kind of pact between artist and listener. "I feel like my fans have been very much 'she's doing whatever she has to be doing right now so that she can make the thing that is going to give me life eventually,'" she says. "That sort of relationship, the abundant fan, is something I've always wanted to attract. It's the type of exchange I want to be in with my audience."
Kelela was born in Washington, D.C., and grew up in a nearby suburb in Maryland. Her parents, who immigrated to the U.S. from Ethiopia, never married and co-parented from apartments in the same building. During her childhood, she was surrounded by music; she played violin, sang in the choir, and listened to a broad palette of different genres. While in college, she started singing at open mic nights before branching out and collaborating with artists in D.C.'s indie and punk scenes. This was during the Myspace era when young artists built a new music landscape in real time. After deciding to leave school, Kelela would eventually connect with a set of electronic musicians at the forefront of an experimental club sound.
She released her first mixtape, Cut 4 Me, in 2013, via the dance music label Fade to Mind. The project was a free download on SoundCloud and quickly brought the then-30-year-old musician into the limelight. Fade to Mind had built a reputation as the genre's chief innovators, and in Kelela's vocal dexterity, the label's experimental approach to dance music gained emotional heft. She says her instinct has always been to explore a wide variety of sounds, and that early period showed her the challenges of experimenting as a Black artist. "I feel like when I first started releasing music … That period was a post-Pitchfork era, is how I would describe it," she explains. "It was a dark time for experimental Black shit because ain't nobody in that realm give a shit about any Black experimental sounds at that time."
Ever the theorist, she describes it with a scholar's focus. "There's a canon of approved Black sounds that I think continues to expand every year," she says. "There's a new sound that white people discover is not too Black anymore. It's now acceptable. And so, over time, I feel like different sounds get included. I've been trying to theorize about what that is. And the only term I can come up with is sonic racism because there's a hierarchical value system assigned to certain sounds."
"That perspective has been very stifling for me," she adds. "And I think one of the things I wanted to do with this record is to affirm myself and liberate myself around those judgments." She constructed the album not unlike an extended DJ mix. Songs transition with subtle pitch modulation familiar on dancefloors, moving from traditional R&B to hints of dancehall, drum n' bass, and techno. "One of the things that was really important to me was Black people being able to discover and own these sounds," she says. "So, going from one track to the next through mixing and just making it sound like I DJ'd my album."
Raven delivers its message on a nearly subterranean level. The songs are open and vulnerable, navigating the painful corners of identity with a caring specificity. They announce themselves quietly, carefully tuned to a frequency focused on Black women. "I think there's a way that I'm addressing very real shit in a way that sometimes feels straightforward," Kelela says. "And then there's things that I'm also addressing that are not so literal, like the way I'm responding to male stoicism on the record. It's something that startled me after I finished writing all the lyrics. I remember stopping and taking a step back and being like, 'Ooh, do I sound like a beg?'"
"It wasn't just one song that was giving that," she adds. "I had to sit up straight at that moment and be like, 'Yeah. I couldn't write about anything else because that's what it's giving right now,'" she says. "I feel like I'm experiencing rejection in so many different forms on the record." 
"Tell me, are you keepin' up with your wounds? / Can you love through it, baby?" she sings on "Enough for Love," a plea that rings ubiquitous and specific all at once. "Male behavior is so patterned that it will have you thinking that each song is about the same person," she says. "I had to tell somebody, 'When you hear the record, you're going to think that the songs are about this situation, but that's how patterned y'all's behavior be.'" Elsewhere, like on the slow-rolling "Holier," she delivers a robust declaration that "I go where they hold me down / And you're not gonna take my crown," an affirmation that needs little explanation to the people for whom it's intended. 
When we speak, Beyoncé just won the Grammy Award for Best Dance/Electronic Album with Renaissance, an exploration of the same threads in Black music that Kelela's been connecting her entire career. "It's really cool to be in a time where dance music isn't as obscured as it typically is," she says. "I think that's one of the ways that anti-Blackness shows up in music. When you create distance between those sounds, you are essentially making it harder to know that it's so much Black hands that have everything to do with the origins of all of it. That's an underlying sonic message that's happening on the record."
And while the album might immediately strike listeners as dark,  Kelela says a sense of joy permeates. "In the same way I've always led with tenderness and vulnerability in my work, I think that exists on this record. But I would say it's different in that I am articulating a boundary," she explains. "This album is for those of us who want to lead with vulnerability but have also discovered our limit. It's for those people who are exploring boundaries but also want to stay in the love pocket."