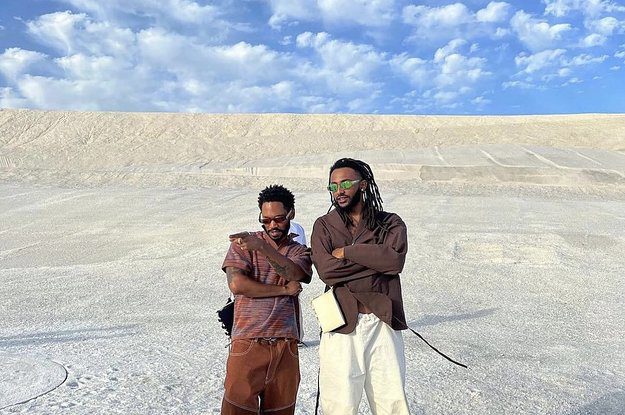 KAYTRAMINÉ Kick Off Their First Tour in Montreal
KAYTRAMINÉ's debut tour is going to be a short one, with only five dates scheduled thus far. The dynamic duo of Kaytranada and Aminé kicked things off in front of a sold out crowd in the former's hometown of Montreal last night.
Set in the outdoor Piknic Electronik venue on Parc-Jean-Drapeau, a spot Kaytra knows all too well, the pair performed tracks from their 2023 eponymous debut, while also digging into their respective back catalogues to fill out the 75-minute-long setlist.
The phones were out from the onset as they came out with immediate firepower, dropping "Who He Iz" and "Ugh Ugh" on a crowd looking for the collabs. They kept the setup simple, with Kaytranada on the decks and occassionally shouting ad-libs, while Aminé was in front being his usual energetic self.
"We're only doing five cities on this tour," the MC told the crowd. "So this feels really good."
Their album is just over 30 minutes long, so you knew they would dip into their solo hits eventually. Aminé was first up, with Kaytra hitting backstage early. With his own DJ, Aminé fired up his biggest hits for a mini-set, including "Spice Girl," "Reel It In," and "Caroline" with a slightly slowed down intro verse.
Then the hometown hero returned with a few classics his Montreal fans knew by heart. After starting with 99.9% smashes "You're the One" and "Lite Spots," he got the crowd up to maximum energy with his "Be Your Girl" remix. With the tenth anniversary of his iconic Boiler Room set looming, Kaytranada only helped fuel the local crowd's sense of nostalgia.