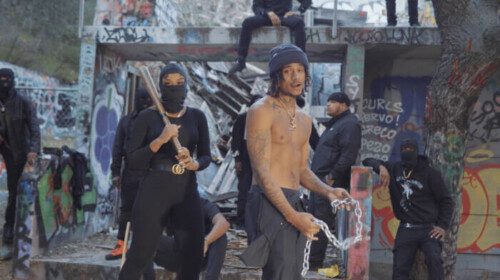 Kash XO Drops Official Music Video for "LNDN" (LONDON)
Kash XO is an up-and-coming Hip-Hop artist based in Los Angeles, California. His sound is not limited to the west coast and he makes versatile music with a little something for everyone in his catalog. He just released his brand new single called "LNDN" which is streaming now on all platforms. The single is a hard-hitting drill anthem that has elements of Grime and a world music influence. The song begins with a haunting musical intro before the beat drops leading into his heavy and raspy vocals. His delivery on the track is clean as he skates all over the beat. The production of the song is solid and a perfect match for his lyrical capabilities. His rhymes cut through the beat making this an anthem worthy of repeat listens.
The song is paired with an official music video directed by Leed'D Visuals shot and edited by Malik__AB. The visual is a perfect match for the high energy of the record. It is a performance-based video shot on location filmed in Los Angeles. West Coast artists aren't known for making drill music and Kash XO really sets himself apart with this song and video. He puts on for his city by wearing shirts in the video that feature the name of notorious Los Angeles neighborhoods. The video is already going viral going on 100,000 views in its first week of release!
This song and video are proof that he has energy, drive, and passion for his craft. He knows how to captivate and capture the attention of his fans and is rapidly improving with each of his musical releases. His music video for "Big Racks" has over a million views and after that, he knew he had to drop something major to keep going viral. Kash has been racking up his performances gaining new fans each time he touches the stage! He even has a standout feature in his catalog from Fivio Foreign. The music video for their single "Clear The Room" also has over a million views on YouTube.
Kash has been courted by major labels but remains loyal to his own situation at J.U.B Records. Kash is currently signed to Los Angeles Dre an A&R and manager from J.U.B Records partnered with C.E.O of J.U.B Records Jubbie. His drive comes from years of being a competitive athlete and then transitioning to music.
In an exclusive Q&A with HipHopSince1987.com Kash XO states that having a child and dealing with different obstacles in life gave him the passion and purpose to keep going to pursue music. His greatest achievements so far in building his fanbase are reaching almost 5 million total views on youtube and over a million streams on Spotify. His music is a blend of writing and freestyling depending on the mood and the vibe of the beat he is recording. Some of his favorite artists are Lil Baby, Drake, and Lil Durk all of whom he'd like to work with in the near future! A typical day for Kash XO includes running his social media, shopping the latest fits to continue to be a trailblazer, and of course, hitting the studio. His motivation is to create a legacy for his son and family.
Kash XO plans to release a lot of music and visuals this year making "LNDN" just the beginning of a major 2023 for this talented artist. Check out the visual for "LNDN" after the jump and stay tuned to HipHopSince1987.com for a lot more work soon from Kash XO. Make sure to follow him now on Twitter and Instagram.
https://instagram.com/IamKash_XO
© 2023, Seth "Digital Crates" Barmash. All rights reserved.