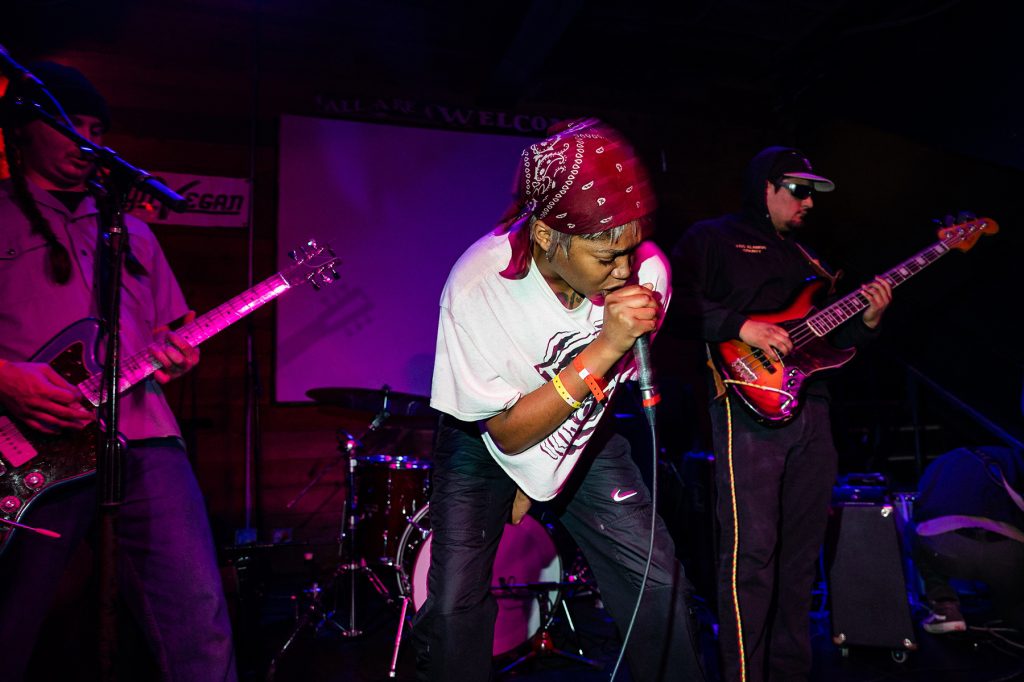 K-Pop, Punk Rock, and a Drag Show Keep the Good Times Going in Austin
And then it was Friday. The arrival of the weekend coincided with St. Patrick's Day to bring a huge influx of revelers to downtown Austin last night, as it does most years, leaving long lines of curious folks dressed in green queuing outside previously under-the-radar venues. There was still tons of great music to be found, if you walked in the right door. Here are the best things we saw on the fourth full day and night of SXSW 2023's music festivities.
Up With Upchuck 
"This is going to be loud," the record executive says to me, grinning. It's early in the afternoon, and we're in a dingy club. The Atlanta punk-rock five-piece Upchuck is about to play. Two minor chords leap out of a guitar amp, nearly slicing my face in half. The first tune hasn't even started, and it's clear this exec has radically underestimated the impending decibel level. The drummer starts pounding the tom-toms, and the bass and rhythm guitar pound out eighth notes. Then everything explodes. The band goes double time. Singer KT Thompson howls at the crowd. And the club becomes a sonic cannon, set to maximum destruction. Every song hits this hard, and when it's time to go, the two of us stumble into the sunlight. "Wanna go see 'em again tomorrow?" I ask. —N.S.
If you walked down Red River Street around midday, you would have heard all kinds of sounds coming from clubs within a block or two — and one voice that made you stop in your tracks. It belonged to Michael Trotter Jr., who fronts the Nashville duo the War and Treaty with his similarly talented wife, Tanya Trotter. "Lover's Game," the title track from their just-released major-label debut, turned Empire Garage's outdoor stage into a barnstorming Southern rock & soul revue; "Blank Page" was a warm, heartfelt plea with a touch of gospel. Michael sang every note like his life depended on it, and when he reached up into his falsetto range and intertwined with Tanya's harmonies, the effect was downright divine. The married couple had fun with a howling, bluesy cover of "With a Little Help from My Friends," then turned serious as they recounted some of the long and hard journey that preceded their turn as one of Nashville's hottest acts (for more, see our 2020 feature on them). It's an inspiring story, but what really makes the War and Treaty unique — what no one else has — is the incredible power of those voices. —S.V.L.
Bnny's Eerie Mood Music, By Day and Night
The weather was unseasonably cold and windy at Cheer Up Charlie's in the early afternoon, which suited the chilly tones evoked by Chicago's Bnny. "I think I see you 'round every corner/Think to myself, girl, can't get much lonelier," Jessica Viscius sang, strumming a black guitar with the letters BNNY written on it as a sparse crowd watched. On "August," another highlight from the band's slow-burner 2021 debut, Everything, she repeated the words "I'll change" like an incantation over haunted-sounding, heavily reverbed chords. Early in the set, she and her three bandmates battled unwelcome guitar feedback; by a few songs later, they'd brought it under their control, and the crowd had grown, too, drawn in by Bnny's noisy spell. And when they took the stage again 10 hours later at Swan Dive, the band sounded even louder and wilder — nocturnal spirits in their element at last. —S.V.L.
Priyanka Plants a Pride Flag in the Heart of Texas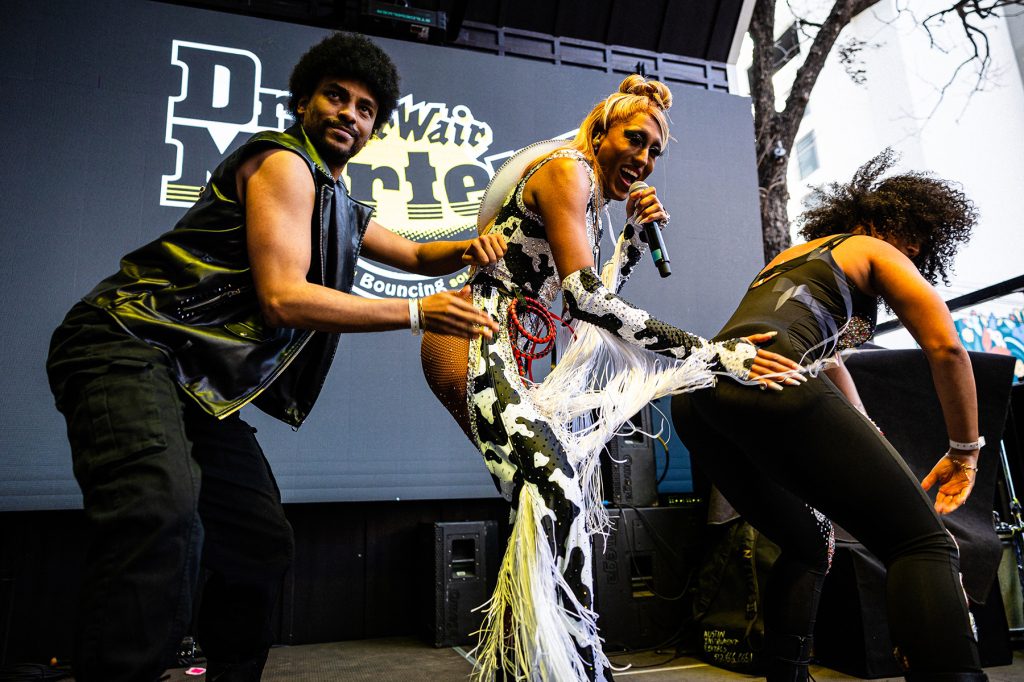 "I came all the way to Texas to put my gay agenda on everyone here,"  Priyanka told the crowd at the Doc Martens showcase at Clive Bar, drawing cheers. "This is fucking lit!" Hell yeah it was. In a just world, a performance by the drop-dead gorgeous winner of the first season of Canada's Drag Race would have been good, clean fun. In our current hell, when bigots in several states are trying to ban drag — including some life-loathing pricks just a mile north of this stage at the Texas Capitol — it felt fearless. Dressed to the nines in a rhinestone-studded cowgirl outfit, the Canadian queen sang club-pop originals ("Bitch I'm Busy," "Cake") and glitter-bombed covers (the Weeknd's "Take My Breath Away," Destiny's Child's "Say My Name") with crisp choreography and a pair of backup dancers. It was a performance that delivered the kind of liberation that all people, wherever they live, should have access to. "Am I a gay icon now?" she asked rhetorically. "I feel like Lady Gaga." —S.V.L.
Balming Tiger Get the Party Started
"Welcome to K-pop from the dark side," Omega Sapien of Balming Tiger said during a packed set at Clive Bar Friday afternoon. The South Korean collective — who also introduced themselves as "the one and only alternative K-pop band in the whole universe" — were dressed down in T-shirts, jeans, and sweatshirts as they traded verses and bounced around the stage, chanting, pointing, and showing off a sense of humor. Though hip-hop was clearly the starting point, their songs branched out to funk, pop, R&B, and more. There were moments of dancing in unison, but mostly the group (whose name is a play on Tiger Balm) were about unfiltered and up-close lyricism. "You guys wanna feel sexy?" they asked before "SEXY NUKIM," a deeply catchy, minimalist track they recently recorded with RM of BTS. Like the rest of the set, the song felt like the group just being their true selves, which is the best kind of sexy. —C.H.
Coco & Clair Clair, TikTok Stars IRL
Don't feel uncool if you don't know Coco & Clair Clair yet. They broke their career on TikTok, where 40,000 videos have been made to the glittery bop "Pretty." (It also has 80 million plays on Spotify, so maybe you are just a little uncool.) On the final night of Rolling Stone's Future of Music showcase, they ran through cuts off their recent debut, Sexy, including "Be With U," "Love Me," "Pop Star," and "The Hills," the latter their tribute to "Malibu and Starbucks." Coco rapped hilarious lines while Clair dropped delicate harmonies, such as the cheeky intro to "Wishy Washy": "3 o'clock on the dot, he pull up on my block/We goin' to the mall, I'm gettin Nike Shox/No I'm not Baroque but he treats me like he's Bach/I take a lil off the top, he my dog, Iggy Pop." Now that's some raw power. —A.M.
Macklemore Tears It Down
Here are things not ordinarily associated with hip-hop shows: an Irish flag, a trombone, a paean to the rapper's wife, an admission that said rapper had seriously thought about quitting. Yet those were some of the key elements at Macklemore's performance on Friday night. And a capacity crowd of 2,500-plus absolutely ate it up. Jumping on amplifiers, diving into the crowd, and joking about his backup dancer's love of chin-strap beards, Macklemore was magnetic. With every song, he attracted the audience — largely clad in green for St. Patrick's Day — ever closer. Finally, there was something you do normally associate with big shows: the multi-platinum hit at the end of the night. Cue the pianos lick from "Can't Hold Us." —N.S.
Annie Blackman's Existential One-Liners Find Their Mark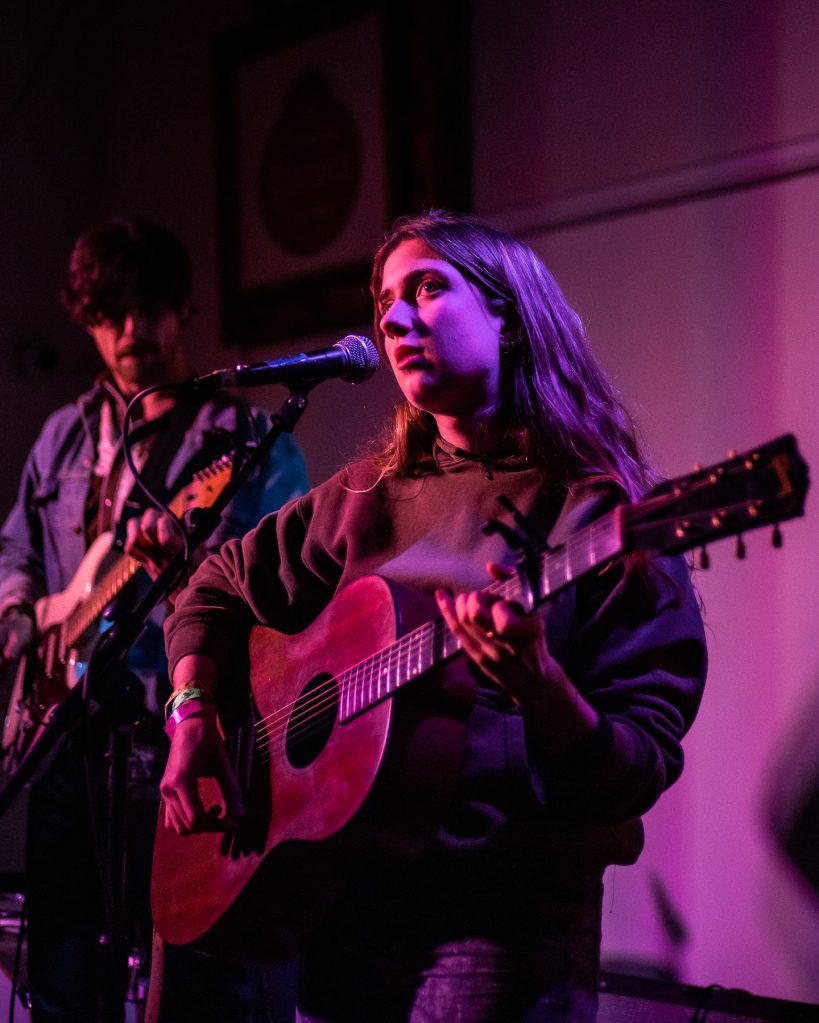 After midnight in the back of a taco joint, New Jersey-raised singer-songwriter Annie Blackman tried to make her finely detailed indie-folk music connect with a tipsy audience. Improbably, it worked. "If we're all onеs and zeroes, why do I feel so blue?" she sang. "Who carеs if it's constructed?/I'd still die if I jumped off the roof" — not a refrain you could easily ignore once you heard it. On "The Well," an arresting highlight from her upcoming EP Bug, she was alternately direct ("You wanna fuck me/And I wanna read your palm") and cryptic ("Attention is finite/The well won't be full, if it is, for a minute"). With her startling melodies and sneakily funny, kinda deep lyrics, she owned the attention in that room. —S.V.L.
Barrie Speaks With Ghosts (or Raccoons, or Something)
By Friday, everyone was feeling the SXSW fatigue — even Barrie. "How are you guys feeling?" she asked the intimate crowd inside Cheer Up Charlie's. "We got up at 5 for a radio session. You guys look like ghosts or raccoons, or something." The singer, real name Barrie Lindsay, spread her indie-pop bliss throughout the room anyway, wading through six songs that included her recent single "Races." And the best part? The precise choreography she performed alongside Gabby Smith and Jordyn Tomlin. Exhausted or not, the raccoons loved it. —A.M.
All Hail Chloë
Fans were chanting Chloe Bailey's name well before she claimed the stage at Rolling Stone's Future of Music showcase. The star, also known as half of the sister duo Chloe x Halle, arrived in a fiery red and black long-sleeve leotard as the words "BOOTY SO BIG" flashed across the screen. Flanked by dancers, she kicked off with her debut solo single "Have Mercy," followed by songs like the tranquil "Pray It Away" and "Treat Me."  "I have an album coming," she said, beaming. "It's my first solo album, and it's called In Pieces. There hasn't been a day where I'm not filled with such gratitude. Because you don't know this album is a piece of my heart, literally." —A.M.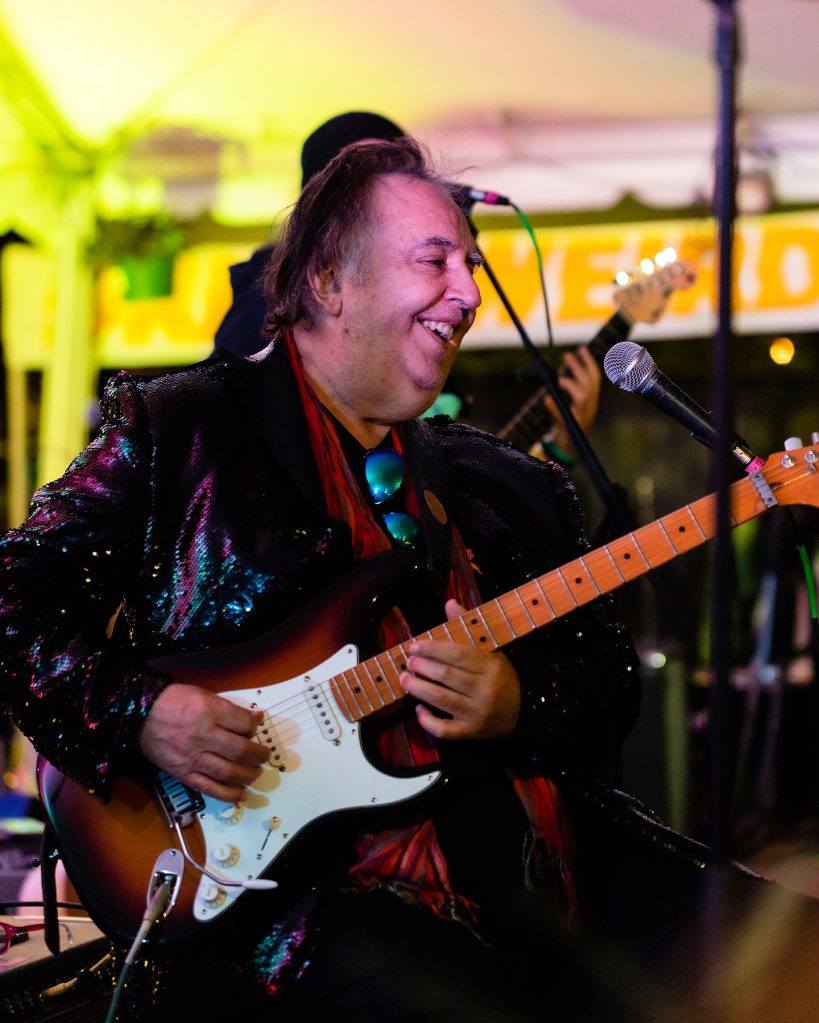 Hotel Vegas is designed for revelry. With two stages, including one on an outdoor stage tent, and drink tents rubbing elbows together, it's an ideal SXSW venue, one that drew a considerable St Patrick's Day crowd for Os Mutantes, the veteran Brazilian psychedelic band. Os Mutantes did not play North America until 2006, a comeback marking their ascendency in the American alt-rock underground, where their old records from the Sixties were passed along like a secret. Sérgio Dias, the lone remaining original member, wound up revamping Os Mutantes to become something of a workhorse: They're currently on tour, and even played Austin's psychedelic festival Levitation last November. Plenty of trippy sounds emanated from their stage at Hotel Vegas's patio, but their set emphasized not their prog elements or politics — those were present, just understood — but their sense of communal joy. Even with a reliance on thick, sludgy  guitars, Os Mutantes sounded certainly sunnier than the cold 50-degree night. Sitting through the first portion of the set, Dias got swept up on his feet by their surging rock & roll, playing a vigorous solo. It was a vivid demonstration of how Os Mutantes can still sound invigorating. —S.T.E.
Bad Ends, Minus Bill Berry
Part of the appeal of the Bad Ends on record is hearing REM's Bill Berry return to rock & roll. Their recently released debut, The Power and the Glory, finds Berry playing drums for the first time since departing REM back in 1997, powering a set of old-fashioned jangle-pop with a familiar sense of muscular swing. That element was absent during the Bad Ends's set Antone's Friday night. Berry stayed home in Athens, Georgia, during SXSW, leaving the Bad Ends to carry on without him, which they did so ably. Led by Mike Mantione, whose regular gig is in the Athens indie-rock mainstay Five Eight, the Bad Ends aren't so much a throwback as torchbearers for the ringing, melodic rock that littered college radio — and the initial SXSW  bills — way back in the 1980s. In 2023, the group's execution is heavier, as are the subjects; there are a lot of songs about dying friends. But it's an age-appropriate maturation which has its charms. Hunkered down in Antone's, it almost felt like the world stopped turning after the release of Document. —S.T.E.
Ben Kweller Grieves But Won't Give Up
Mohawk's NoiseCo showcase was filled with simultaneous joy and sadness as Ben Kweller celebrated the life of his teenage son Dorian, who died in a car accident last month. Dorian, a musician under the name Zev, had been slated to make his live debut at the showcase tonight. Kweller honored his son the only way he knew how: Blasting indie folk-rock gems like "Penny on the Train Track," backed by his friend Christopher Mintz-Plasse on guitar. "I vow to continue as an artist and to be as full-on as I ever was," Kweller said in an earlier Instagram post. "He will never leave my thoughts and everything I do will have him in it. I will continue to grieve and mourn, but I won't shut down. If I shut down, I'm shutting him out. I won't ever do that." —A.M.
Lime Garden's Bubblegum Post-Punk
With one song underneath their belt, the lead singer of Brighton, England's Lime Garden asked the tech at the Velveeta Room to dim the blaring lights. Nobody heard her plea — perhaps the surest sign that this venue is meant for comedy, not music — so she donned sunglasses and led the band through a buoyant set of retro new wave filtered through a prism of Britpop. Think of post-punk scrubbed of all darkness, maybe even art: Trademark echoes were offset by a melodicism that veered on loungey, thrift fashion as bubblegum. —S.T.E.  
The Deslondes Close Out the Night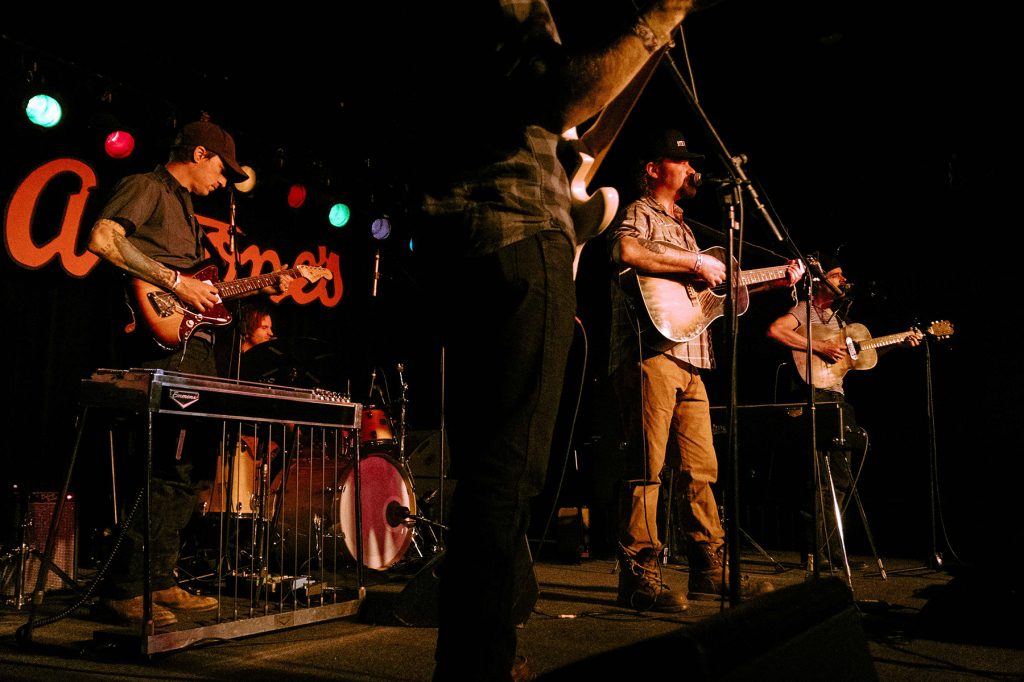 Playing to a relatively sparse St. Patrick's night crowd at SXSW, the Deslondes seemed at home in such intimate surroundings. Opening their set by coming across like Everly Brothers singing gospel in the bayou, the Deslondes have an expertly mellow touch. That lightness reigned even when the rhythms escalated to mimic a locomotive, a nod to the group's deep, twisted roots in the American south. Nominally a country-rock band, they underpinned their music with a heavy element of blues and rock flourishes, then decided to keep the aggression in check. It's all draped in an evocative sepia tone, more home-carved and burnished than late-night noir. Maintaining an understated sense of drama, the Deslondes make music for close listening, though nobody would glare if you decided to dance. —S.T.E.
(Full disclosure: In 2021, Rolling Stone's parent company, P-MRC, acquired a 50 percent stake in the SXSW festival.)