By: Kim Coco
New Jersey's very own multi -talented rapper, singer, songwriter and Queen of Freestyle – Justina Valentine has just released her newest single entitled NEVA and it seems both the music industry and her fans have fallen in love with her unfiltered, unpredictable and edgy style as a female in the rap game.
NEVA first made its debut February 25th and within days it had topped the ITunes charts.
Because of its incredible and quick success NEVA was also added to Apple Music's NEW IN HIP HOP MUSIC Trending Playlist.
Download the Playlist Below!
https://music.apple.com/us/playlist/new-in-hip-hop/pl.1fa57a04cd794a8aa482a3492f26fbcd
Justina Valentine has independently garnered over a quarter million monthly Spotify listeners and 50+ million YouTube views.
Justina's single NEVA is a follow up from her most current album entitled INFRARED which debuted in the Top 5 of the ITunes charts within its first week.
Listen to Infrared Below!
https://www.instagram.com/reel/CH9FF8WD6_s/?igshid=14peu8sv4mn74
A viral social media influencer with millions of followers , Justina was recently crowned the 2nd most liked female rapper on TikTok next to Lizzo. On her latest single NEVA Justina says:
"Oh bitch you could never, Do it on the spot like me, really come up off the top like me!"
Known for her bright red locks, and an infectious keep- it- real- type personality, she is an entertainer who is widely known for her freestyling ability. Valentine made hip hop history on the popular radio show Sway in the Morning becoming the first female ever to ever spit a real freestyle on the spot off the top, completely unwritten on Sway's famous "5 Fingers of Death".
Check out Justina's Viral Sway in the Morning Appearance Below!
Justina the Freestyle Queen of Nick Cannon's MTV's Wild N' Out has also hosted / co-hosted many popular MTV shows such as TRL Singled Out, The Jersey Shore Reunion, The Challenge Reunions, Ridiculousness, Double Shot At Love, "How Far is Tattoo Far?" and Basic to Bougie. Valentine was a cast member on MTV'S number one show The Challenge and also stars in her own MTV shows, Justina Makes Over Your Man , Lip Locked, and The Justina Valentine Show. Watch the Best of Justina Valentine's Wild 'N Out | MTV TOP Freestyles, Clapbacks & Best Moments Below! (Vol. 1)
Valentine's new single "NEVA", produced by Shy Boogs, is a braggadocious proclamation where Justina rattles off the skill sets that separate her from her competition, like her off the top freestyling ability, while continuously remaining the under- dog in the music industry. Recorded in one take with no comps, and freestyling at the end, the song's energy shows off Valentine's tenacious vibe and confidence in what she does that other rappers could "NEVA".
2021 is The Year of Females in Music and something tells me she is right. Download her latest single and hear for yourself why these other female rappers could NEVA EVA!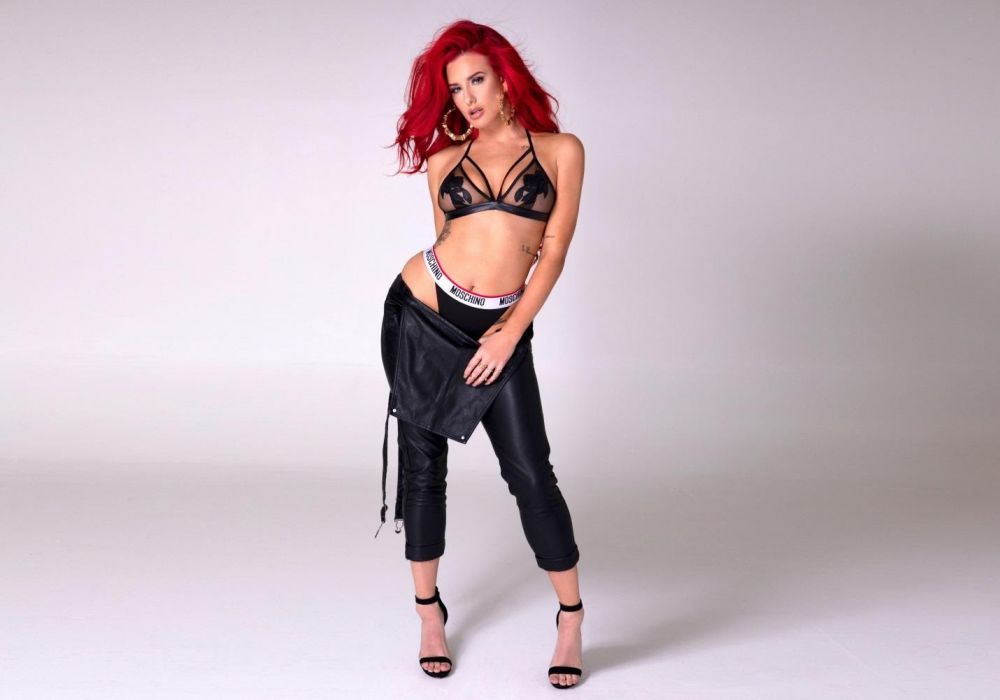 Stay up to Date with Justina Valentine on Social Media and for all Inquiries:
Website: www.JustinaValentine.com
IG: www.instagram.com/JustinaValentine
Tik Tok: https://www.tiktok.com/@justinavalentine
Twitter: www.twitter.com/JustinaMusic
Music: https://linktr.ee/JustinaValentine
Youtube: www.youtube.com/justinavalentine
J. Valentina Boutique : http://jvalentinaboutique.com/
Press/ Media/Booking/Inquiries: [email protected]