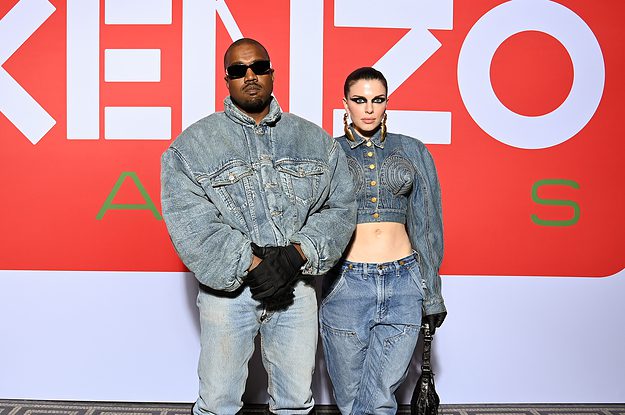 Julia Fox Says Kanye West Casually Offered to Pay for a 'Boob Job' During a Game of Uno
Julia Fox has opened up about her brief relationship with the artist formerly known as Kanye West and revealed he once casually offered to pay for surgery to increase the size of her breasts during a game of Uno.
In an excerpt from her memoir Down the Drain published by The Guardian, the Uncut Gems star said that she was first contacted about meeting with Ye in late 2021, around the time he was finalizing his divorce from Kim Kardashian. They eventually started hanging out, with Fox describing a day they spent together in a hotel room. "We spen[t] the day playing Uno and a game that involves highlighting positive words in the dictionary," she said. During the game of Uno, he casually added, "I'll get you a boob job if you want." 
The memoir also talks about how the relationship came to be. She said after someone got in contact with her to potentially link her with Ye, they talked on the phone for hours, but really Fox suggested it was more. "He talks for hours and I mostly listen," she writes. Ye then invited her to meet him in Miami for New Year's Eve, which she declined until he offered to charter a private jet. Less than a week later, he asked her if she wanted to make their relationship public.
They dated for less than a month, during which Ye was publicly harassing ex-wife Kim Kardashian in a series of posts on social media. The majority of times they met, Fox said that she would be greeted by stylists who would ask her to change into outfits that Ye himself had approved. He then sent photos of them to Interview magazine and asked her to write about their first few dates, although he apparently didn't like what she wrote and rewrote it himself.
As for their break-up, Fox said they had an argument in Paris after he asked her to stop bringing her friends to their meet-ups. She said she would only agree if his entourage wouldn't tag along too. Then he stopped replying to her and she was informed by his assistant that he was on a "month-long phone break." Ultimately, Fox believed she was "being used as a pawn in this grand master plan to get back at his ex-wife," which she called "humiliating."
After the split, Fox said the conversation around her acting career had changed dramatically. "A lot of people were like, oh, she's only famous because of Ye. It's like, no, I've been around and I've been in a full fucking movie and I did a lot of things before that, too," Fox added. "It's that you're just hearing about me now. That relationship doesn't define me. It's one little blip."
Fox also appeared on Good Morning America, where she further addressef her relationship with Ye.