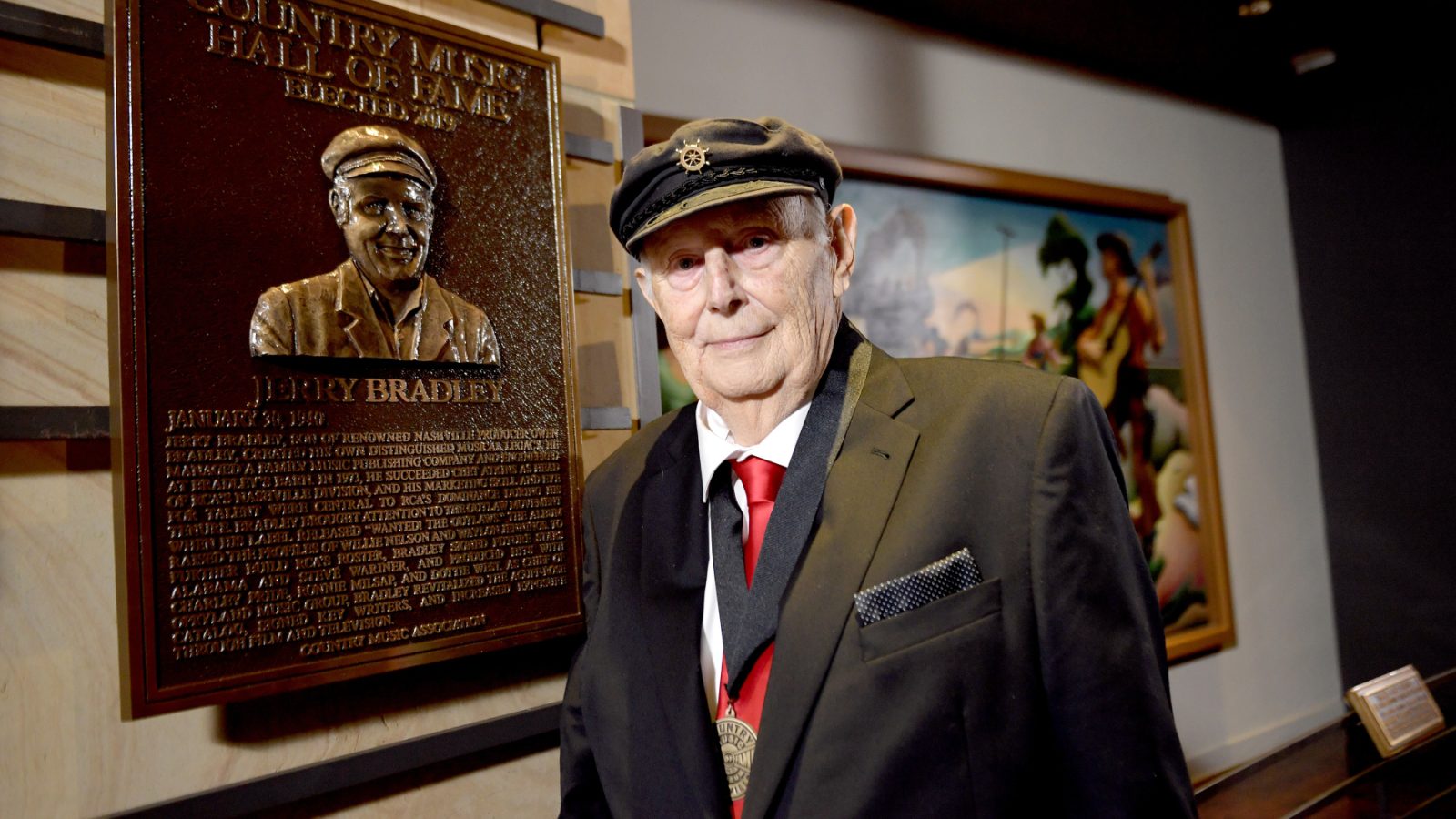 Jerry Bradley, Country Exec Behind Platinum-Selling 'Wanted! The Outlaws' Album, Dead at 83
Jerry Bradley, a towering Nashville music executive who helped guide the genre into the modern era and bring about its first ever platinum-selling album — Waylon Jennings, Willie Nelson, Jessi Colter, and Tompall Glaser's Wanted! The Outlaws — has died, The Tennessean reports. He was 83. 
Bradley's family confirmed his death, but did not provide a cause. 
Bradley was born into country music, the son of Owen Bradley, a prominent producer who helped create and shape the "Nashville Sound" during the Fifties and Sixties. Jerry began his career shadowing his father in the early 1960s, helping Owen record everyone from Loretta Lynn and Webb Pierce to Joan Baez and Gordon Lightfoot at Bradley's Barn studio outside of Nashville. 
At the same time, Bradley was working closely with Chet Atkins, a world-class musician, songwriter, and producer in his own right, as well as a top executive at RCA Nashville. Interested in carving a space for himself in the music industry, Bradley officially joined RCA as Atkins' assistant in 1970. Just three years later, when Atkins stepped away from RCA following his cancer diagnosis, Bradley replaced him as the head of the label. 
Under Bradley's guidance, RCA Nashville not only remained a country juggernaut, but broke through to the pop mainstream. He signed artists with crossover appeal, like Ronnie Milsap and Alabama, and helped shepherd the recordings of country legends Charley Pride and Dolly Parton, as their careers reached new heights. But arguably his greatest achievement was spearheading the seminal 1976 compilation Wanted! The Outlaws. 
Without diminishing the songs and musicianship on Wanted!, the album was definitively less a creative endeavor than a commercial one. Bradley's vision was spurred by the rise of outlaw country, led by Jennings' 1973 album Honky Tonk Heroes (released on RCA) and Willie Nelson's first three celebrated LPs for Atlantic, especially 1975's blockbuster Red Headed Stranger. With Jennings' permission, Bradley set about crafting a compilation under this outlaw banner, mixing Jennings' old songs with recordings Nelson had made during his tenure at RCA (Nelson had notably just left the label for Atlantic, seeking greater creative control). Bradley also pulled some old recordings Colter had made for the label at the start of her career (she later moved to Capitol), while arranging to lease a few of Glaser's songs from Polydor.
Wanted! was released in January 1976 and quickly became a massive success. It topped the Billboard country albums chart for six weeks, and by the end of the year it had become the first country album to sell a million copies and be certified platinum by the Recording Industry Association of America.
In a 2012 interview with the Country Music Hall of Fame, Bradley recalled how the idea for the compilation came about. Crediting journalist/publicist Hazel Smith with coining the term "outlaw country," Bradley recalled, "I picked up this Time Life [magazine] old Western thing and started thumbing through it. It had this picture of an old wanted poster on it, and I said, 'Man, that'd make a good album cover!'"
Bradley left RCA in the early Eighties and eventually took over Opryland Music Group, a new publishing company formed after Gaylord Entertainment acquired Acuff-Rose Publishing. Along with managing a back catalog overflowing with hits, Bradley added an array of new talent to the company's roster, including signing Kenny Chesney to his first publishing deal. 
Bradley retired from the music business in 2003. He was inducted into the Country Music Hall of Fame in 2019.