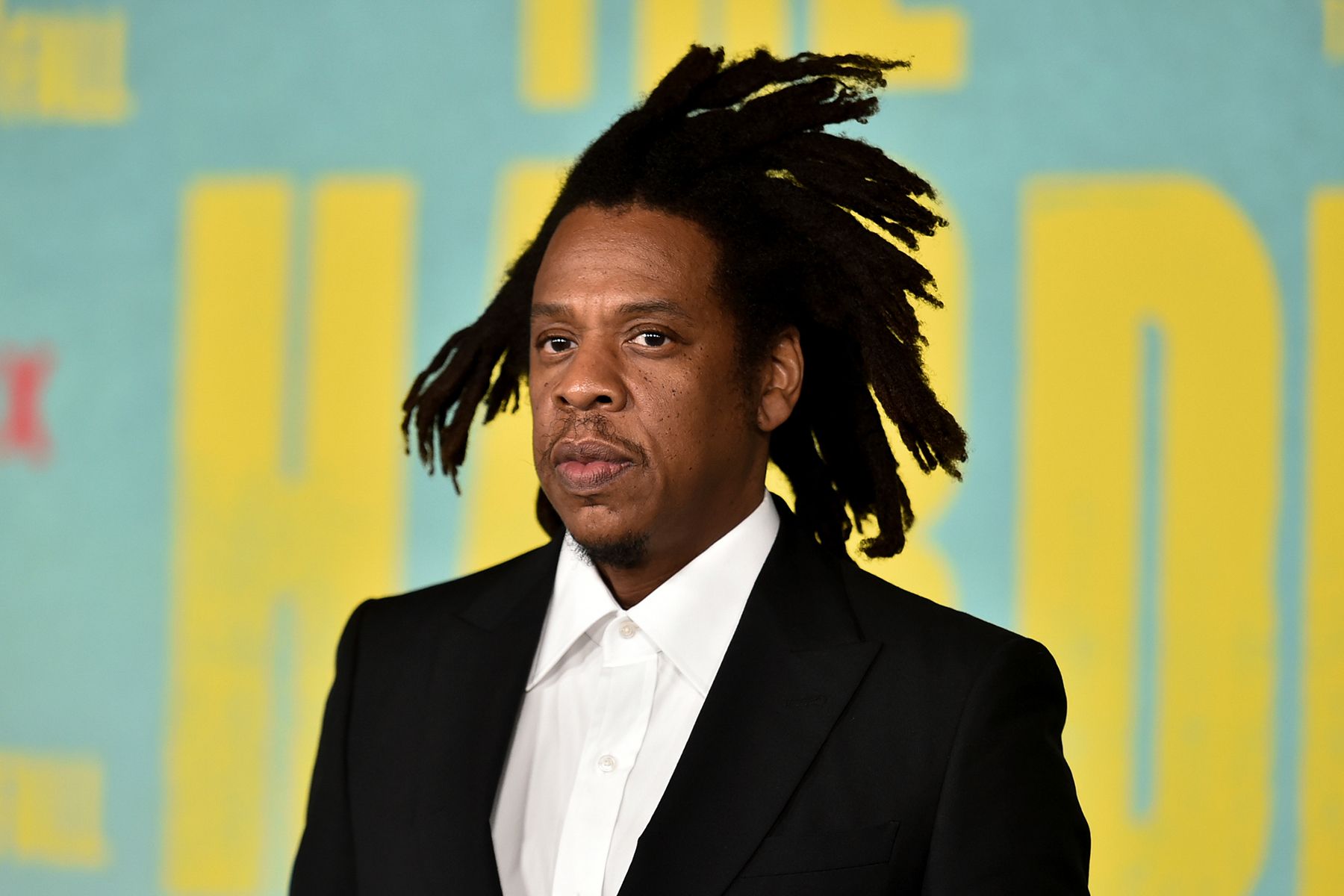 Jay-Z Testifies in Perfume Lawsuit: 'You Have Me on Trial for Something I Didn't Do'
Jay-Z took the witness stand in Manhattan Supreme Court on Friday to testify about perfume. This industry is not typically known for generating controversy, but But Parlux Fragrances is suing the 51-year-old rapper and accusing him of failing to properly promote his Gold Jay-Z cologne line.
The rapper, whose real name is Shawn Carter, maintained his innocence on Friday, telling the court, "you have me on trial from something I didn't do." Perhaps it's not surprising, then, that his exchanges with Parlux quickly became testy. The perfume company's legal team, led by Anthony Viola, immediately dug into contractual minutiae, pointing the rapper to section 11E of a document he signed, which "calls for… promotional tie-ins" around his perfume. Viola went on the offensive. "You didn't do that, did you?" he pressed. "Did you make any personal appearances for the Gold Jay-Z launch?"
"I did a lot for the Gold Jay-Z launch," Carter responded. "I had a year to complete these [obligations], correct?" he added. Viola pushed on, refusing to acknowledge Carter's query, and the rapper stopped him. "I don't know if you answered my question," Carter said. "I had a year to complete these right?"
"Actually," Parlux's lawyer responded, "you need to answer my questions."
Viola relied heavily on Carter's previous deposition to argue that the rapper had failed to live up to his promotional duties. First the lawyer asked if he had even read the contractual clause that concerned his obligations around the perfume. The star repeatedly ducked the question or responded, "I'm not a lawyer." But Parlux played several video snippets of Carter's deposition in which he admitted that he was not aware of the requirements included in the contract he signed — making it hard to see how the rapper could possibly have fulfilled them.
Parlux used this tactic repeatedly. Viola hopped from one section of the contract to the next, grilling Carter each time on his knowledge of the document which laid out the rapper's duties with regards to the perfume. The lawyer also went through the rapper's schedule in painstaking detail, asking Carter repeatedly why he was unable to promote his perfume during various days in 2013, even as he offered public support to other products he was associated with.
On top of that, Viola sought to paint Carter as someone unfamiliar with the demands of the perfume industry, including the potential need for promotional activities. ("It's fair to say when you signed this contract you didn't know anything about the celebrity fragrance market?" the lawyer asked. "I mean, I'm a celebrity," Carter retorted.) And Viola tried to drive home the idea that Jay-Z was flip-flopping, saying one thing in court and another thing at his deposition: "Let me ask you this question; let's see if you stick with your testimony."
The rapper seemed intent on giving up as little information — and as little ground — as possible. How many employees does he have? "A lot." Who negotiated the perfume contract with Parlux? "A lawyer, I don't know the lawyer at the time." How much did Gold Jay-Z cost? "I don't know." Viola: "Do you know how many units Parlux needed to sell to meet" sales goal in the contract, which topped $100 million over five years? Carter: "No."
After an extended series of these verbal duels, tension between lawyer and witness reached new heights. "You wanted to eliminate Macy's from the [fragrance] launch," Viola declared, raising his voice. "Not true," Carter shot back. "It doesn't make any sense to launch [the perfume] at Barclays," Viola asserted. Carter responded that, "you can't speak to what makes sense."
Soon after, the judge interjected to cool things down. "I think you guys are speaking past each other," he said.
But the tone in court remained combative, with Viola talking over Carter on several occasions. (The rapper's legal team objected each time; at one point, Carter said, "you're cutting me off again.") Looking to question the rapper's trustworthiness as a witness, Viola said, "so you didn't remember [a fact about promotion] then [when you were deposed], but you remember it now?"
The rapper's riposte? "That's how memory works."
While Carter was mostly playing defense, he also tried to reverse the typical courtroom multiple times by cross-examining Viola. "I want you to show me where it says that I'm required to do something on the 29th," Carter demanded. The judge interjected again, informing the rapper that, "for now, Mr. Viola gets to ask questions."
Carter almost seemed to enjoy a moment, mid-afternoon, when Viola read aloud a 2014 email in which the rapper had written that "the partners" on the perfume release "suck." The star was quick to tell the court (twice) that "the partners" referred to Parlux. "I wanted great products and these guys didn't understand," the star added. "It was so frustrating working with them."
Parlux's legal team still seemed peeved by the fact that their first attempt to depose Carter in 2019 had been unsuccessful. "You didn't come to give your testimony that day," Viola chided him. "We all went to your office and you decided you didn't want to be videoed and refused to testify."
Carter's lawyers objected to this line of questioning, and the judge supported them. But the rapper's team was upset enough about Viola's barbed comments around that deposition incident that they brought it up again roughly an hour later. The judge told Viola that this set of queries was improper; he apologized to the court. The judge then instructed the jury "not [to] infer anything from the fact that the deposition was rescheduled."
Parlux filed a breach of contract suit against Carter in 2016, claiming he had earned $2 million in royalties but the company had lost $18 million in the collaboration. In a sworn statement the following year, Parlux alleged that the rapper was supposed to do a series of events to push Gold — via Good Morning America, Women's Wear Daily, and an in-store appearance at Macy's — but that he "never once personally appeared."
"In the fragrance industry, it is virtually impossible to sustain the success of a celebrity fragrance brand," the lawsuit claimed, unless the brand is bolstered by "promotional support from the celebrity in the form of public appearances" in addition to "regularly updating and refreshing the brand with 'flanker' launches and new line extensions."
Adding insult to alleged injury, the fragrance company said the rapper rejected a design for a Gold Jay-Z bottle with an 18-karat gold exterior that was worth over $20,000, but that he pocketed the prototype.
Carter promptly countersued. He accused Parlux of failing to hold up its end of the deal, furnishing him with inadequate accounting reports and promotional resources, among other things. Notably, he said the company still owed him $2.7 million in royalties.