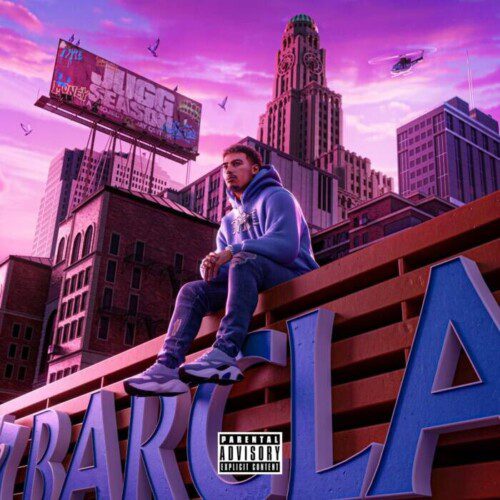 Jay Critch Releases New Single "Oh What a Feeling" Ahead of Upcoming Album
Jay Critch embodies the hustler mentality of his home borough. Resolving to get his bag by any means necessary, Jay announces Jugg Season, his next project, coming soon via EMPIRE. Adorned with a cover that depicts Jay surveying his kingdom from atop the Barclays Center, steps away from the Clinton Hill neighborhood he calls home, Jugg Season incorporates sounds from the Five Boroughs and beyond. The 19-track project bounces from the Shiny Suit Era to the SoundCloud explosion to the heyday of the Coke Boys, with Critch serving as a versatile and charismatic navigator, weaving his own history with the rich heritage of NYC rap music.
Though it remains firmly rooted in his hometown, with multiple productions from NY producers like Laron, Jugg Season recruits producers from all over the rap map, with contributions from plugg maestro MexikoDro, heady Chicago sound architect BrentRambo, Atlanta impresario Richie Souf, West Coast magicians RonRonTheProducerand ThankYouFizzle, plus more. Featuring appearances from the legendary Max B, Critch's mentor and Rich Forever associate Rich The Kid, and Detroit hustler Baby Money, Jugg Season commences on February 17th via Talk Money Ent./EMPIRE.
Along with the official announcement of the tape, Critch shares "Oh, What A Feeling!," his exuberant new single. Tip-toeing atop a woozy instrumental complete with detuned horn synths and stuttering percussion, Critch unfurls a series of motivational flexes. Exuding an otherworldly confidence, the 24-year-old spitter defiantly shoots down the notion that there is anything he isn't capable of: "This money sh*t gettin' easy to me/Tell the lawyers go read it for me/Windows tinted, can't see it was me/In the foreign, I heated the seats."
Since he burst onto the scene as a teenager with singles like "Ad Libs" and the beloved Hood Favorite mixtape, Jay Critch has been one of New York's favorite sons. His collaborations with Rich The Kid and Famous Dex on the Rich Forever mixtape series remain the stuff of legend, but he hasn't stopped switching up his style or releasing new heat for the streets. His 23-track 2021 effort Critch Tape found the artist expanding his sound to absorb drill and other prevailing street styles. The tape featured collaborations with fellow New Yorkers Fivio Foreign and Lil Tjay, as well as influential figures Skillibeng and Drakeo The Ruler. Critch recently expanded his CV to include modeling, as he modeled for the Kors x Ellesse campaign alongside Emily Ratajkowski in 2022.
With Jugg Season on the way, Jay Critch seeks to resume his Five Borough takeover. Stay tuned for much more.
Pre-order Jugg Season: https://music.empi.re/juggseason
© 2023, Seth "Digital Crates" Barmash. All rights reserved.