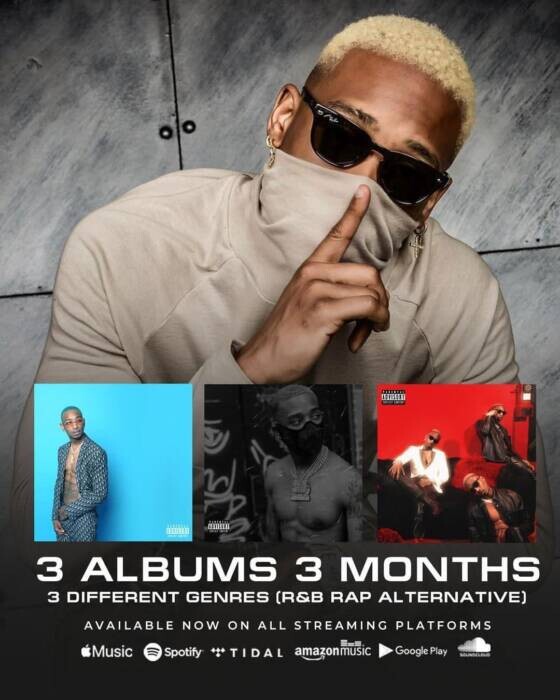 J Young MDK is a multi-talented rapper, singer, and songwriter, who has come a long way during one of the most challenging years in world history. After joining forces with his mentor and frequent collaborator Jamie Foxx, he released three Foxx-produced albums over the course of 2020. J Young MDK released albums over the course of 2020. These three albums – Aqua, Black, and White – span a range of musical genres and have attracted the attention of entertainment industry moguls that range from Kendall Jenner to Snoop Dogg.
J Young MDK made significant waves in the music world by releasing Aqua and Black on the very same day. He also gained significant media attention for his 2020 50 Songs/50 Weeks campaign, which entailed releasing one new song per week for 50 consecutive weeks. J Young MDK's music is available on most major streaming platforms including Spotify, SoundCloud, Amazon Music, Apple Music, Tidal, and Google Play.
J Young MDK will release a Latin album in the summer of 2021. As yet untitled, this album will blend Afro-Latino stylings with reggaeton, R&B, and Hip-Hip to bring J Young MDK's music to a whole new audience. He debuted his new cross-over Latin sound to a massive audience during a March 2021 performance at the Atlanta Coliseum in Duluth, Georgia. He played two Latin tracks at this event including "Lo Hicimos" along with artist Ray G Original.
He invites you to follow him on Facebook, Instagram, and Twitter to learn about all of his latest music and productions.