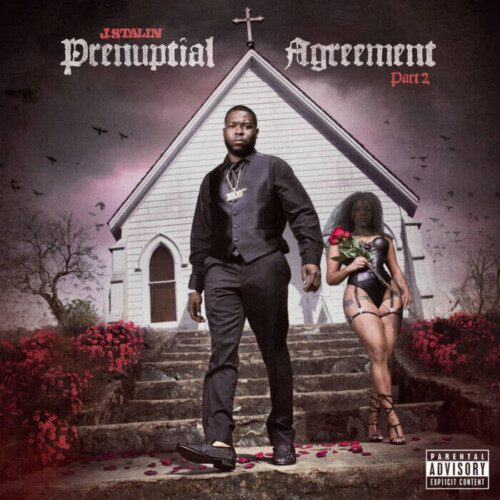 J. Stalin Brings Mob Music Back to Its Glory Days with Forthcoming Prenuptial Agreement 2
One of the most respected figures in the Oakland hip-hop scene, J. Stalin has remained true to himself over the course of 16 studio albums and more than 30 mixtapes since 2008. Returning to his roots as he revisits a Bay Area classic, J. Stalin announces Prenuptial Agreement 2, his next album. Released in 2010, the original Prenuptial Agreement was Stalin's breakout project and a hugely influential release, helping turn the tide in the Bay Area from the party-mad hyphy era into a new age of glistening Mob Music. Arriving 13 years to the month after the original, Prenuptial Agreement 2 reverberates with mob's sinister signature sounds–crisp, gently swinging drums, cinematic synths, and prominent, squelching bass–and illicit subject matter, updating the production value for the modern era.
Prenuptial Agreement 2 is a showcase for Stalin's raspy vocals, brutally honest lyrics, and peerless ability to navigate mob instrumentals. The album features production from OG Mob architects like The Mekanix, Clayton Williams, and Mike Made The 808s, plus younger beatmakers like Juneonnabeat. Like the blockbuster original, which brought guest spots from the likes of E-40 and The Jacka, Prenuptial Agreement brings an eclectic cast of characters, from fellow Oaklanders like Philthy Rich, 22nd Jim, and Jane Handcock standing up for the 357, while out-of-towners like Florida's Jackboy and Stockton's EBK Young Joc sound right at home. With additional appearances from Lyjah, Kevin Allen, 4rAx of The Mekanix, Acito, and many more, Prenuptial Agreement 2 arrives on January 27th via Livewire Records/EMPIRE.
Along with the announcement of the mixtape, Stalin shares the video for "S. 580," a Mike Made The 808s-produced highlight from the album. Blessed with a hook from Livewire Records' own Lyjah, "S. 580" is a sparkling ode to big bodies Benzes, as Stalin works a snapping cadence and proves why he's the man in his city, even if he's always looking over his shoulder: "Go wherever when I want, I ain't making no plans/Do the money dance with a chopper in my f*ckin hand." In the video, Stalin and Lyjah jet down to Vegas, riding in the titular Mercedes with some blue-faced friends as fans and onlookers cheer them on.
Loyal to the grind and his family, J. Stalin is building a legacy for himself and the Oakland scene he hails from. With Prenuptial Agreement 2, the proudly independent artist cements his rightful place in Bay Area history.
Pre-order Prenuptial Agreement 2: https://music.empi.re/prenuptialagreement2
© 2023, Seth "Digital Crates" Barmash. All rights reserved.