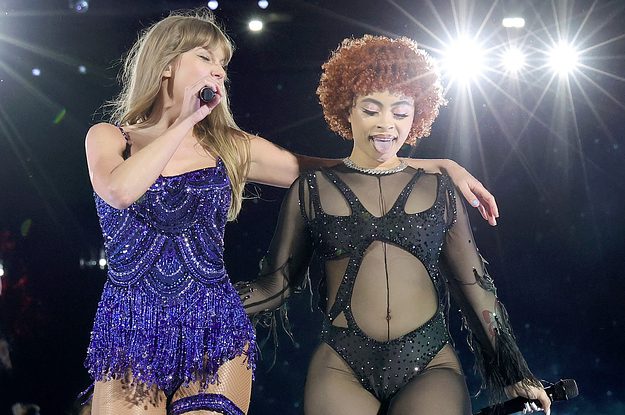 Ice Spice Deems 'F*cking Hilarious' Taylor Swift the 'Funniest Person Ever'
Ice Spice has shed some light on her friendship with Taylor Swift, and according to the rap star, her new friend is one of the funniest people on the planet. 
During her new interview with Zane Lowe on Apple Music 1, the "Munch" rapper revealed how the two got to collaborate on "Karma," which she explained happened randomly. According to Ice Spice, her manager told her that someone named "Taylor" wanted to work with her, and she had no idea who it was. 
"So I'm like, 'Okay.' And I was having a really bad day also, I would like to say that. I was having a terrible day. I was crying all morning because I was just so mad at something," Ice Spice said. "And then he called me with that news. And then I cried more because it was good news. My life is a roller coaster. How I started the day crying, and I'm ending it crying, but for different reasons."
Spice, 23, added that the phone call turned out to be an excellent one as she ended up going to the studio and saw Taylor Swift, 33, waiting outside for her. Once they introduced themselves to one another, they became really good friends.
"It was amazing. We went to the studio and she's so humble and so nice," Ice Spice continued. "I kid you not. I pulled up to the studio and she outside waiting for me. I'm like, 'Why is Taylor Swift outside?' Like, 'Taylor, what are you doing here?' So she's great. She's so funny. We text all the time. She is fucking hilarious. I'm not going to lie. She's the funniest person ever."