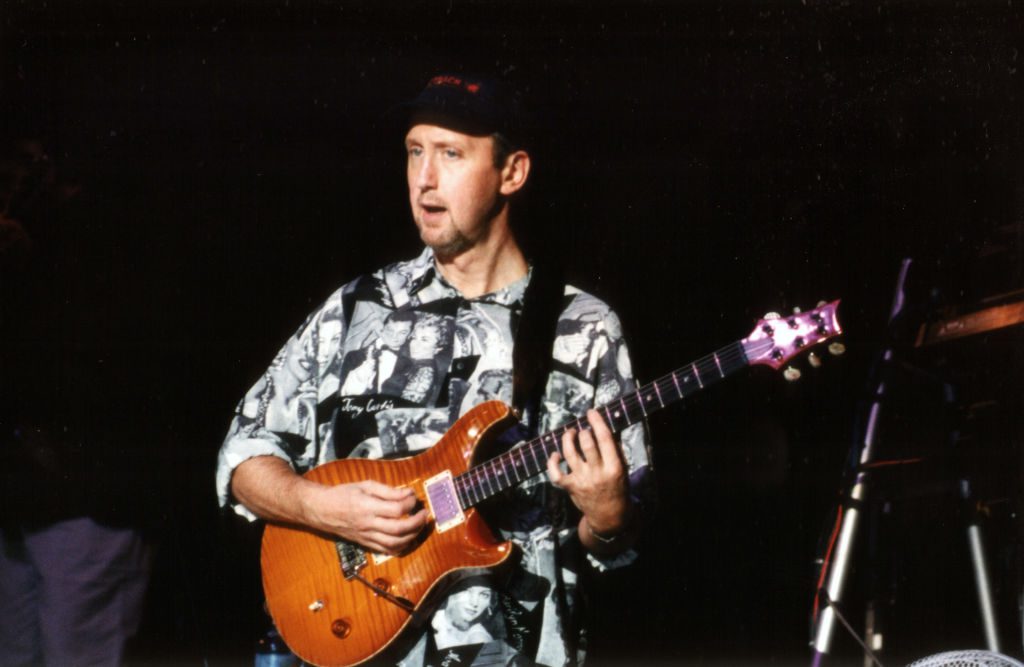 Ian Bairnson, Guitarist for Alan Parsons Project and Kate Bush, Dead at 69
Ian Bairnson, longtime guitarist for the Alan Parsons Project who also featured on Kate Bush's first two albums, has died at the age of 69.
The Scottish-born musician's wife Leila Bairnson revealed on social media that her husband died following a "long battle with dementia."
"It is with deep sadness and regret that I let you know that my loving husband Ian Bairnson has passed away on Friday 7 April," Leila wrote (via The Guardian). "Ian was the sweetest, kindest, loving husband I could ever have wished for and I take comfort that he is resting now up there in his very own piece of 'Blue Blue Sky'. Although Ian has left us, his musical legacy stays with us and will continue to delight and brighten our lives, as it did his, forever."
After a stint as a session musician — he could play keyboards and saxophone in addition to guitar — Bairnson was enlisted to join the Scottish rock band Pilot in 1973, who soon after had a worldwide hit with the 1974 single "Magic." Pilot's first LP was produced by studio wizard Alan Parsons, who upon forming his own band, recruited Bairnson to take part in his Alan Parsons Project.
"I am deeply saddened to hear of the passing of my good friend and musical icon, Ian Bairnson," Parsons wrote on Facebook Saturday. "I have always considered Ian a musical genius. It was a great pleasure to have him participate on every album by The Alan Parsons Project and several other albums under my name since. He has played with many other talented artists as well throughout his incredible career."
Bairnson remained a member of the APP for 16 years, from their 1975 debut album Tales of Mystery and Imagination through 1990's Fruediana. Bairnson also notably played on the band's hit "Sirius/Eye in the Sky," also known as the Michael Jordan-era Chicago Bulls introduction song in the 1990s, as well as the singles "Time," "Don't Answer Me" and "Games People Play."
"Another vivid memory I have of Ian – I was somewhat unenthusiastic about Eye In The Sky, when we recorded it in the early 80s, and tried to drop it. Ian however, thought the song was going to be a huge hit, and clearly, he was right!," Parsons continued. 
"He was a true master of the guitar – he knew every possible playable guitar chord and how to describe it – for example 'G Minor Sixth Add 9" or C Sharp Major Ninth Add 13,' but amazingly, he never took the time to learn conventional musical notation. Another indication of his incredible talent was when he picked up the saxophone and played it like a pro on stage with the British incarnation of The Alan Parsons Live Project, he had only spent a few short weeks of learning the instrument."
Bairnson, like other Parsons veterans, also featured prominently on Kate Bush's first two albums, 1978's The Kick Inside and Lionheart, with the guitarist delivering the song-ending solo on the hit "Wuthering Heights." Bairnson would also briefly appear on Bush's next two LPs, Never for Ever and The Dreaming.
As a session musician, Bairnson also played on albums by Joe Cocker, Yes' Jon Anderson and Mick Fleetwood, and was a touring musician with the likes of Sting, Eric Clapton and more. Following the demise of the Alan Parsons Project, Bairnson continued to perform alongside Parsons, most recently appearing on 2019's The Secret.
"I recommend anyone reading this to play 'The Very Last Time' from [Parsons' 1999 solo album] The Time Machine. It's a beautiful song and was written by Ian to commemorate the death of someone in his personal life," Parsons wrote. "Ian will be greatly missed, but never forgotten."