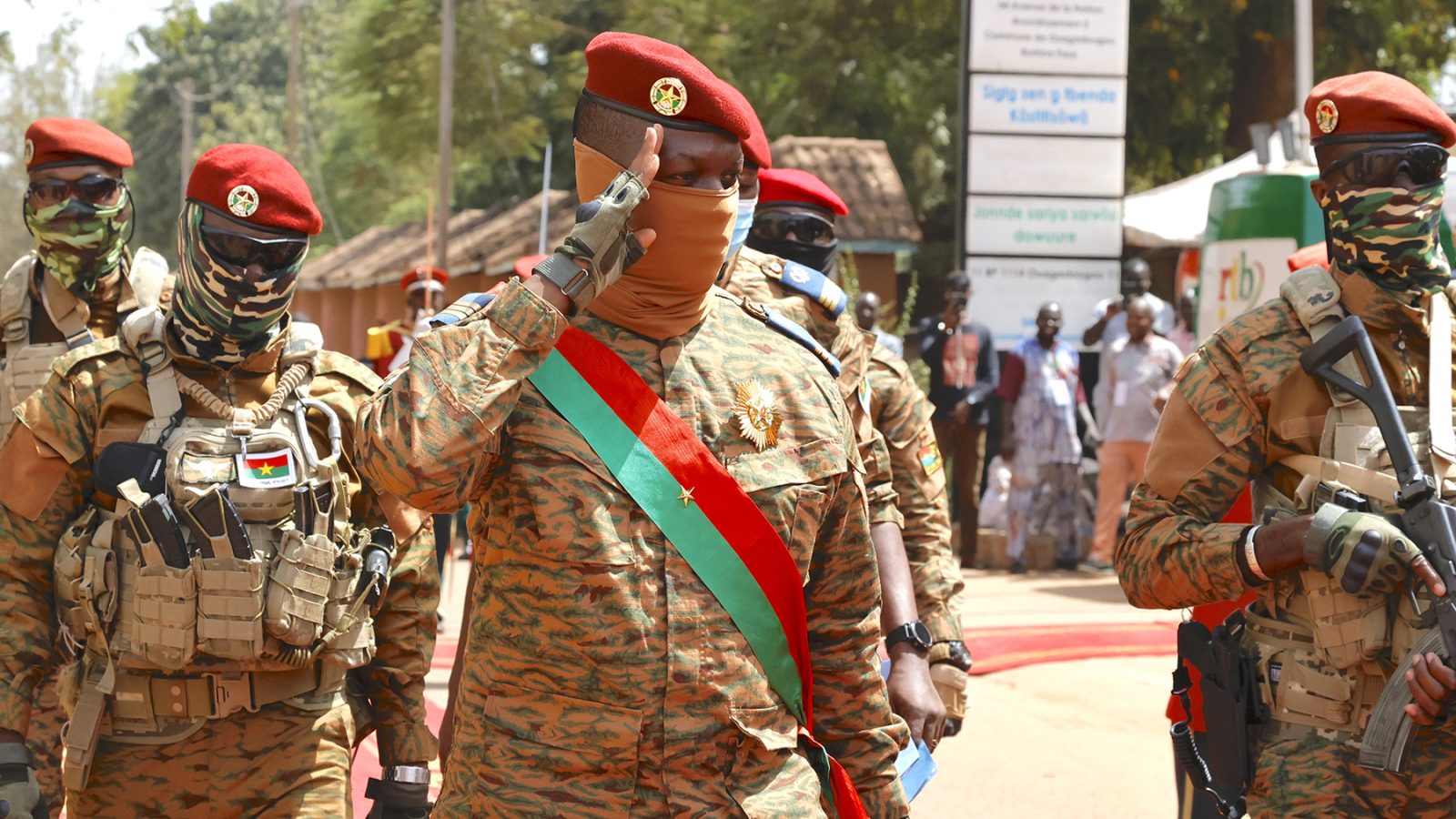 How Many More Governments Will American-Trained Soldiers Overthrow?
One year ago, Lt. Col. Paul-Henri Damiba was a military leader on the rise. The 41-year-old officer had just overthrown Burkina Faso's democratically-elected government and was about to be sworn in as the West Africa's nation's new president. Wearing a red beret and military fatigues, he appeared on TV and threw down a gauntlet. "To…gain the upper hand over the enemy, it will be necessary… to rise up and convince ourselves that as a nation we have more than what it takes to win this war," he said.
Just nine months later, an upstart underling—34-year-old Captain Ibrahim Traore—decided Damiba did not have what it takes to win the war and toppled him. Traore, now the youngest world leader, recently shored up his popularity by ordering a withdrawal of French forces fighting a long-running Islamist insurgency by groups linked to al-Qaeda and Islamic State in Burkina Faso. 
When Damiba seized power last year, U.S. Africa Command (AFRICOM) admitted that the United States had mentored him over many years. Damiba's putsch was just the latest in a recent spate of coups in West Africa by U.S.-trained officers. But when Rolling Stone asked AFRICOM if Traore was the latest to follow in this tradition, they couldn't say. "We are looking into this," said Africa Command spokesperson Kelly Cahalan, noting the command needed to "research" it. "I will let you know when I have an answer."
Four months later, AFRICOM still hasn't provided an answer. In fact, the U.S. government appears unwilling to address its role in mentoring military officers who have sown chaos in the region; men who have repeatedly overthrown the governments the U.S. trains them to prop up.  
For decades, U.S.-trained officers —from Haiti's Philippe Biamby and Romeo Vasquez of Honduras to Egypt's Abdel-Fattah el-Sisi and Mohammad Zia-ul-Haq of Pakistan— have overthrown U.S.-allied governments all over the world. Rarely, however, have so many coups been so concentrated in a region over such a short period of time.   
Last fall, after returning from a trip, alongside other top State Department and Pentagon officials to the Sahelian states of Burkina Faso, Mali, Mauritania, and Niger, Ambassador Victoria Nuland was upbeat. "We went to the region in force. We were looking, in particular, at how the U.S. strategy towards the Sahel is working. This is a strategy that we put in place about a year ago to try to bring more coherence to our efforts to support increased security," she said during an October conference call with reporters.
After Rolling Stone pointed out that U.S.-trained military officers had conducted seven coups in these same countries—Burkina Faso, three times; Mali, three times; and Mauritania, one time—since 2008, Nuland was less sanguine. "Nick, that was a pretty loaded comment that you made," she replied. "Some folks involved in these coups have received some U.S. training, but far from all of them."
The fact is the leaders of all of these coups have received significant U.S. training. Before Lt. Col. Paul-Henri Damiba overthrew Burkina Faso's president last year, for example, he twice participated in an annual U.S. special operations training program known as the Flintlock exercise. He was also previously accepted into a State Department-funded Africa Contingency Operations Training and Assistance course; twice attended the U.S.-sponsored Military Intelligence Basic Officer Course-Africa; and twice participated in engagements with a U.S. Defense Department Civil Military Support Element.
In 2014, another U.S.-trained officer, Lt. Col. Isaac Zida—schooled via a Joint Special Operations University counterterrorism training course at Florida's MacDill Air Force Base and a military intelligence course that was financed by the U.S. government—seized power, during popular protests against a presidential power-grab, in Burkina Faso. The next year, yet another coup in that country installed Gen. Gilbert Diendéré, another prominent Flintlock attendee.
Col. Assimi Goïta, worked with U.S. Special Operations forces for years, participating in both Flintlock exercises and a Joint Special Operations University seminar at MacDill Air Force Base—and also headed the junta that overthrew Mali's government in 2020. After staging the coup, Goïta stepped down and took the job of vice president in a transitional government charged with returning Mali to civilian rule. But less than a year later, he carried out his second coup.
Similarly, in 2012, Captain Amadou Sanogo, who learned English in Texas, received infantry-officer basic training in Georgia, and underwent military intelligence schooling in Arizona, and overthrew Mali's democratically elected government. "America is a great country with a fantastic army," he said after the coup. "I tried to put all the things I learned there into practice here." In 2008, the Pentagon-funded Stars and Stripes reported that Gen. Mohamed Ould Abdel Aziz, the leader of a coup against Mauritania's elected president, had also "worked with U.S. forces." 
Why did these officers who were trained by the United States to defend their governments topple them instead? If Nuland has any idea, she won't say. "You need to talk to them about why they are overthrowing their governments," she told Rolling Stone, referring to the coup-makers.
The State Department isn't the only arm of the U.S. government with its head in the sand. U.S. Africa Command or AFRICOM, which provides most of the training to African officers, doesn't know how many coups its charges have conducted nor does it keep a list of how many times it's happened. "AFRICOM does not maintain a database with this information," Africa Command spokesperson Cahalan told Rolling Stone. "AFRICOM does not actively track individuals who've received U.S. training after the training has been completed."
"Moving forward, the United States should ensure military coups are never seen by its partners as a viable option. That should include keeping track of the military officers it trains in order to identify them in the event of a coup," said Sarah Harrison, a senior analyst at the International Crisis Group and formerly associate general counsel at the Defense Department's Office of General Counsel, International Affairs, who noted that such information could be used to improve future trainings and to immediately suspend military assistance in the event of a coup. "If the U.S. government is ignoring the fact that it trained putschists, that would reflect a broader problem of a lack of long-term strategic thinking for its counterterrorism policies.
"While security training gives the United States access, which some argue results in influence, to foreign militaries, I have concerns that such efforts are not coupled with comparably strong diplomatic policies to address failing, corrupt, or predatory civilian governments that the militaries are intended to be subordinate to," Harrison told Rolling Stone. "Of course, the United States does not want to be in the business of state-building, but when it gets so closely involved in the development of security forces, to ignore the contexts in which they are situated and whether such efforts will actually have lasting and positive change is futile." 
Coups aren't the only unintended consequences or "blowback" stemming from U.S. efforts to mentor foreign troops. Lauren Chadwick of the Center for Public Integrity found that, according to U.S. government documents, at least 17 foreign officers schooled via the U.S. International Military Education and Training program between 1985 and 2010 were implicated in criminal and human rights abuses. An open-source study by the non-profit Center for International Policy also identified 33 U.S.-trained foreign military officers who committed human rights abuses. 
More recently, reports emerged that elite Afghan commandos, trained by Navy SEALs and Army Green Berets, were being recruited by the Russian military to fight in Ukraine. Former Afghan general Abdul Raof Arghandiwal told the Associated Press that the Wagner Group, a Russian mercenary force, was coordinating the effort.
On our conference call, Nuland also inadvertently drew attention to the fact that while the United States had trained Mali's Goita, his government had thrown in with the Russians making, as she put it, "some very bad choices in inviting Wagner forces to be part of their security mix." She said the result of this involvement, which reportedly began in December 2021, has been "violence and terror going up." 
Nuland's assessment, however, ignored the fact that security trends have been in a free fall for years, despite the U.S. pouring more than a billion dollars of security assistance—in the form of equipment, training, and weapons—into Mali and its neighbors in West Africa over the last two decades. As Rolling Stone reported in October, the Pentagon's own Africa Center for Strategic Studies chronicled catastrophic security failures that predate significant Russian involvement in the region. "The western Sahel has seen a quadrupling in the number of militant Islamist group events since 2019," reads a recent Pentagon report. "This violence has expanded in intensity and geographic reach." 
In fact, the Africa Center found violent events linked to militant Islamist groups in the Sahel jumped from 76 in 2016 to a projected 2,800 for 2022, a 3,600 percent increase. The spike in fatalities stemming from these attacks has been almost as extreme, rising from 223 to 7,052 over that same span. Despite this record of failure, America's playbook for the region remains largely unaltered with the United States continuing to provide security assistance—just as it has for almost two decades—as terrorist violence escalated, deaths rose, insecurity increased, and coups proliferated. "So what we wanted to do in the countries that we're working well with is talk about how we strengthen our support," Nuland said. "In Burkina, in Niger, and in Mauritania, we are working very closely with those militaries, with their gendarmerie, with their counterterrorist forces to support them in their effort to push back and protect their populations from this poison in Mali." 
Analyst Sarah Harrison sees this stay-the-course policy as a recipe for further disaster. "Throughout four presidential administrations, foreign policy officials have leaned heavily on these counterterrorism tools despite evidence that they're not working—and in some cases, could be prolonging conflict or making the situation worse," she told Rolling Stone. "In many unstable countries where the U.S. fixates on counterterrorism approaches, what the local population is really suffering from is a lack of resources. 
"It's cliché to talk about 'root causes' in conflict prevention and mitigation, but that's what it comes down to. What people are in need of is strong economies, healthcare, education, infrastructure —which depends on resources. More military training and transfers of weapons aren't going to solve those problems."