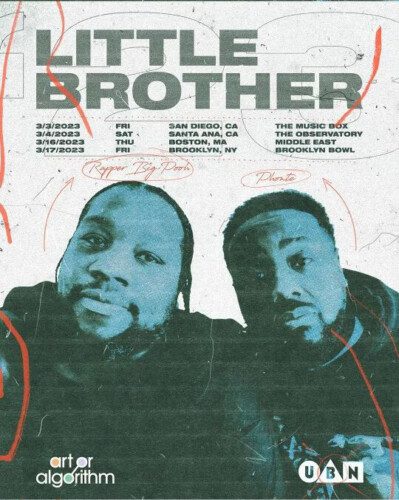 Hannibal Buress and Skyzoo To Join Little Brother's 20th Anniversary Tour
Legendary Hip-Hop group Little Brother released their seminal debut album The Listening on February 25th, 2003. Ranked among Rolling Stone's "200 Greatest Hip-Hop Albums Of All Time", The Listening helmed a pre-social media era where Alternative Rap found its audience through online message boards, and helped pioneer "grown man" or "every man" Rap relating to the working-class and everyday person.
This year, Little Brother co-founders Phonte and Rapper Big Pooh will celebrate the masterwork's 20th anniversary with a special four-city tour stopping in San Diego, California on Friday, March 3rd; Santa Ana, California on Saturday, March 4th; Boston, Massachusetts on Thursday, March 16; and Brooklyn, New York on Friday, March 17.
The San Diego show on March 3rd will feature a special opening DJ set by Soulection's AbJo, while comedian Hannibal Buress (aka rapper and instrumentalist Eshu Tune) will open in Santa Ana on March 4th. Brooklyn's own Skyzoo will join the tour March 16 and March 17 shows in New York and Boston, respectively.
Tickets can be purchased here.
The group's new documentary May The Lord Watch: The Little Brother Story is coming later this year.
© 2023, Seth "Digital Crates" Barmash. All rights reserved.