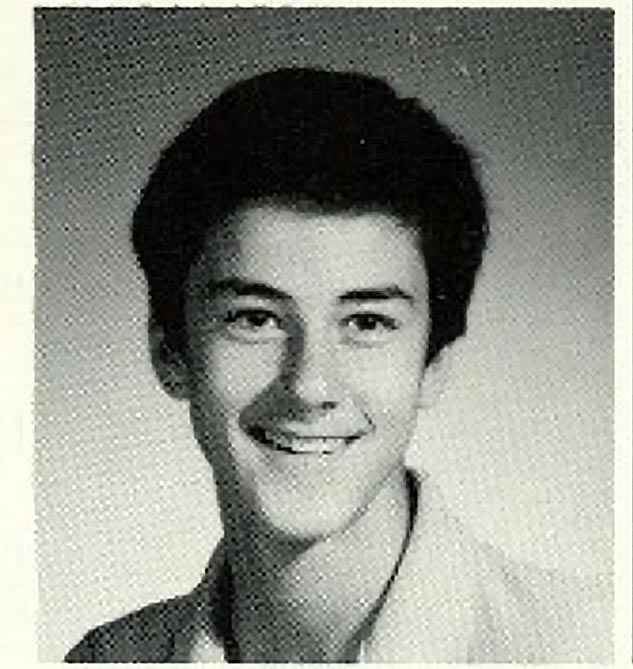 Guns, Grift, and Gore: The Life and Times of an Arms-Dealing Hustler

W
HEN ROSS ROGGIO and his then-mistress arrived at New York's John F. Kennedy airport in February 2017, officers from several U.S. government agencies were waiting for them. The federal agents interviewed Roggio in one of the airport's small offices, and the American businessman told them a frightening tale.
Tall and skinny, Roggio was in his late forties, well-dressed with close-cut gray hair and glasses. A product of the Nirvana era, he was decades removed from his grunge phase. In that cramped office, he explained that he had tried to leave Iraqi Kurdistan two months earlier, but had been snatched out of the city of Sulaymaniyah's airport by associates of a former business partner who held him incommunicado, tortured him, and extorted him. He had escaped only a day earlier, he said, out of a window at two in the morning. He'd thought he was going to die.
Then Roggio's story got weirder.
He told the federal investigators he had been a contractor working in northern Iraq to build high-rises for a company called Zarya Construction. Zarya, it's worth noting, is the subsidiary of one of the largest conglomerates in Iraq, Faruk Holding Group, a politically connected business worth billions. Roggio claimed that during his kidnapping a Zarya representative demanded he pay millions of dollars to the company.
Roggio's account was harrowing. But, oddly, his traveling companion, Christina Sidiropoulou, a Greek Instagram influencer, didn't mention a kidnapping in her separate interview with agents. Instead, she told the officers that Iraqi Kurdistan was "very safe" and that she'd barely left Roggio's side for months. Nothing eventful had happened, she said. An aspiring travel photographer, Sidiropoulou's social media accounts contain a carefully curated selection of beaches, Louis Vuitton handbags, and $4,000-a-night Moroccan villas. Her LinkedIn profile identifies her as a former personal assistant to Faruk's CEO, but Sidiropoulou couldn't name a single project Roggio had worked on in Sulaymaniyah.
The data on Roggio's phones, which federal agents had confiscated at the airport, only added to the bizarre mystery. For a supposedly missing man, Roggio's devices revealed heavy activity, including emails and conversations and one unusual query in his search history. During the same period Roggio claimed to have been kidnapped, he had googled "how to stop lying."
Something did happen to Roggio in Sulaymaniyah, but calling it a kidnapping doesn't quite get to the truth. The real story, according to federal prosecutors, involves Roggio allegedly scamming upward of $10 million from a powerful Kurdish commander; violating multiple U.S. laws against gun smuggling, wire fraud, and money laundering; and manipulating, threatening, and kidnapping those who stood in his path. Along the way, he became only the second American ever indicted for torture. In many ways, Roggio's twisted and disturbing story is symbolic of all that was brutal, venal, and borderline psychotic about the American adventures in the Middle East.
ROGGIO HAS SPENT the past year in pretrial detention at the Lackawanna County Prison in Scranton, Pennsylvania. From the outside, the building looks like a castle, but inside, the stained floors and spotty lighting make it feel more like a decaying locker room. "I guess they think I'm a threat to society or something," Roggio says. As he talks, he punctuates his sentences with ironic laughs, and he has a slightly crooked smile, his upper lip rising a little higher on the right side. Roggio wouldn't talk about Iraq, but during an interview at the prison, he was willing to discuss other aspects of his life.
Later, in response to a long list of questions provided by Rolling Stone, Roggio attempts to back out of his previous cooperation. "I have and will give no statements for the record," he writes and then attacks the credibility of those who did participate in this article. And without going into detail, he broadly rejects the charges and accusations against him, calling them "outrageous and slanderous," and adds, "My life is not yours to question."
Born in December 1968 in Spokane, Washington, as Ross Gothman Brogan, Roggio grew up in California, and later New Jersey, following his parents' separation. His mother, Soon, had emigrated from Korea, and today, he has a tattoo of the Korean flag on his left bicep, in honor of his mom. He barely knew his biological father, and the family relocated regularly.
Roggio's childhood was rough. According to one of his ex-wives, Kristy Merring, Roggio's stepfather, John, a former merchant marine, was a hardass. "He would beat the shit out of the kids," Merring says. After school, Roggio and his brother, Raymond, weren't allowed in their house until their stepfather got home from work. They had to wait in the garage, because he didn't trust them. Later, Roggio's brother would serve time in federal prison for conning the mother of a dead Marine out of his life-insurance payout.
"John scared the shit out of me," Merring says, but Roggio looked up to his stepfather. He even adopted his stepfather's last name.
Roggio was Merring's first boyfriend when she was a teenager in the late Eighties, and he was a few years older. He had a taste for nice clothes, and his wallet was made from alligator leather. They broke up, Merring says, because he was cheating on her, but stayed loosely in touch over the next two decades before eventually reconnecting in 2011. She remembers one early attempt he made to get back together with her by sending her a pumpkin he had supposedly stolen from a farm. This started a trend, she says, where Roggio would give her gifts, especially jewelry, to apologize for his affairs.
When Roggio was a high school senior, the family moved across the Delaware River from New Jersey, to Stroudsburg, Pennsylvania, a historic town in the Pocono Mountains, where he graduated and attended his first year of college. He was a soccer player, but at times, he found it hard to fit in. Stroudsburg is the type of small city where strings of American flags hang from colonial buildings and everyone knows one another. "There was a lot of racism and bullying," Roggio said.
After Stroudsburg, Roggio attended several different universities, according to a copy of his résumé. Sidiropoulou, Roggio's traveling companion, told the feds that he graduated from MIT as a civil engineer. "It was his claim to fame," says a person who used to be close to Roggio. This person, and several others I spoke with, asked to be kept anonymous out of fear of Roggio and his former business partners.
As an adult, Roggio became a video-game aficionado, especially of old games like the aircraft combat simulator Aces High, which he played under the username Checkmate. Online records also show that before his arrest, he spent hundreds of hours capturing planets in another retro science-fiction role-playing game, Darkspace. But his true addiction was to adrenaline, whether that meant jumping out of planes, riding his motorcycle, or especially diving and spearfishing. Roggio has another tattoo, on his right arm, of a red flag with a diagonal white stripe, used by ships to indicate a diver underwater. On Facebook, there's a photo of a young Roggio showing off a huge megalodon tooth he had dug out from the sand of the North Carolina seafloor.
He had a fearless streak, but diving, which is often done in pairs, also requires caution and proactive communication. Roggio was not known for these traits. "He was cocky, arrogant, and had a quick temper," says Erik Wells, a photographer who dived frequently with Roggio and describes him as a "hustler." But "once the dive gear was on," Roggio became a "different person," Wells says. Together, they took on challenging dives to wrecks deep in the Atlantic, where Roggio was a reliable partner. He was also a competent dive instructor, especially of younger divers. "He loved working with kids in the pool," Wells says.
Despite his enthusiasm and energy, Wells always felt Roggio was just trying a little too hard. "Ross was always a big talker," he says. This desperate need to fit in may help explain why things went so wrong in the way they did, because Roggio's story is not just the story of his actions, but also of the stories he told. Roggio constructed a reality for himself, and for the people around him. But many of the stories about him had two versions.
Roggio, of course, disagrees with his critics. He's not shocked many people perceive him as a con man, but says it was a natural consequence of business deals gone bad. "The business world is weird," he says. And he points out that many people have an ax to grind against him personally, professionally, and legally. "People hear what they want to hear," Roggio says.
But often what people heard was what Roggio told them.
Take, for example, Roggio's purported MIT civil-engineering degree. According to the university registrar's office, MIT has no record of any student under either of his names. Roggio now claims this was just an elaborate joke.
According to Roggio's résumé, the last school he attended was Methodist University in Fayetteville, North Carolina, where he studied history. "I've never finished a degree," Roggio said during a deposition in 2013.
That deposition was part of an unsuccessful lawsuit Roggio, acting as his own attorney, filed against a former employer, startup rifle company Rebel Arms. Roggio had no formal legal training, but it's clear from the court transcript he believed he could outargue a room full of lawyers. He claimed the company had stolen his designs for a "barrel that fires a bullet with more accuracy and speed than the firearms … on the market." Under scrutiny, many of his arguments did not hold up.
"He's a pathological liar," says Bill Pote, a Stroudsburg-based businessman who hired Roggio to work at Rebel Arms.
Then there's Roggio's military career. After high school, he became a paratrooper in an armor company in the Army's 82nd Airborne Division. Through his lawyer, in court, Roggio claimed to have served in the Army for four years. Merring says Roggio told her he was a Green Beret who participated in the 1989 airborne assault of Panama. "He said he was shot in the ass," Merring adds. Today, Merring isn't sure which of Roggio's stories, including the Panamanian ass injury, were real. Roggio's butt cheek did have dimpling — "maybe two little marks," Merring says — that "looked like they came from some sort of trauma."
Part of Roggio's unit did fight in Panama, but according to Daniel Falcon, a retired first sergeant who served in Roggio's regiment, Roggio wasn't part of the invasion. Falcon, who manages a reunion for their unit and has access to paratrooper jump logs, says that no one in their company received a Purple Heart, which rules out the ass injury, or at least the Panama version.
Today, Roggio describes the Panama story as a misconception. Instead of Panama, he claims he had participated in Desert Storm. "Not even my ex-wives know that much about me," he says.
According to prosecutors, Roggio didn't spend four years in the military; he served for less than two. That's not enough time to become a Green Beret. Roggio was honorably discharged as a calvary scout, but with four nonjudicial hearings for misconduct. In Roggio's version, he was only in trouble once, specifically for yelling at a lieutenant.
"He likes to fight," Merring says, recalling a road-rage incident when he came home with a swollen fist.
One thing is clear about Roggio's dubious military record: He developed a love of guns.
A special-forces mecca located near Fort Bragg, Fayetteville is filled with rifle-manufacturing companies, and it seemed like Roggio, with his military background, might fit in well. He joined a church frequented by special-forces operators and married a 19-year-old woman, Amanda Mecomber, who would become another ex-wife and the mother of his two daughters.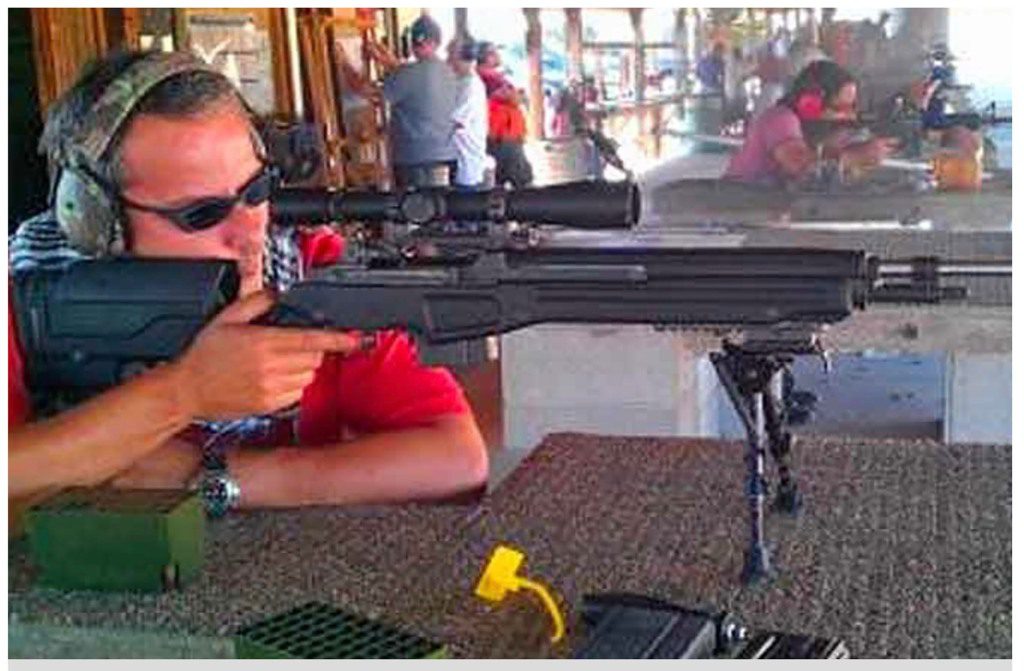 BY THE MID-2000S, Roggio had opened a smoke shop in Fayetteville, called Smokey's, and bought an indoor skate park. But neither venture made him rich. So Roggio got into the gun business. "Having been close to the special-forces community, when I came out [of the Army], I used to work on their weapons," Roggio said in his 2013 deposition. He launched a company, Roggio Arsenal, that sold parts for AR-15s, a commercially available rifle similar to the U.S. military's M-16.
Roggio's arms company had a clever marketing gimmick. He would build custom rifles for soldiers and veterans stamped with the logo of their units. "We are gun guys," Roggio wrote on an AR-15 forum in 2009, advertising his company. But all was not well. Contemporaneous posts on gun forums are littered with complaints about the shoddy workmanship of Roggio parts and speculation that he had tried to ride the wave of conservative gun hoarding after President Obama's first election. A deal with Sig Sauer fell apart, according to Roggio's former business partner, Jim Ripley, because the arms manufacturer, which did not respond to requests for comment, learned Roggio had allegedly lied about receiving a Silver Star during his military service.
Then, according to court documents, Roggio was forced to surrender his license to sell weapons after an investigation by the Bureau of Alcohol, Tobacco, Firearms, and Explosives. The details of this investigation are not public, but according to a person who was close to Roggio around this time, the government believed he had robbed his own company and was illegally selling stolen weapons parts, registered to Roggio Arsenal clients, under the table. "I was cleared," Roggio said in the 2013 deposition.
Around 2010, Roggio Arsenal folded. As his company was going out of business, Roggio bounced around, ignoring calls to replace defective parts, according to the disgruntled gun-forum customers. He left Fayetteville, and his then-wife, Mecomber, amid allegations of forged signatures and unpaid rent. For people in Roggio's orbit, the financial damage was severe. "I was paying employees out of my own pocket," says Ripley.
Next, Roggio went to Haiti. On his résumé, he styled himself as the CEO and president of a Fayetteville-based military contractor, Raidon Tactics, that provided security for The Doctors, a medical television show produced by Dr. Phil, which was filming in Haiti after the country's devastating 2010 earthquake. In a deposition, Roggio claimed Raidon was a CIA contractor. His church in Fayetteville shipped huge pallets of clothing for him to hand out to earthquake victims.
At least that was Roggio's story. Raidon refuses to comment, but a review of its corporate filings and web archives did not reveal any evidence that he was ever in a leadership role. Even the church donations seemingly weren't safe. In Haiti, Roggio sold the clothes and pocketed the profits, a church source claimed. (Roggio acknowledges that his time in Haiti was a mess, but denies selling the donations.)
Around this same time, Mecomber and Roggio became locked in a contentious child-custody battle, and in a sworn statement, she accused him of being a threat to their daughters. "There is a substantial risk to the minor children in the event they were allowed to continue to visit with their father," the statement said. Mecomber did not respond to requests for comment.
But despite the string of failures and his domestic life in Fayetteville collapsing, Roggio was about to get his big break, courtesy of a Kurdish warlord.
ROGGIO MET A SPECIAL-FORCES contact at church who introduced him to Polad Talabani, a powerful Kurdish military officer. Talabani would become a key facilitator in Roggio's transformation into an international arms dealer.
Born in Iraqi Kurdistan, Talabani, who did not respond to requests for comment, grew up in South London, where he studied motor mechanics and ran a cafe. But during the 2003 American invasion of Iraq to overthrow dictator Saddam Hussein, he returned home and joined the family business.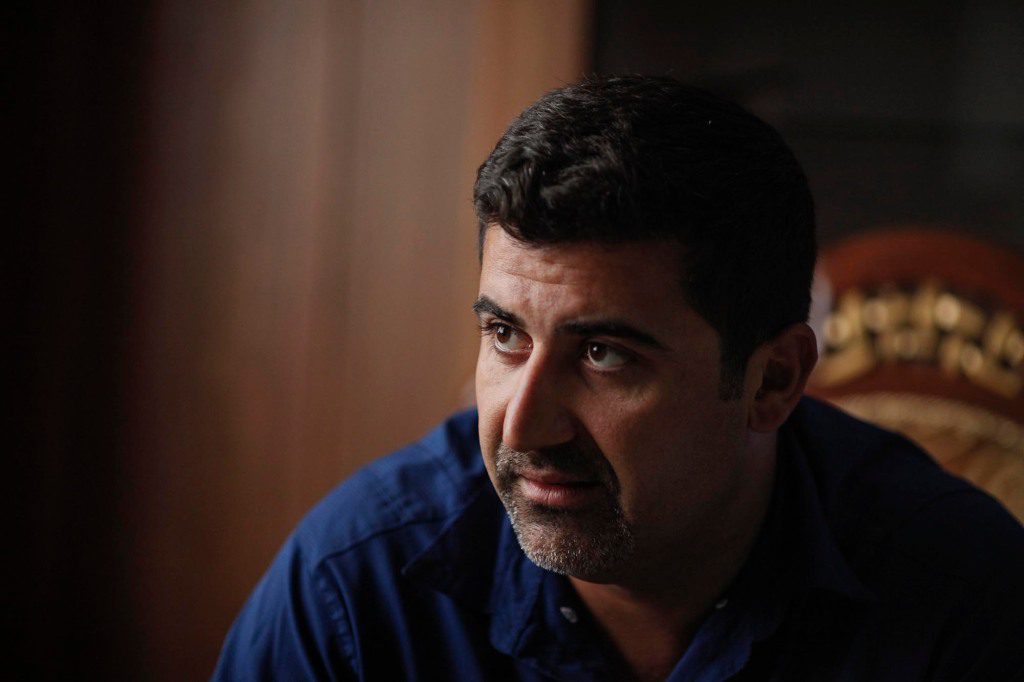 Talabani's late uncle, Jalal, founded the Patriotic Union of Kurdistan (PUK), one of the two major factions that rule Iraqi Kurdistan, and later served as the president of Iraq. Soon after meeting Roggio, the younger Talabani became the PUK's head of counterterrorism. His brother, Lahur, was the PUK's head of intelligence and later spent a short stint as the party's co-president. Photos of Talabani frequently show him in military fatigues, leading his soldiers.
According to a government affidavit containing emails and text messages federal agents recovered from Roggio's phone, Talabani was looking for guns and Roggio was willing to sell them. Roggio even pitched Talabani on building his own American-style weapons factory in Iraqi Kurdistan. After an October 2010 meeting in Dubai, Roggio emailed Talabani plans for a plant that would produce M4 carbines.
Roggio believed the Kurdish factory would be his golden goose. He said there was an opportunity to make $20 million, according to businessman Tom Patti, who crossed Roggio's path in 2012 when Patti and Bill Pote were founding their rifle startup, Rebel Arms. A former member of youth Olympic rifle teams, Patti grew up around guns and was skeptical of Roggio. "He was never safe with a weapon," Patti says. "I avoided going to the range with him."
Despite this, Rebel Arms hired Roggio as a consultant at nearly $20,000 a month. He offered to bring Rebel Arms into his Kurdish deal, but there was a catch. The Kurds wanted Roggio to build a model factory in the United States to demonstrate his capabilities. According to Patti, Roggio asked Rebel Arms to build this prototype.
Rebel Arms' management turned his offer down, but today, Patti and Pote suspect Roggio misused their company in an attempt to build the model factory for Talabani. "He bought all this equipment that was the wrong equipment," Pote says. He estimates Roggio may have wasted almost a million dollars of the company's money on tools that Rebel Arms didn't need or want, potentially for his factory prototype.
Rebel Arms fired Roggio in May 2013, but not before things almost turned deadly. During a meeting with Patti in the unfinished basement study of Roggio's rented house, Roggio pulled out a gun and waved it around, according to Patti. Roggio had a bad habit of pointing firearms at people; Patti says he was always afraid Roggio would kill someone. This time, Roggio's gun discharged. The bullet ricocheted off the cement floor before hitting an exposed beam in the basement ceiling. "It cracked the cement," Merring says.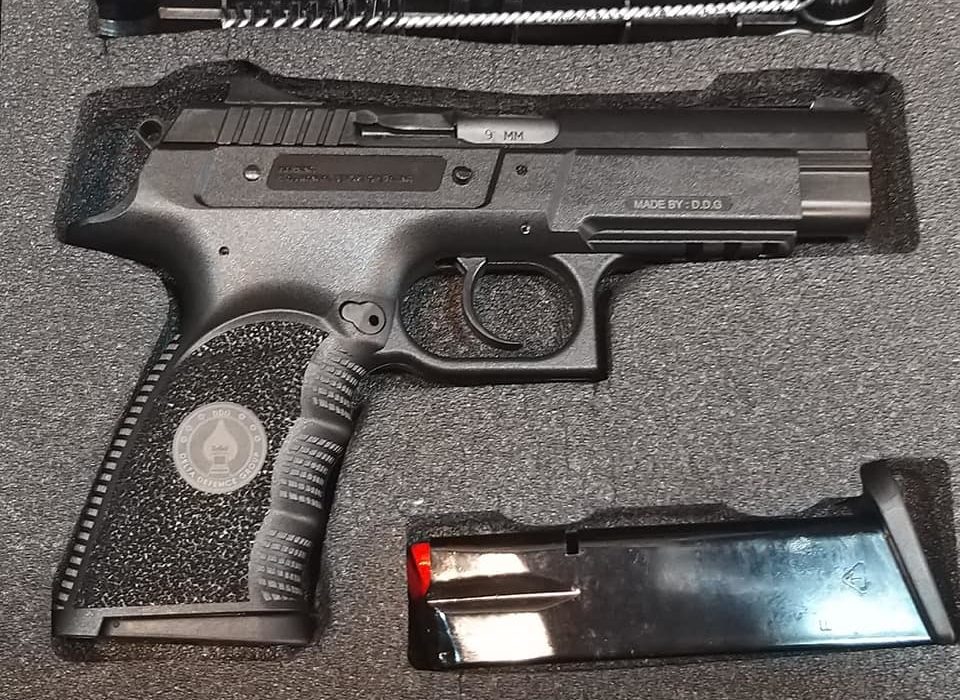 "Ross spent a ton of money on random shit to model the factory," Patti says. "That's why he lost his mind when he got fired."
Yet Roggio's connection to Talabani remained intact. "I have sold many units to this customer," he wrote seemingly about Talabani in a July 2013 email to Gene Carino, the CEO of United Defense Manufacturing Corp., a gunmaker in the Philippines. Roggio wanted Carino to help him source 5,000 rifles for the Kurdish commander. "I was selling them M4s," he wrote. Beyond allegedly running guns for Talabani, Roggio's résumé also highlights selling weapons systems to the Philippines military.
The problem is these types of sales are illegal under U.S. laws. To export weapons, you need to be licensed by the Department of Commerce and the Department of State. Roggio didn't have either license. "I believe that Iraq remains to be in the list of UN Arms Embargo [sic]," Carino wrote to Roggio, telling him the deal was off without the correct paperwork. "I just want to make sure that we will not be violating the UN, US, Iraq or Phil laws."
Roggio seemed well aware unlicensed arms dealing was a crime. In one PowerPoint pitch, with slides labeled "U.S. Obstacles," he outlined the American laws prohibiting the unlicensed sale of weapons internationally. He even underlined, in yellow, the parts of the statutes he would allegedly later break. "I RISK MY VERY FREEDOM," he emphasized in another email to his Kurdish partners a few years later. But despite the legal risks, Roggio seemed to have been undeterred. His emails to Talabani indicate he found a new gun supplier after Carino shut him down. Soon, his plan to manufacture weapons inside Iraqi Kurdistan was back on the table. He even suggested the CIA might help him.
IN SEPTEMBER 2014, ROGGIO signed a contract with Zarya Construction, the same business, he would later tell federal agents, that had hired him to build apartments. He moved to Sulaymaniyah, a modern, park-filled city that serves as the Kurdish cultural capital. He was there to build Talabani's weapons factory.
In public, Talabani's political and military roles and the business empire of Faruk Holding Group, Zarya's parent company, seemed to be ostensibly separate. Zarya officials did not respond to requests for comment, and documents from the Roggio investigation don't clarify the exact relationship between them. But a source says the two parties were close. "This was Zarya Faruq Mustafa and Lahur's project," says a Kurdish government source, referencing the son of Faruk's billionaire founder and namesake of its construction subsidiary, along with Talabani's influential brother. Roggio's salary was more than $1.4 million, according to a copy of the contract. After years of business failures and hustling, arms dealing was beginning to pay off.
Whenever Roggio had money, he lived large. "He was fun," Patti admits. During one Rebel Arms trip to Las Vegas, according to Patti, Roggio spent $1,500 on a steak dinner for two co-workers. "Everything that he did was excessive," Patti says.
Roggio was known to give lavish gifts to employees and friends. "He is not a boss, but a great leader," wrote Vasilis Sidiropoulos, Roggio's former employee in Iraq, in a letter to the court requesting leniency. "He is always there for anyone in need."
With his fresh cash, Roggio bought a new house in Stroudsburg, Pennsylvania, in December 2014, and several hundred thousand dollars' worth of Rolex watches, including one rare model Merring says he had to fly to Macau to purchase. He built an elevator in his garage to store his new supercars. "I could never work at a bank," Merring says Roggio once told her, "because I would rob it."
In this case, at least in the beginning and despite allegedly breaking federal laws against arms dealing, Roggio was earning his pay.
Photos extracted from Roggio's electronic devices by federal agents show the rifle factory was under construction by October 2015. A white-roofed warehouse, it was built on a site located about 20 miles northeast of Sulaymaniyah, in the mountain village of Qala Chwalan, the military and intelligence nerve center of Talabani's party, the PUK. Later, Roggio sent Talabani videos of weapons tests with phone data geotagged to the factory's location. In these videos, a man in a nondescript building with cement floors and unpainted walls is balancing a silver prototype assault rifle on a stack of cinder blocks, topped with a sandbag, demonstrating the rifle's rates of fire. He's shown only from the neck down, but he's wearing a Rolex on his left wrist.
By that point, Roggio had imported enough material to build 3,000 rifles. "Currently my best estimate is we will start to deliver units end of first week in May," he wrote to Talabani and his partners in April 2016. "In order to be prepared for any unforeseen problems, a budget of an additional 1,500,000.00 must be allocated."
Weapons factories don't come cheap. A lot of money was deposited into Roggio's bank account. In total, the Department of Justice identified at least $6 million in wire transfers that he received from Kurdish banks. Roggio himself claimed to have been given $9 million to complete the project.
Roggio's problem was that this money, allocated for building the factory but kept in his account, wasn't his money. "See, when I make a million dollars, like this year, $4 million came into my account, right?" Roggio told an employee, who, according to court documents, provided a secret recording of their conversation to federal investigators. For most companies, this extra money wouldn't be a big deal. For Roggio, it created a tax issue.
Normally, when companies incur expenses, they don't have to pay taxes on those funds, as long as they document those expenses. But according to prosecutors' transcripts of his recorded conversations, Roggio wasn't keen on telling American tax authorities that he was allegedly illegally smuggling weapons parts into Iraqi Kurdistan. "I cannot give receipts to the IRS for this shit," he complained to the employee. "That's evidence." Instead, he paid taxes on millions of dollars that weren't his. "Paying taxes as profits on all of it … keeps my ass out of the fire," Roggio said. "Busting me comes from the finances."
The temptation seems to have been too much. All those extra millions were sitting in his bank account. According to the Department of Justice, Roggio started siphoning off the money meant for his factory's construction. The exact amount isn't clear, but an affidavit for a search warrant of Roggio's devices by the Department of Homeland Security accuses him of misappropriating "upwards of 10 million dollars" worth of Kurdish money.
BEFORE LONG, THE FACTORY was missing production deadlines. It's not clear whether the factory manufactured much beyond a few sample rifles while Roggio was in charge.
Roggio blamed the issues on Faruk. He said they hadn't built his warehouse quickly enough. "I had no part of the building and its construction," he wrote in an email to his partners. "How is this my fault?" But finances were clearly also an issue, and Roggio was asking for more money. "I gave you a budget to completion with the clear understanding that it was best guess," he wrote.
Roggio's partners were frustrated. Merring says he was becoming paranoid he would be caught stealing from the Kurds. When he visited her in the summer of 2015, she worried he had PTSD. "He would fall asleep, and if I tapped him on the shoulder … he drew a fist ready to punch," Merring says.
At the factory, Roggio warned his employees against whistleblowing. "As long as you don't betray me, I never have to come for you," he said. This threat was secretly recorded by the same employee who taped Roggio talking about taxes, according to court documents and transcripts. This employee wanted to leave Iraqi Kurdistan, but was afraid and had asked if Roggio would have his Kurdish associates kill her if she left, like he had previously threatened. "No," he told her, "I'd come get you myself."
According to the transcript of the recording, Roggio also told her that if she ever tried to keep secrets from him, he could have soldiers strap her naked to his kitchen table.
Roggio's threats weren't a joke. According to Department of Justice filings, in 2015, another of the factory's employees, an unnamed Estonian, raised concerns about the company's finances with Roggio, who perceived it as a blackmail attempt.
Prosecutors say uniformed Kurdish soldiers assigned to Roggio abducted the potential whistleblower from his house. The kidnapped Estonian employee was held prisoner and abused on a Kurdish military base for 39 days.
Roggio and his soldiers allegedly used a plastic bag and belt to suffocate their victim, shocked him in the throat, nose, and groin with a taser until he bled, threatened to cut off his fingers with a bolt cutter, beat him with rubber hoses and a stick, and jumped on his chest while wearing military boots. As a warning, the government says, Roggio forced his other employees to watch and told them the victim had "experienced the overwhelming ability of mine to crush somebody."
After one torture session, according to prosecutors, Roggio had a conversation with the employee who was secretly recording him. She asked her boss if he really had believed his victim was going to betray him. "Enough to beat him," Roggio replied. "Enough to torture him."
Later in the recordings, Roggio acknowledged he couldn't look the victim in the eye, "because of what I did to him."
Roggio's plan had one glaring flaw. Auditors from Faruk Holding Group had discovered the financial discrepancies, and torturing whistleblowers wouldn't stop an external audit. "There seems to be a minor problem. They say I have received over 10 million. But my account shows I have only been wired 6,111,000," Roggio texted Talabani, according to the warrant, in November 2016. "Auditors just showed up. Lol."
Talabani was less amused, according to prosecutors. "I can't believe what I just heard," he texted back. "They have a really strong case against you and they want the money back."
"Thank u for shaming me in front of my friends and family," Talabani also said. "You have embarrassed me so much that I will now have to resign and leave this country."
This is the point when, Roggio alleged to federal investigators, he himself was kidnapped.
OVER THE PAST TWO DECADES, Iraq has been plagued by numerous kidnappings and disappearances. Many are done for ransom, others are political or sectarian. For many Americans and Iraqis, a claim of kidnapping might conjure images of grimy cells or beheadings by the so-called Islamic State. What Roggio experienced was not that. Iraqi Kurdistan is not known for having a fair and equitable judicial system, but even Roggio's defenders describe what happened as an unorthodox — albeit extralegal — arrest as much as an abduction.
Roggio told federal agents that he was held in an unknown location. In one version, he was held for two months; in another, it was four months. The true story, according to a source, is that Roggio spent about a week detained in Zarya Faruk's mansion in western Sulaymaniyah. He may have been roughed up. Roggio claimed to Merring he had suffered a fractured skull and broken ribs. After that, he was put under semiofficial house arrest at his own apartment while the Kurds attempted to recoup the money he had stolen. His passport was taken by Kurdish intelligence agents and two guards were posted outside of his door, but according to a source, he was allowed to go to work, use his phone, and otherwise live his life.
To be clear, there is no evidence that what Roggio experienced was part of any legitimate judicial proceeding, but once again, the story Roggio told to federal agents wasn't exactly the full picture.
Roggio's messages, according to the government, show that the Faruk auditor, Kadir Haman, told him to sell his house and cars and empty his bank account in order to pay back the money. "Ross do not try to be smart," Haman wrote. "You will end up in prison for very long time."
He emptied out the bank account of his then-wife, Merring. "Sir, I am willing to sell everything," Roggio told Talabani.
But instead, Roggio engineered his escape from Kurdistan. As a precaution, he recorded a video leaving all of his possessions to his daughters. Then, a few days later, during the early morning, Roggio climbed out of the window of his penthouse apartment.
Once outside, according to a source, Roggio found himself seven stories above the ground on a small service roof filled with sewage pipes and wires. In the dark, he found a maintenance door and reentered his building, bypassing the guards. After making it downstairs, he was picked up by an associate. Roggio paid this person $250 to drive him to the U.S. Consulate in Erbil, the capital of Iraqi Kurdistan. He got a temporary passport and flew to Istanbul. His girlfriend, Sidiropoulou, had left the country a few days earlier and met him in Turkey. They flew to New York together.
The feds were waiting.
AGENTS FROM THE FBI, the Department of Homeland Security, and the Department of Commerce had been investigating Roggio for close to a year. They had actually shown up at his house in April 2016 and interviewed Merring about a package she had mailed to Roggio in Iraqi Kurdistan.
When investigators knocked on her door, Merring was shocked. "I've never even gotten detention," she says. She said she never opened the packages her husband had asked her to mail and had no idea what was in them. Merring called Roggio in Iraqi Kurdistan and handed the phone to an FBI agent.
The package, the agent said, contained specialized drill bits used to manufacture the bullet chambers in guns. Roggio had ordered them from a tool shop in Connecticut, Drill Masters Eldorado, and asked Merring to forward the package on to him.
The problem, for Roggio, was that Merring's shipping company contacted Drill Masters to ask for help completing the box's export label. When a Drill Masters employee heard that Roggio was trying to send gunmaking tools to Iraq, they reported it to the FBI. That tip sparked the investigation. Roggio denied to the agent that he had shipped the tools, and instead said he had only sent a cleaning kit for his AR-15.
Later, Roggio assured Merring not to worry about the FBI. "Polad [Talabani] is taking care of it," she says he told her. But his behavior was increasingly erratic and violent. He asked her to mail chemicals to Iraq. "The box had a caustic symbol on it," Merring says. Although she wasn't sure of the exact chemicals, she believed they were used in the gunmaking process. She declined to mail him the box. One day, in 2014, Merring came home and found $20,000 in cash on her kitchen table, money that Roggio implied he had smuggled into the United States. One night, without warning, Merring claims, he choked her while she was sleeping. "I woke up, and he continued," she says. "I was out for a few seconds."
Then there was the evidence of the affair. Merring thought it was suspicious the way Roggio had taken up a sudden interest in photography and bought expensive equipment. And she noticed he had stopped wearing his wedding ring in Zoom calls, and the calls themselves became infrequent. But she only learned about Sidiropoulou when she obtained a transcript of Roggio's JFK interview. Before long, she was cooperating with the FBI, giving them Roggio's box of chemicals, and getting a divorce.
By the time Roggio escaped from his Kurdish apartment and returned to the United States, federal agents were ready, and told Merring not to let him back in their house. State police were on standby to protect her if he showed up.
In March 2018, prosecutors in the Middle District of Pennsylvania indicted Roggio for arms smuggling, wire fraud, and money laundering. The government seized Roggio's house, his bank account, his Rolexes, his McLaren sports car, and more than 100 guns. He declared bankruptcy. Last spring, prosecutors, who declined comment for this story, added torture charges, and they say Roggio's victim, the Estonian employee, and other witnesses, are prepared to testify against him at trial.
In court, Roggio has attempted to discredit the secret tapes, on which he admitted to gun smuggling and torture, with bizarre and misogynistic arguments. He claims the recordings are inadmissible blackmail material and that the woman who made them couldn't have been afraid of him because, according to him, during the same night she was recording him, and on other occasions, they had sex.
That hasn't been his only unusual legal move.
He has feuded with his own hired lawyers. "Mr. Roggio has now made two pro se filings to the Court. In these filings, he makes many scandalous accusations that Counsel cannot defend against without potentially breaching an ethical duty," wrote Curt Perkins, one of Roggio's now-former lawyers, in a letter to the judge, Robert Mariani. "Most, if not all, of his assertions are untrue." And true to form, Roggio stiffed them on legal fees. "He is refusing to pay," Perkins wrote. Now, Roggio is being represented by a court-appointed lawyer who he had previously ditched for Perkins.
In Iraq, thousands of rifles, produced at the factory Roggio built, have been sold under a fake brand, Delta Defense. Production was only shut down in 2021, four years after Roggio left, amid a political struggle in Sulaymaniyah. Talabani and his brother, Lahur, were ousted from their positions in the PUK by their cousins. Along with Zarya Faruk, the brothers were accused of kidnapping and extortion by PUK media. Last October, one of their political allies was assassinated with a car bomb. Roggio's missing passport was discovered at the house of the PUK's former intelligence chief, who recently defected to a rival clan. The factory's rifle designs were burned.
According to his own bankruptcy filings, Roggio still owes Faruk Holding Group $4 million. Back in the States, Merring is struggling with "staggering" legal debt from the divorce, criminal investigation, and the bankruptcy. "I'm broke as shit," she says.
Roggio has refused multiple plea deals from prosecutors. "You don't take a deal on something you're innocent of," he says. In court filings, he has claimed his actions in Iraq either had the "necessary approval" or were committed "under duress." His strategy appears to be based around redirecting any blame onto Talabani. "In fact, several of the potential government witnesses themselves, the Talibani Brothers [sic], have themselves been accused with kidnapping and extortion," Roggio said in legal filings.
Roggio's trial is scheduled to begin on May 8, and given everything, he faces a difficult battle. "The case is challenging," acknowledges Gino Bartolai, Roggio's court-appointed lawyer. But Roggio is nothing if not determined to avoid prison. Previously, while out on bail, through Bartolai, he asked his judge, Mariani, to give him special permission to travel internationally to Turkey, because he had received an offer to work for a humanitarian-aid company. "What my client will be doing for this company," Bartolai told Mariani, "is new-business development."
The company looking to hire Roggio was Kingdom Special Operations, a Christian military contractor run by another one of his veteran friends. There was just one problem. Kingdom was an arms dealer. It had subcontracts to sell weapons to the governments of Kazakhstan and the Slovak Republic. There was even a disclaimer about weapons sales on the job contract Roggio gave to the judge.
Mariani wasn't persuaded. "I have an obligation to make sure that you don't engage in arms trafficking," he told Roggio. Under no circumstances was Roggio allowed to work for this company, much less go to Turkey. "I'm not sure there are a set of circumstances that I could envision that would allow me to let you leave the country for any reason," the judge said.
This time, it seems Roggio has nowhere left to run. But even now, it's unlikely he'll ever admit guilt. "They can fucking arrest me and torture me till the day they die," he said on one of the secret recordings. "I'll never talk."