Gray Code Enterprise the One Stop Shop
Kristopher Gray, also known as Slay, is a rising entrepreneur and CEO who is making a name for himself in the entertainment industry. While obtaining a bachelors in entertainment business he has a passion for helping artists and models succeed, he has built Gray Code Enterprise, a one-stop-shop for all things creative.
Starting from humble beginnings in a foreclosed home in Boston, Massachusetts, Slay and a few family members transformed the space into a recording studio and started working with local artists. Over time, the company evolved into a full-service organization that provides high-quality services such as recording, marketing, promotion, photography, videography, graphic design, website design, and custom merchandise.
What sets Slay apart from others in the industry is his dedication to his clients and his genuine desire to help them advance. With a deep understanding of the challenges that artists face, he offers his expertise and support to help them navigate the industry and reach their goals.
Gray Code Enterprise has been successful in booking local artists for events in different cities, and the company has hosted celebrities and special guests as well. With a focus on giving back to the community and establishing seasonal giveaways to those in need.
One of the biggest challenges that Slay has faced is building a solid team, but he has been able to overcome this by wearing many hats within the company, including CEO, event organizer, and videographer. Despite a troubled past, including being shot and federally incarcerated, Slay has never given up on his dreams and continues to inspire others through his determination and drive.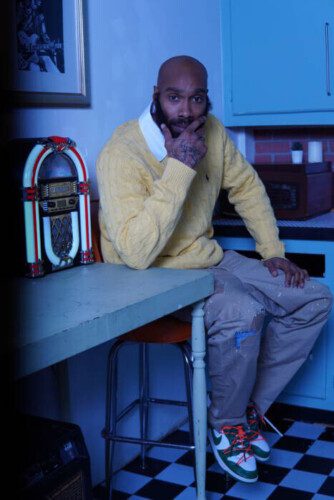 In the next few years, Slay sees Gray Code Enterprise growing to new heights, with a storefront that includes a studio, and artists on the team reaching new stages in their careers. With the goal of becoming a leading one-stop-shop for clients, he is working towards a future where he can work alongside the big labels and independent companies.
For those looking for advice from Kristopher Gray, he offers this: "Take your time, know what you want, get your business registered. Get your business bank account and build your business credit."
" I want to Shout Out the artists Grimey Gurt, Hoodboss, Duse M$, Priv, Cam Webbe, Maxo Pardo, The Spittah and our in-house Producer Aizzie "Made it Bang". It takes a lot of work to stay consistent and I appreciate the grind it's only up from here. Check them out on
www.graycodeenterprise.net/artists
To learn more about Gray Code Enterprise and stay updated on the company's latest developments, you can follow them on social media at
Instagram: https://instagram.com/gray_code_enterprise
Facebook: https://www.facebook.com/gce617?mibextid=LQQJ4d
Twitter: https://twitter.com/gcodeent617
TikTok: www.tiktok.com/@graycodeent
LinkedIn: https://www.linkedin.com/in/kristopher-gray-0671351b4
and the company website https://www.graycodeenterprise.net
For more information about Kristopher Gray, check out the previous press coverage at https://thelosangelestribune.com/2021/07/13/all-this-talent-around-me-i-had-no-choice-kristopher-gray-talks-about-building-gray-code-enterprise/.
© 2023, Logan. All rights reserved.