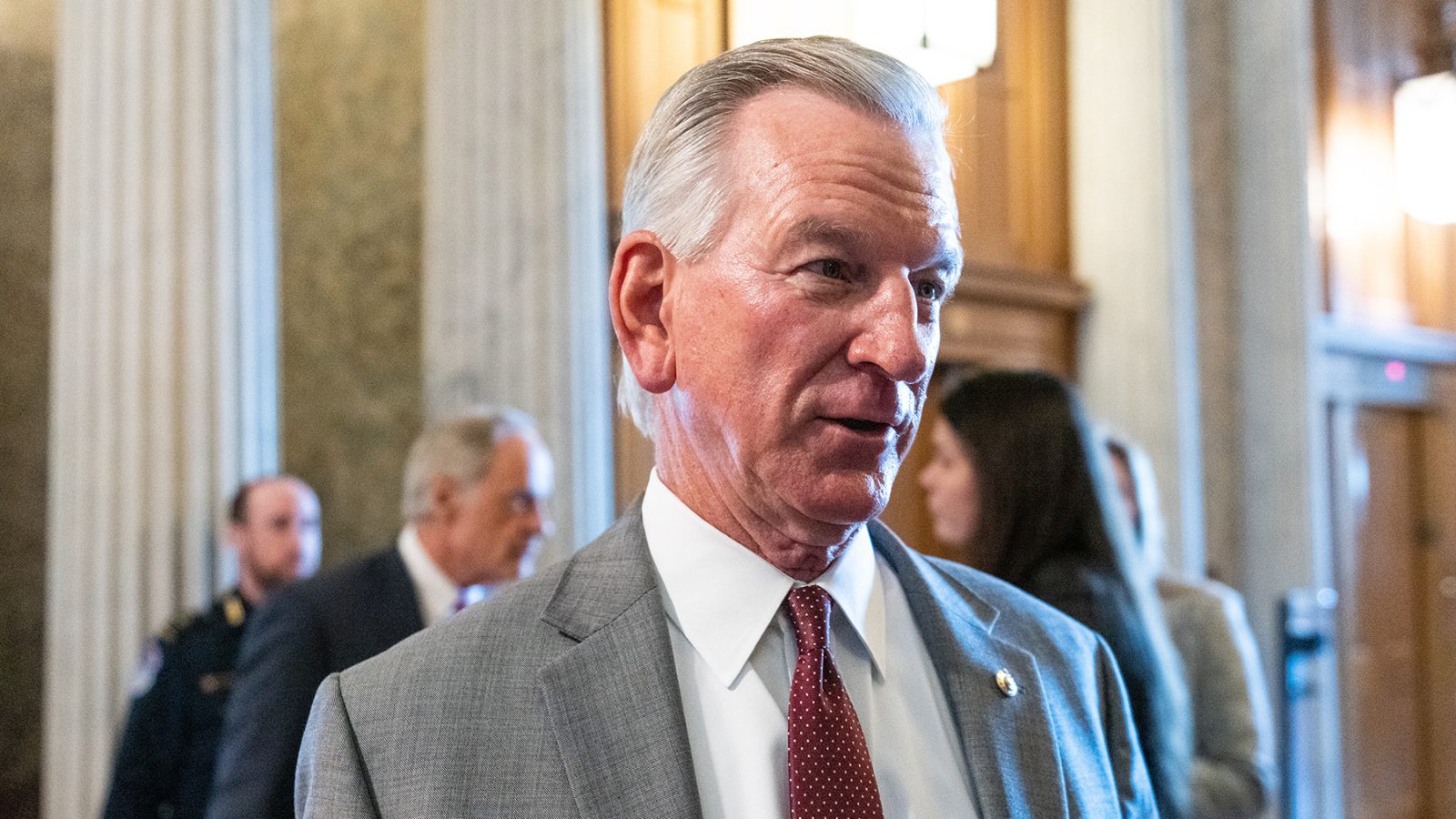 GOP Senator Defends White Nationalists: 'I Call Them Americans'
Tommy Tuberville, a United States senator from Alabama, defended white nationalism during an interview with a local NPR affiliate on Monday, AL.com has reported.
WBHM Birmingham asked Tuberville if white nationalists should be allowed to serve in the military. "They call them that," the senator responded. "I call them Americans."
Tuberville had explicitly defended "white extremists" and "white nationalists" earlier in the interview, alleging that President Biden is "destroying" the military by opposing their inclusion.
"We are losing in the military so fast," Tuberville said. "Our readiness in terms of recruitment. And why? I'll tell you why, because the Democrats are attacking our military, saying we need to get out the white extremists, the white nationalists, people that don't believe in our agenda, as Joe Biden's agenda. They're destroying it. This year, we will not reach any recruiting goals in the military. So if we want to talk about looking weak, that's where we're going to look weak. We cannot start putting rules in there for one type, one group and make different factions in the military, because that is the most important institution in the United States of America, and our allies, is a strong, hard-nosed, killing machine, which is called our military."
Tuberville's office attempted to clarify his comments in a statement to AL.com, claiming the quote "shows that he was being skeptical of the notion that there are white nationalists in the military, not that he believes they should be in the military."
The military has long been contending with extremism growing throughout its ranks, and Defense Secretary Lloyd Austin has talked about needing to root out "racists and extremists." Congressional Republicans have opposed his efforts to do so and last year voted against legislation to track "white-supremacist and neo-Nazi activity in the uniformed services."
Jack Teixeira, an airman in the Massachusetts Air National Guard who was arrested last month after leaking government secrets, posted several racist memes online. "I don't think we should be surprised at all," Don Christensen, a retired Air Force colonel who served as the Air Force's chief prosecutor, told Rolling Stone. "It's clear that we at least have a subculture of racism and antisemitism within the military, and that there are people who are willing to act out by sharing classified information or making terroristic threats against those minorities or Jewish people."
Tuberville claims to support service members, but he has been single-handedly blocking the promotion of over 150 of them over the military's abortion policy. "Delays in confirming our general and flag officers pose a clear risk to U.S. military readiness, especially at this critical time," Austin wrote in a letter to Sen. Elizabeth Warren (D-Mass.) this week. "This indefinite hold harms America's national security and hinders the Pentagon's normal operations."